mahl2 Restaurant
and Catering, Dresden Germany
The upscale trendy Mahl 2 with the cool Mr. Mueller and Mr. Mueller as the creative chefs...they are very nice, at least
Robert Mueller is, I didn't really meet Constantine since he is away from the restaurant; however, Robert is a nice sincere
person who is the chef genius behind the duo.
"You know in the summer it is less busy inside restaurants since everybody grabs something outside or sits in the beer gardens. My restaurant is not grab a sandwich, it is a little more upscale, we have Duck and Venison and Filet at of course reasonable prices, yet it is a upscale restaurant. I am proud to serve the menu. It is one page and elite. You know one day last year a German and Hawaiian couple asked us to fly to Boston! America and do a wedding! We said of course and we flew there and for 70 people we did the wedding." Says Robert matter of factly. However, seriously, that is amazing that of all the catering in the world located in Boston massachusetts to fly 4 people from Germany and pay all expenses just because you "liked our little h'oerdoevers they ate at a
event we had catered," is impossibly special.
Mahl 2 is 24th ranked restaurant in Dresden on Trip Advisor out of 772 restaurants...now that is totally cool. The nicest thing about a restaurant is the food. That is why you go to dinner. However, given the fact that they make amazing food to eat, the one thing that I noticed about the fun group is:
A. they're all young, B. they're all nice, C. they're all smiling and happy...
the minute you walk in they say hi and they're joking with you. They make you feel
totally wanted. That is rare/ does that make sense? They make you feel like they actually
are happy you walked into the restaurant!
"I am the chef in the kitchen and I do the menu every 2 months and Constantine is out with the public, which he loves, and he does all the drinking stuff! His family is in the Wine Dealer and Liquor Business and we order all of our wine that we serve at the restaurant from Constantine's family. That is a huge help for us. The first couple of months that we opened in February, 2016 we were full every night. It was crazy. And we were so busy that we couldn't keep up. Every night. That made us feel great. I think it is because for 6 years we had the catering business and built up a reputation. Now at about 8:00pm it is full and gets crazy in here!" says Robert smiling. ALWAYS SMILING!
"Okay here is the story. Me and Constantine met while we worked for 3 years together as chefs at a famous Dresden Restaurant near the Opera House, across the river in the posh area, where all the museums are. From the first day we met we said that we wanted to open our own restaurant. Three years later we started our own catering business named Mahl 2 Catering! We worked here for 6 years and of course we still do the catering; however, now if someone calls us and asks if we can do a event for 100 people we say yes! The TOP priority is the restaurant Mahl 2." says Robert. I wonder if he knows that when I googled his restaurant compared to his mentor restaurant that he spoke so highly of, that 9 years later, his has surpassed the other. When the servant has surpassed the master, that is when you know you made it! Call 0351 40864241
HOTELDEBOTEL BAR in Dresden...Swanky, Vintage, Elegant, Individualistic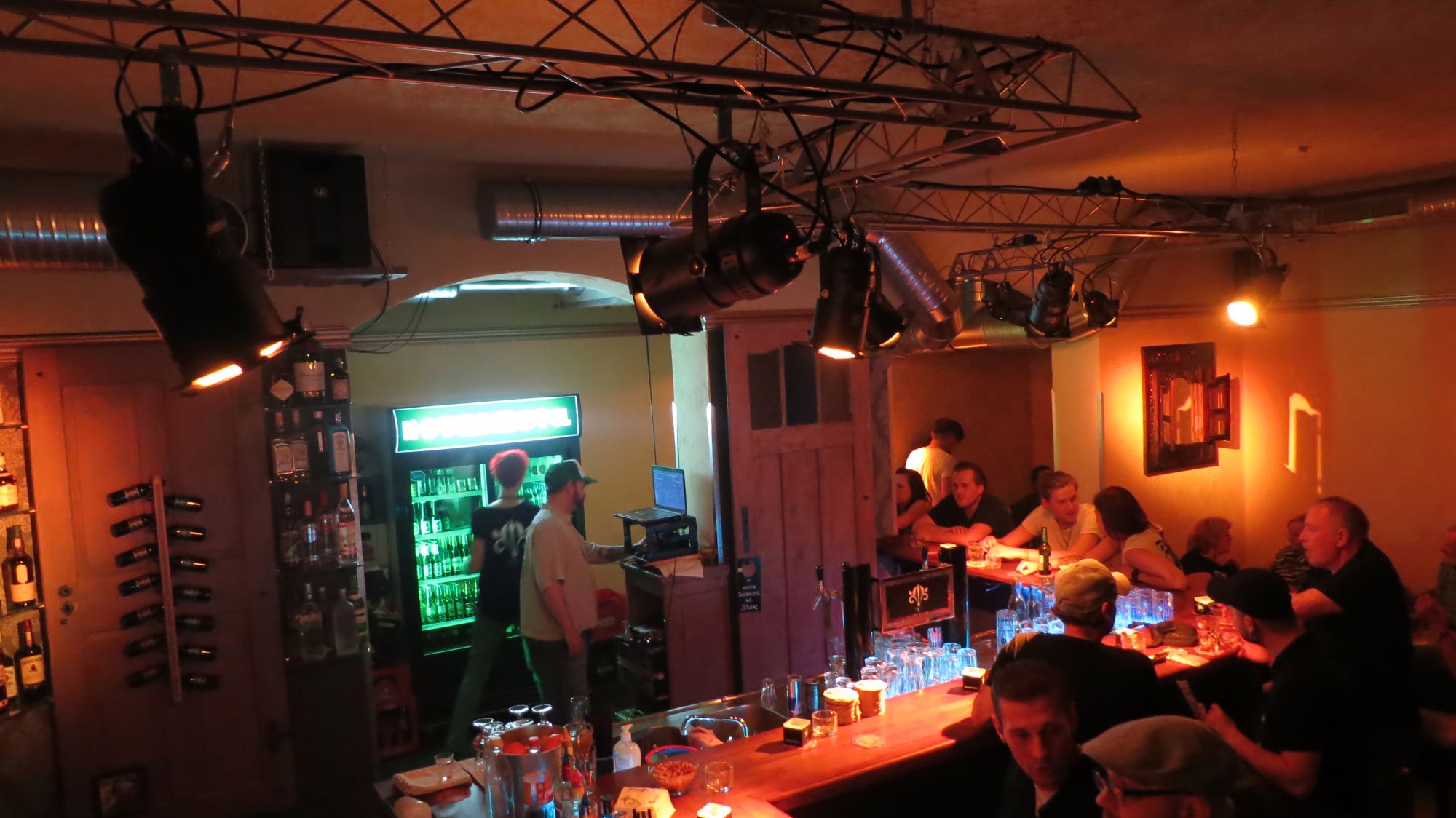 "We have a billard table down the long hallway and all the time American Tourists especially, open the door and come in, walk down the hall, and come and say,
"WOW A HOTEL WITH A BILLARDS TABLE COOL!"
and I have to say,
The name is HOTELDEBOTEL it means Crazy in Love and it isn't a Hotel."
However at the same time, the Netherlands always stop and take pictures outside the sign and that is how I know they come from the Netherlands!" says the totally funky cool Nancy owner of the bar.
Call 0351 33235430
Görlitzer Str. 15
"I worked 20 years around Dresden in famous bars such as Katy's Garage and it was really really fun. However, when I opened the bar here, my very own, the day I knew it is mine is I walked behind the bar one night and took my shoes off...I stopped! and said, O it is mine." says Nancy.
"I am most proud of the fact that we came in here and for 7 days we stripped the entire walls and we had it all open and I stood and said, okay, I want a big bar here with a lot of corners so that when people come in little groups such as 4 people, they can sit around the corner bars and talk to each other. When I go out to a bar I love to sit at the bar and talk to people and most of my friends own and work at bars. I want a social bar and a big bar with lots of seats. That is where I based my concept of the bar at. My father hand-built it and he built the doors on the walls that have liquor bottles on them and he made the fun bowling game for people to play. He loves to work with wood and he is amazing. The entire bar is a creative vision of mine, my father, and my friends." Says Nancy.
Doreen, her barkeep for 3 years and best friend says, "Why do I love the artsy independant side of the river, here? Because it is a mix of people and cultures and honestly if you talk to people every person is of interest and they give me something new. Each person makes me think about what they say and each person changes my thoughts and ideas. That is what the atmosphere here is all about." she says.
"You know when I opened it in the winter is busy, yet in the summer I only have 3 outside tables and everybody in their right mind wants outside tables. I have the opened french doors and that helps people to mingle. However, I found a very talented musician named,
Ju von Dölzschen
https://www.facebook.com/Ju-von-D%C3%B6lzschen-1662995487285119/, and he loops different instruments and plays a one man band with amazing music. You should come hear him some night." she says.