From Google San Francisco, me in Texas and the sponsors in San Antonio and Houston Love to Regensburg

Meet the Royal Family of Regensburg,

With Albert Von Thurn und Taxis.
While they have many concerts and big name stars at the Palace, they have garden shows and of course the lovely Christmas Shows that I love too much. Hope you come and have fun.
Alright want a casual and kind of funky Western type of bar to have a beer?
Try DUDES 4 located at Unter den Schwibbögen 21
wow just amazin
Probably the nicest person I have ever met, along with Albert,
is Markus of DUDES4,
the cool warm and friendly bar on Unter den Schwibbogen 21. I´ve interviewed him three times, three years now on a very lovely COUNTRY TUESDAY; and thought it a country western bar,which I love country. Yet, "It is a casual friendly bar and you happened to come on Country Tuesday where I play all Country!" he says.
Hmm, okay but I loved the bar´s western theme, the wooden highchairs, the western themes, the deserts of America license plates on the wall, and here it is.
The second day I interviewed him, I just happened to come to the bar again on COUNTRY TUESDAY! and he remembered and started laughing, "You came here two years since on Country Tuesday!" Yes, that is true, yet I told you I love country music! I guess I just pick the right days to see people!
YET WAIT COLLEGE UNIVERSITY STUDENTS WORK IN PROGRESS
DUDE´S DINER...opening near
(hint where Burger Buddys used to be)
The kind unassuming boss, Markus says, "We all sat down at the diner yesterday with friends and family and we tried all the items on the menu. Some worked, some didn´t!" he laughs. "4 young guys walk in and ask if they can eat, thinking it is still Burger Buddy´s and they´re hungry, right? So, I told the guys to just sit down and we can try some menu items on them and they ended up staying for 3 hours and drinking much whiskey and helping us with the menu! It was really fun, actually," he says. "I told them just give a donation since we weren´t really open and they were really good sports and helped us pick the menu. They gave 2 times what it would of cost them because they said they had such a great time, they thought we were a great bunch of people and they loved our food and whiskey. That made me feel good since we are just starting. We wanted to be open for the Christmas markets and now it is looking like December 1!
THE COOLEST ITEM IS THAT EVERY FOOD MENU LISTED AT DUDES DINER IS GOING TO BE AVAILABLE FOR DELIVERY TO DUDES BAR!
So when you are a hungry dude you can order food from Dudes Drinking Bar from Dudes Diner til 2.00am!
Markus is a great guy, very nice and when you enter the bar to chat for 10 minutes you end the night 3 hours later, just chatting with him and the guests that rush the bar to have fun with him. Great Bar and a must for unwinding and having fun.
"You know the feel is industrial and the Burger Buddy´s had great decor so we kept most of it
. But what we do have that I know the Americans shall love is the 2.80 coffee. FREE REFILLS AMERICANS, since I know they love coffee.
The kullman´s diner doesn´t have free refills since I went to check them out. WE DO. And we have American bacon and eggs and pancakes and the coffee from 9.00am til 11.30 am everyday.
And we have PHILLY CHEESESTEAKS;
THE REAL ONES LIKE GINOS AND PATS IN PHILADELPHIA.
It has taken us about one month to finally get the philly cheesesteaks bun right, though
. My partner is a professional hunter and he has qualified game such as wild pig and wild venison and we do wild hotdogs and wild burgers that make it Bavarian. So, we have a very affordable and cool menu and I hope the people come and give us great feedback the month of December!" says Markus.
They have great beer pong, and they have something that is named MOON MOON, which is imported moonshine from America 80 proof! yum!
Alright, I gave Markus of Dudes4, Alan Jackson, and my best buddy Keith Anderson, and Josh Turner to add to the playlist.
"Hmm, I haven´t heard of any of these guys, yet I can add them to my list!" he says.
https://www.facebook.com/dudes4ratisbona/
"The great thing about Country Tuesdays is the fact that the normal beers are all 2.40euros each, which is why they love Country Tuesdays," laughs Markus, "and the shots are 2.00 euros."
"Twice a month is Live Music Thursdays!,the other Thursdays I haven´t found a theme yet," admits Markus.
Restaurant Mirabelle
located at Drei-Mohren-Str.11
Featuring French Chef Stephane
Seddiki
"The restaurant Mirabelle is my last one, let´s hope!" laughs the prestigious French Chef Stephane Seddick when I interviewed him today in the outside garden.
"My first French
restaurant in Regensburg was Le Marmiton, which I loved yet it didn´t have a garden
outside and the Germany people love the gardens! Now I have Mirabelle since 2004."
"I am from France, near Lyon, and learned my training in France. I worked in America, actually about 4 years in Los Angelos and loved it, worked in Santa Monica, which is a beautiful city, too. When I came back to Germany, I also worked in the Goldener Lowe, which I truly loved working in that restaurant. Now, my last baby is the Mirabelle. I guess I should say that it is both better being my own boss and not so much!" he laughs. "It is more pressure and stress in the kitchen, and I have to learn to control my French temperment of having perfection since I love my team and I don´t want to lose them!" he says laughing again. "It took me a long time to find the right team and it is definitely a team effort. I can say that I have to love what I do. You have to love being a chef, or it is too difficult of a job to do for very long and I have been doing it 45 years! Wow I can´t believe that either. I guess the reason I am full of energy is that I have learned that my leash is my kitchen. Not my customers. I don´t come to the tables and sit. I present my food. My guests are my guests, and at the same time they are my bosses. You know, they have to love my food and it has to be presented with the highest quality for my guests to continue coming back. So, in essense they are my bosses!"
"It is a select menu, not so big, and definitely French with the entire card being my signature. I would love to think that the guests come because of me, and that is true since sometimes they say, "Where is the chef, Stephane?" Although my team can make any item on my menu and present it the way that I do since I have trained each of the chefs, the guests still complain! "We want Stephane as the chef. So, I try not to show my face in the kitchen!" he laughs at that. "My team is very good."
"My restaurant´s specialty is meat, with essentially 4 to 5 meat entrees. It always has one fish entre and if people want to eat fish, they can eat that one. The reason is I insist on the freshest fish and it is sometimes difficult to do several fish plates. I can always find one good one, though."
http://mirabelle-regensburg.de/reservations/
https://www.facebook.com/Mirabelle-Regensburg-454100887976782/
"It is more difficult to make French cooking because of the basic reason some of the sauces are very involved. My
passion is to create the sauce and although every chef can do the same sauce, they all taste a little bit different and that is what makes a great chef," says Stephane.
"You know everything is fun to start with and you must take the material that you have and shape it. Give life to it
. I do classical cuisine bourgeoisie and more modern presentations. Every recipe at Mirabelle is original, though and mine. I do peak sometimes and if I take a fancy I will tweak a dish and watch the person that ordered it taste. It is my creation each and every time and it is personal, as if you are at dinner at my home. So, yes after all these years of course I care very much about each person and the plate."
"Everyday is different. Mostly each person is different and we do have regulars that dine here. It is of the highest quality at very reasonable prices and so they come frequently. And yes it is fun, too to have the tourists visit and compliment me, my team and my restaurant."
The restaurant Mirabelle is beautiful Very beautiful and very French in its decor. I compliment Stephane a couple of times on it since it is such a gorgeous place physically. "Thankyou very much," he says. "I rarely talk to the guests, though, since I am very busy in the kitchen and it is such a responsibility to keep up the standards. My wife and team talks to the guests and they always let me know about the response." You will love the restaurant, the team and the food, especially. The wine, is, of course, French! And of the highest quality, yet the menu is very reasonable. I hope you enjoy the experience as much as I do.
The Master Chef Entreprenuer,
Mattia Kreutzer
, on the stage at
Kreutzers!
"The range of beef we have is of the highest quality in the world, such as U.S. Beef from Nebraska(Omaha), Wagyu, Fassona, Irish Hereford, Mittelmeerfische und Krustentiere. The prices reflect that too!" laughs the Master Chef and owner, Mattia. "I am always surprised when people make reservations and say that they are driving 70 kilometers or more just to eat dinner here. The guests know the beef type that they want and the weight in grams every time. They are very educated when it comes to my menu. I guess when you pay that much you probably know what you are eating!" ps...Kobe Wagyu Beef can come to 1,000 euros per kilo! Enjoy!
When the guests come to Kreutzers(usually a 10 day reservations-in-advance guest!) they dress for their special night out
, and their favorite treat is watching the chef prepare the meat on the grill on the island right in front of them. "Yes they always want to say hi to the chef and I allow the guests to walk into the kitchen to meet the kitchen chef, too!" says Mattia.
RESERVATIONS IN ADVANCE PLEASE. 0049 0941 5 69 565 020
http://www.kreutzers.kitchen/
Kreutzer´s is to Regensburg as Mortons is to New York and Chicago along with the famous Chop House in Chicago, or Smith & Wollensky in London.
The highest quality of beef available in a elegant beautiful restaurant.
Does Mattia eat Wagyu Kobe steak everyday?
He laughs, "About once in a while, I love it, yet it is a very deep rich meat, so if you have it one day the next you can choose something different since we have lobster and prawns and great seafood, too, that we grill over the charcoal grills, that is what we are famous for.
There is only about 10 places in Germany that have the charcoal grills. Kreutzer´s is famous for the charcoal grill and the best meat. And I hope that they are entertained with me as I prepare it for the guests!"
"You know it takes many years to earn a respected reputation such as we have at Kreutzers," starts the funny interview with the head Boss, Mattia. "I have had my restaurant in Regensburg 30 years and of the last 8 here at the location at Prinz-Ludwig-Strasse 15. Every year I strive for perfection and to find around the world the rarest and the best meat. I believe the website shows the quality that we have and you can judge for yourself."
"What I loved most about my visit of my wife Ranska and me to Bosnia," says Alen, and I interrupt him saying, "O my gosh you went to Boston...did you go to Harvard..." to which he laughs and says, "BOSNIA, not Boston..." Okay the conversation starts and as usual I am so happy to chat about America!
Yet he tells me, "I said Bosnia, and we found a great wood furniture store that manufactures in Serbia. My partner, David, and I decided to do a restaurant based on Mediterranean and very original rare artisan wood designs.
From tables to wine cabinets. We thought to do a restaurant and to showcase all the wood products, of which you can purchase in the restaurant."
https://www.facebook.com/foodandwood.rgbg/
Food and Wood of Regensburg at Domplatz 3.
"The idea is to give the highest quality of fresh Mediterranean
food with the highest quality artisan wood products made in a family atmosphere in Serbia. The quality is of the highest in both, yet the prices are incredible," explains David, (his wife Natalia) and who along with his partner Alen and Alen´s wife Ranska, own Food and Wood. "I want a place and so does Alen, where we can eat the highest quality food of exotic presentation and quality. We couldn´t find that perfectly in Regensburg. We found a little of that or something on our travels, yet here we made the restaurant where we can eat everyday."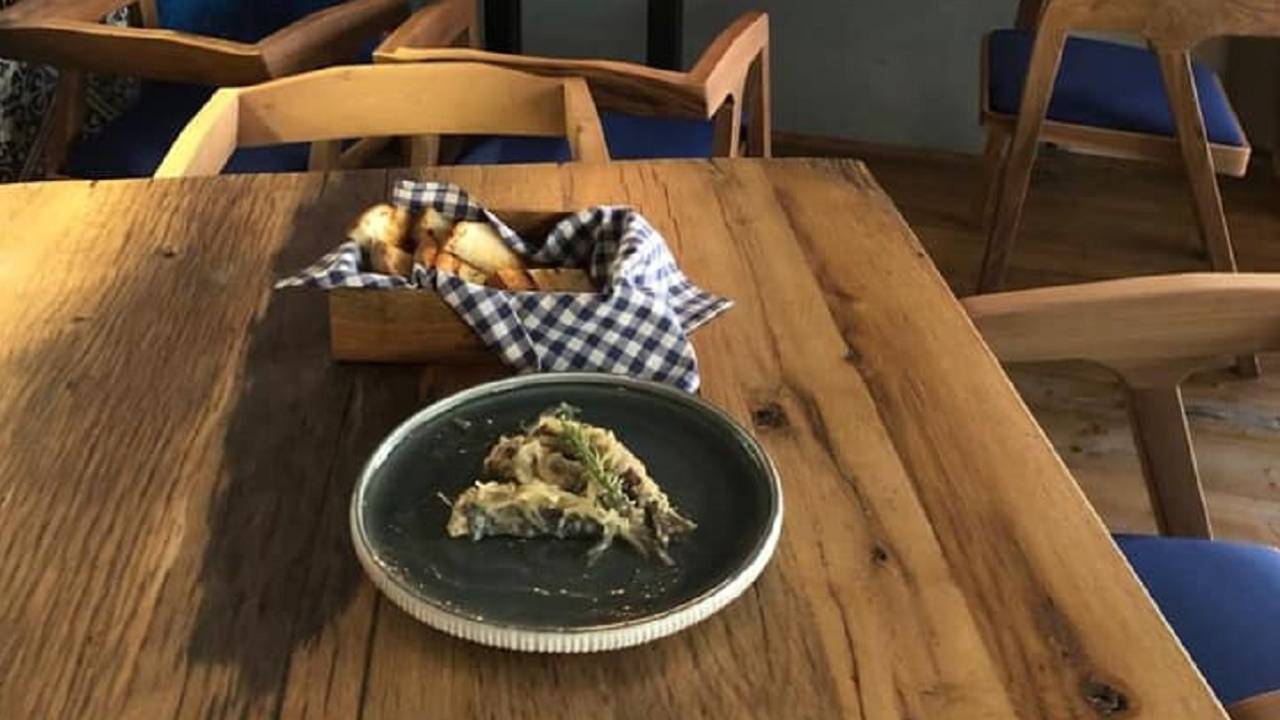 Alen does have interesting stories, especially since David owns SUD club and the famous SCALA club of Regensburg at least 20 years now. "Yes, along with a nightclub in a church where the city bought the church and we put the dance club in it, and the
Helga club which is below us
https://www.facebook.com/pg/helga.rgbg/posts/
and we are seriously considering making it a exclusive 30 and above members only club where you can enjoy privacy and elegance. Regensburg doesn´t have a exclusive members only club either. Me and my wife love to eat good. We love to have a nice glass of wine with friends. You can do that here. That is the future segwaying into a older crowd."
"The concept of showcasing original old oak unique wood designs, from the worn tables and chairs to the wine cases to the boards that we serve the food on, is our own original idea. I hope that guests come to eat and enjoy the mediterranean food and to say, "O wow I love that wine cabinet, can I buy the wine cabinet and the gift wood boxes and I say that yes. Every wood item is for sale in the restaurant."" says David.
"My wife is trained with chefs and doing her own recipes, she didn´t go to a classically trained gastronomy school. Yet her menu is lovely and unique and exotic. We Love it," says Alen. His wife laughs and says, "I didn´t just whip up these recipes. Of course I have training. With the better chefs as we learn. And the recipes are my recipes along with others. I love to cook and I am very happy that you love my food!"
"Natalia and I have twins, and that is the most difficult job ever. I have owned some of the most popular nightclubs in Regensburg the last 20 years, including SUD club and Scala, which I still own. NOTHING compared to having twins. One time, when they were 1-1/2 years I didn´t sleep yet 1 hour in 3 days. I told my wife I had to go sleep or I was going cuckoo crazy. I slept the day and night and when I came back I was a new person. Happy rested alive!" he says laughing. "Now it is better. They are 3, and while we build a older place such as the Food And Wood, which is better for a family than the nightclub scene, we grow together. Now it is fun. But twins to 1-1/2 years! O My Gosh!" he says.
Alen says, "We come from Croatia which is the number one tourist destination last year. People are discovering the country and we have much beauty. Especially the seaside where we come from. The recipes and the types of mediterranean food we prepare is typical of my region. It is authentic food here, but I couldn´t say it is traditional Bavarian since it isn´t and we aren´t from Bavaria. That is the difference."
They have 25 items on the menu.
5 fish. 5 meat. 5 vegetarian. 5 desserts. 5 appetizers.
"That is on purpose. And now the summer menu is changing to the winter menu."
"Soon, we open up the other room adjacent to Food and Wood and we start a degustation menu. That one is about 140.euros and 7 courses and 7 wines. It is a VERY reasonable degustation menu and already we have parties booked for the Christmas holidays. I am VERY happy to be a restaurant guy now and phasing my old self out of the partying nightclubs of 20 years!" Laughs David.
I have always been intriqued with the
Scala Club
since it seems
very swanky and upscale and prestigious. "It is a very friendly club. I´m going to tell you the real
secret of it. We have the lowest cover of any club in Regensburg. It is only 6.euros. And we are the
only club where you can bring your coat and check it free. The only one. It has been that way forever.
My clubs, if you check the pictures, bring a mixture of people and is especially friendly to us older folks. You know one of the reasons I am seriously wanting a member´s only club is that when I start being talked to with my guests as a respected elder, I know it is time to let my young people manage Scala and me do something else!" laughs David.
Scala Club
is definitely for dancing!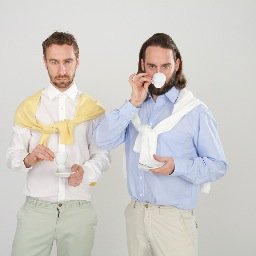 Okay what are the hours of the Scala Club, for instance since we are in the city on Wednesday, is it open on Wednesday?
https://www.scalaclub.de/ It is only open on Fridays and Saturdays. It is located at
Gesandtenstraße 6 / Pustetpassage.
"
The Barock bar is 3 and 1/2 years old, and I am the one who owns it the last 4 months. I love my bar and I am hoping to have in the future people that come specifically to Regensburg to see me, not just to try to find a cocktail bar.
I want it to have a great reputation as great cocktails, service and just a classy intimate bar.
I hope people that come know cocktails and want to try mine and I appreciate people coming in a little tentatively, too, and feeling comfortable to ask me to help.
I love making drinks for people that tell me what they do love in a good cocktail and the things that they don´t like," says Thomas, who along with his partner, Anne, have made Barock the classy 1930s decor bar that it is today.
"I would say that one of the things to notice that I have added is a higher quality of spirits to work with.
We have these cool weathered leather aprons that a designer came in and sponsored my team and me with and it just adds to the charm and coziness of the bar. The light colored leather chairs give the bar a classic 1930s timeless feel and that is my idea, too," says Thomas as he explains the way he hopes people see his bar. "While it is my dream to make the Barock bar, which by the way is a play on words for the artistic period of Baroque style and the fact that it is a bar!" interjects Thomas, " It isn´t necessarily Anne´s dream." Anne shakes her head, "I don´t know what my dream is, I guess I am a entreprenuer and I am supporting Thomas with the fact that he knows what his dream is."
Thomas says,
"Yes, we think about the future and making our bar a respected and sought after place to have some classic cocktails in a quiet setting where people can remember the experience.
Maybe opening the Renaissance Bar in the future. Another play on words!"
Gin Tastings,
rum tastings,
79euros
& Whiskey tastes
"I am a serious person concerning my goal to make a career and a life as the best mixologist that I can.
I went to college to be a biologist and started working at a 5 star and loved it too much. When I told my father I wanted to own a bar, he supported me a little hesitantly with the fact that he understood I wanted to follow my passion, yet he wanted to be sure that is what I wanted to do. It is 6 months ago; yes, that early, my mom said she is happy about my Barock bar," laughs Thomas. "We do have fun here.
We are a great team. If some members of my team, and I must say team, since that makes the bar function smoothly and makes people have fun when everybody is working with each other, if they are inexperienced at bartending at first, I train them.
It is more important for me to have a feel about somebody. Are they a good person and honestly want to learn? I hire that person."
Located: at Krauterermarkt 2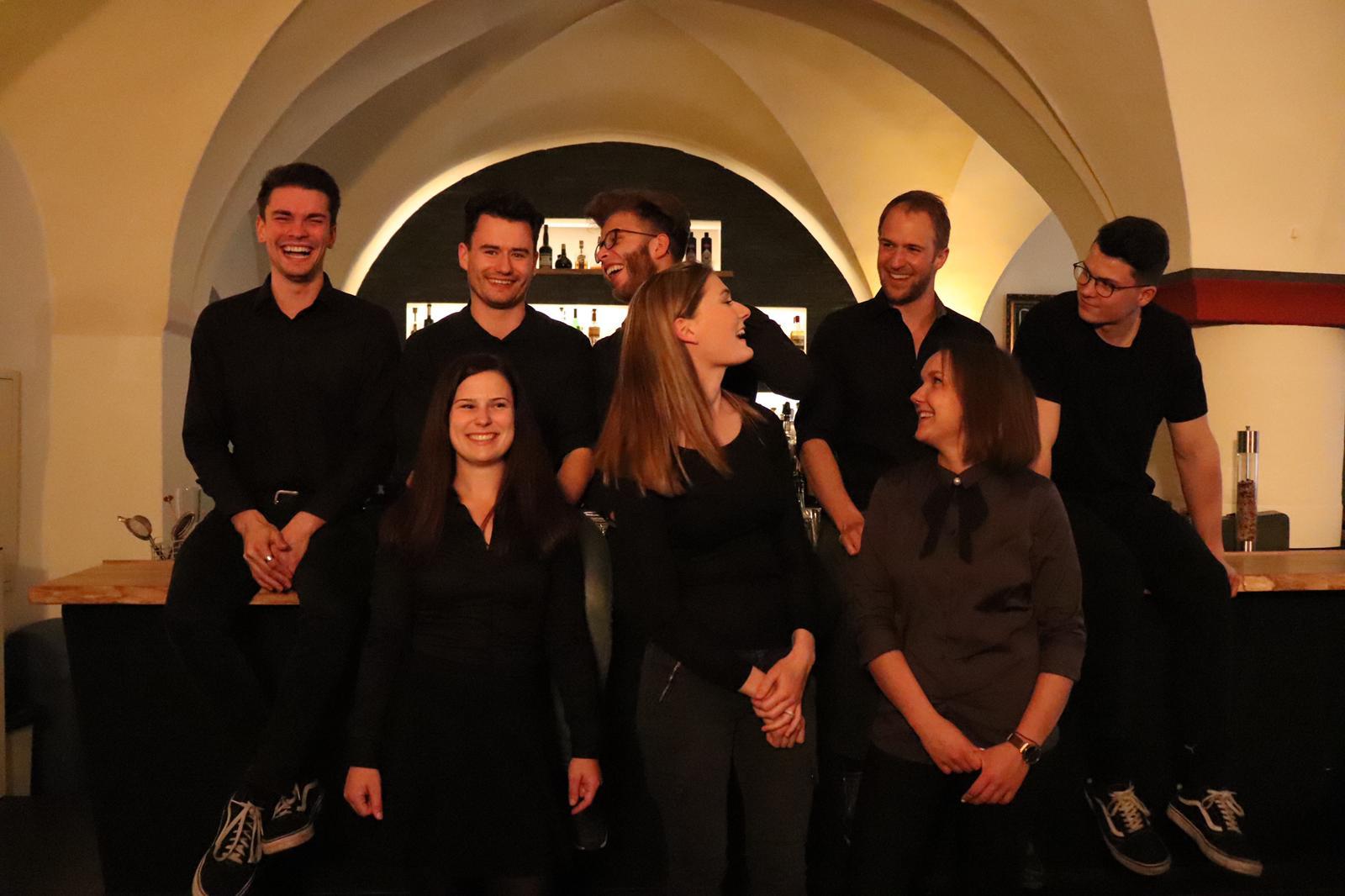 "I have a audience for my bar and it is a expensive one, I guess. That is what people say.
I believe it is just right.
The drinks start from 9.00 euros and up. Yet they are very good cocktails." says Thomas. "People say that they look in the windows and the bar looks too expensive, yet it is a great bar.
You can come in and have a glass of wine, or you can come in and have a expensive cocktail. Just come in and enjoy the bar, that is all I ask."
Degginger Cultural Creative space and cafe:
Has JAM SESSIONS open mic and Pizza! named Pitarrenjam.
Combining great music and pizza from 7:30pm to 22.00pm
And to know the owner of the Great Cafe is Heiko and Werner who are both caring and culturally motivated entrepreneurs.
"It is important for people to know, for instance that on Friday nights we always have something special in the terms of a great cocktail night. We have smoking Old-Fashions, for instance and the cocktails and bar atmosphere take a little long to make that night. Or on Wednesdays we always have live music and pizza, too," he says. "And while it is a cultural and artist working space, we want our guests to know that on certain nights they can come and be loud or have a great cocktail and talk with friends, or if a book reading is happening they need to know that too. You can find the entire schedule on the website."
https://www.regensburg.de/degginger
Werner is a young Regensburger, "I studied Architecture and I apply that here on a monthly basis." he says, when I interview him today at the Funky totally Promotive Cultural Interactive Center in Regensburg. "Another architect built the bar yet I change it every month. And here it is challenging since we always have something going on. For instance we`ve a night of dancing named Swinging Coffee with the Andi's Bluesorchester, and we have live music on stage, and we have the mayor talking about important issues, that the community can come and join in on, and we have poetry readings and book readings. We even have a house jazz band, and we had a dance for Human Rights."
"Alright we have two workshop spaces, on is the Pop-up room where anybody can just pop-up and start brainstorming and being creative and the other is a more formal room that the city government takes appointments for. In the Pop-up Room whatever you create you can exhibit and sell, such as arts and crafts, bicycles, etc. Whatever you make. You can work with several different people from the city, or university or just yourself." says Werner. "And while you're working you can order the Rehorik Coffee and something to eat. It is great!"
"I love the fact that the Degginger is a cultural creative idea platform where emerging artists can meet with working industry people in the field of interest and they can create together. We have the Design Project now where you can see the entire process as it unfolds. From scribbling and doodling ideas to making small story boards and template people and materials needed boards, to the final project before it is implemented. The process you can see around on Degginger´s walls and in the rooms. Every couple of months it changes, for instance a filming project or a architectural project. The important idea is to support the creative artist and the cultural artist as his and her ideas come to fruition," says Werner, one of the two creative cafe design artists, who along with Heiko Rehorik own the coffee cafe in Degginger´s space.
https://www.facebook.com/das.degginger/
"Each space shows the process of a creative idea taking place."
So come for the important space to network and collaborate on projects or come for the dance and the music and the pizza!
"We have a great Rave happening in a couple of days on September 15,
too, named the PizzaRavem where you can
eat as much pizza from 4.00pm to 8.00pm and Dance to Electro Rave music all at once.
It is very funny since you see the electro music happening with the wild happy Rave dancers in the middle of the cafe of all ages, and the genteel folks having their coffee and cakes on the tables. It is lovely to see,"says Werner.
DEGGINGER, the Cultural Bar...at Wahlenstrasse 17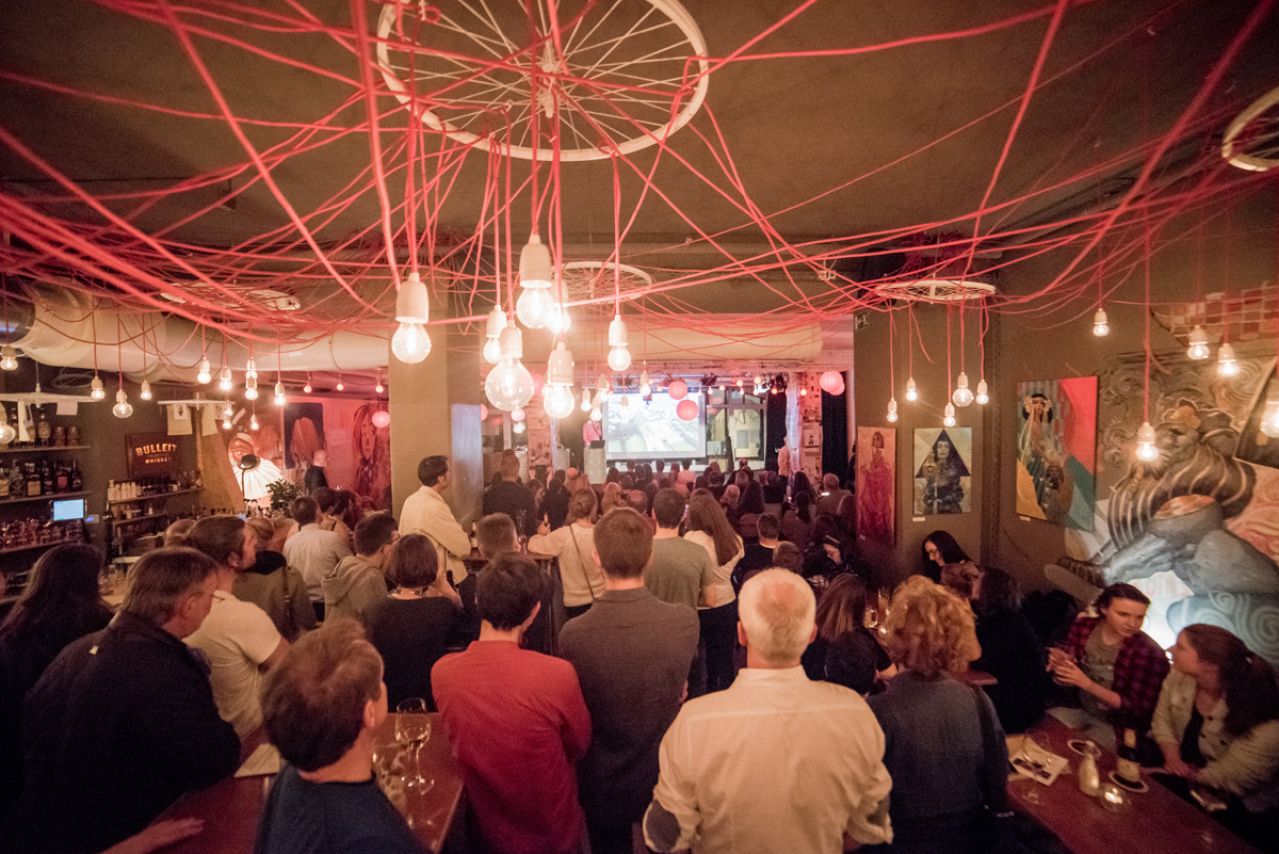 APOTHEKE Real Bar with "drinks and peanuts!" says the laid back boss, Christoph of
the long standing simple bar where people of all ages love to come and talk with friends.
Apotheke is probably one of the most popular sub-culture bars with the students and tourists from around the world in Regensburg Germany mostly since the boss, Christoph says, "The drinks are cheap and I serve peanuts in the shell that the people are more than happy to fling on the floor!"
Okay. It has a very simple bar decor with seating outside where people often approach Christoph from the university asking to throw a event here.
"Most of the time, I don´t even know what the event is, for instance
skateboarders
today hanging skateboards on the walls. The girl from the university asked if they could have a skateboarding party where they skate in the city, have some grilled food and come here about 21.00pm to throw party. They´re putting skateboards on the walls and I don´t know if they´re selling those skateboards or
just showing them off!" he laughs and says, "it is a very simple and casual bar open to everybody."
Does he skateboard? I ask. "No,"! he laughs. "I love to ride horses and my girlfriend is a horse person!"
"My brewery is a local one named, Eichhofener with lager helles, pils, hopfengarten(craft bier), dunkles, festbier and leichtes helles
. It is a good beer, one of the best local ones and here you can have from 2.80 to 3.40. I think that is a very good price and although I don´t´do fancy cocktails, it is a bar, I have good Gin, Rum and Whiskey." he says. And by the way, you can do Jack Daniels on the rocks for only 5.00euros!
As we chat, Christoph takes a huge bag of peanuts and pours the peanuts in a big silver bucket, and he just puts huge piles right on the bar.
"Food!" he says laughing. I try a couple of peanuts and he says, "just throw the peanuts on the floor!" Okay!
LOCATED AT
"I have peanuts. If you want food, there is pizza and kabob and traditional Bavarian food within 3 minutes right outside the door. People come here to drink and throw the peanuts on the floor!"
And while they don´t really have a teacup where you can wear your flapper dress and be yourself, you can wear your flapper dress and lounge on the comfortable couches hidden behind the bar. There is leather seats, worn with care and many hours of laughter and friendship and barstools to chat about life with Christoph who says he has many friends from America who invite him to visit and that his girlfriend actually learned horsemanship in America.
Note to tourists that of course includes backpackers, I love visiting Regensburg University asking the students what their favorite drinking bar is, "Apotheke," is always the answer. They have cocktail bars and dance clubs, but the hangout is "Apotheke" and Why? "Friendly owner and cheap beer and we can be ourselves..." are some of the answers.
Thanks very much to all the singers who sang to me at BAR 13 in REGENSBURG,
and as the sign says, "If you don't drink how do friends know you love friends when you call at 1:30:am?"

.... then fake Pia pretending she called

BAR 13 in Regensburg located at Keplerstrasse 13
You do know that the fabulous city of Regensburg is famous for the fact that they have
more bars per capita than any other city in Europe...that translates to about 1 bar for every 1,000 people, and includes babies and homey types...in addition, they are all rare and special due to the fact that it is a Unesco heritage site city where some bars and structures are about 1,000 years old. A must see.
One bar that is just a "normal" bar with a huge heart is the BAR "13" located at Keplerstrasse 13, of course.
www.bar-13.de
For instance, tonight, on Thursdays and Mondays they have Kareoke. The students love it, the tourists love it and the locals love it. I chatted with a 30ish fellow at the bar who was eating a sandwich. "I´m a local and I can not sing. Yet I find it fun and a nice calm atmosphere and every Thursday I come here and listen to the entertainers sing. Some are professional and some are not. Yet everybody has fun. And my friends constantly try to have me drink and think that then I shall sing, but it ain´t going to happen!"
Okay, so some are listener´s on Kareoke night and some are performers!
"The drinks are super reasonable and every day we have specials. We have long drinks tonight at 2 long drinks for 7.00 euros all night long. And that is probably the best in the city. That along with the fact that it is a nice comfortable easy place to meet friends, make new friends, meet the locals. We have young people and people of different ages. We have something to do for everybody and I personally loved the nice easy relaxed feeling of the bar. Which is why we bought "13"." says Karin!
"We have sports, the soccer or football as we say every Tuesday, Wednesday and Saturday and if it is on we have it on Fridays, too." says Karin, who along with her young brother, Peter, bought the bar from the 15 year long nice guy named Stefan who had originally designed it along with his father. "I loved the bar and Stefan is actually a good friend of mine? Is that how you say? Good friend?' asks Karin as she says, "I haven´t spoken english in 5 years!" Yes I say a nice friend. "We´re keeping it the way it is with a couple of little touches of mine. We have the travelling "SING" Kareoke guy who travels in his car and brings the books and Kareoke equipment and he has so many songs that it is impossible not to find one you love." She asks my favorite song and I say it is "if you like pina coladas..." "Okay come in and sing it," she says! Or perhaps you can play fussball.
While you are here please come to the breweries and drink beer!
At Spitalgarten,
it has a tradition of longer centuries than any other brewing house in Regensburg since 1225!
The family of Anton Sperger with his wife, Conny(Cornelia) pictured now own the beautiful 800 seating beer gardens and exquisitely awarded Bavarian traditional authentic restaurant.
"We added the enormous kitchen last 2 years and the family run INN above the restaurant and people come now for all three, the beer, the kitchen and the inn!"
I do need to mention a very fun event every month they now do, which is Bavarian Music live musicians every 1st Saturday of each month and please come to enjoy these fellows! "In addition, I had heard a great Italian band and I loved that band and I invited the Italian musicians to come and play on July 10th at the beer garden where we hope to serve a additional menu of Italian specialties.
Of course it is up to our big chef, yet Anton says he is sure he will be happy to try it!"
Located at St. Katharinenplatz 1, opposite the Stone Bridge, tel: +49 094 1-84 7 74
Alright, what can we eat at the award-winning Bavarian Restaurant where these risky young entreprenuers spent the last 3 years taking a 800 year restaurant and making it "the baby?"
"Along with the real traditional plates such as the tourists love of white sausages and boiled breast of the mung bull and osterreichisches Maisgockerl, you can try the Regensburger Wurstsalat or the Dreierlei Topferl, or try the specialties that they are now becoming famous for such as the white asparagus in hollandaise sauce, and the small potatoes and dinkel schnitzel."
You know as long as you stay in Bavaria you should truly try some Bavarian food, right! ENJOY the award winning team of Spitalgarten!
https://www.spitalgarten.de/
reservations:
https://www.spitalgarten.de/?q=ankommen-heimkommen
"
It is Anton´s pet project of wanting to include a family fun INN and since it is only 13 cozy rooms,
of which only the guests receive breakfast in the restaurant every morning with us, it is manageable let´s say; doable!" And the view is right on the river, if you got any closer you would be swimming!
"Now the people come for the food whereas before it was only for the beer," they say laughing as I interviewed the lovely couple today at the Beer Gardens.
The kitchen has allowed us to upgrade the quality of the food and for the year of 2019 we are the one and only restaurant in Regensburg to receive the prestigious award of Ausgezeichnete Bayerische Kuche and we received 3 diamonds, the highest award they give. We do only local Bavarian meats and cheeses and products and the bread is made near our home about 20 kilometers from here." And although it is funny now,
"At first it was unbelievable since everyday while we renovated the kitchen, which took months and months, we would take home with us in a big van the cutlery and the dishes and wash these and bring these to the restaurant in the morning and that included all the food, too! Yes, looking back on the months where most people close for renovations, we stayed open
. And yes, I am saying everyday!" Anton´s wife laughs when I ask if she is serious!


Pulcinella Ristorante Pizzeria da Toni
is owned with two of the kindest and most honest people that I have ever met, Elton and Aida. I love both and including the little girls and the brown and ivory puppy!
At
Holzländestr. 2, Regensburg Germany
Holzl\u00E4ndestr. 2
It is located near the foot of the LOCK bridge on the river and beautiful.
Reservierung: 0941 59990780
"I love the fact that Elton had always dreamed of owning a restaurant that reflected the story and tradition of the Pulcinella, which is the mask of the Venetians that shows what is on the outside can sometimes hide inside the beauty and the mystery of the real person.
It is used with pomp and formality." says Aida.
The meaning of the Pulcinella character is such that it is a classical character that is originally from the 17th century and has become a main character in the Neopolitan puppetry.
The Pulcinella is geared to be the star and the voice of the people as the direct expression of the people of the Neopolitan period that is a lively and spirited.
"Elton loves changing the menu to seasonal items and fresh catches. Every month since day one, 12 months in a row, we change the menu. Every item is handmade and cooked and fresh." says Aida.
"I love that my husband has found his dream. The food is great and handmade and we are number one in Regensburg for the Italian pizza, which is amazing after only one year. I am very proud of him and the guests love us, too. We are a family restaurant and our children are here playing, as Eme my older daughter and my 2 month old. We make our life here." she says.
"Elton has a lovely story, I think. When he is first starting out near Rimini, Italy, he starts working for a restaurant that is very famous there named Pulcinella. It gave him his first start. 20 years he worked and dreamt that one day he shall have his own.

Today it is around 1 year that we are here in the restaurant and Elton is making the great pizza that he makes that only he knows how. And today he makes the pizza for me, yet Elton makes better pizza for his guests!" says his beautiful wife, Aida. I love the pizza by the way, it reminds me of a famous pizza in a farm town near Chicago called Caps. I loved that pizza, full of cheese and loaded with greasy real pizza tastes and the best ever. Everybody loved Caps pizza. That is the way the pizza is here at Pulcinella!
The restaurant is beautiful, right on the river, and has open air windows, dark wood floors and tables and a heavy gorgeous authentic feel to it. It is elegant, yet the famliy super friendly. The food is great, too!
Aida is funny as she keeps saying, "He cooks real nice for everybody and for me he throws it all on. I love the food, though," she says as we eat the pizza. I don't care what the pizza looks like, I say. It is great! Homecooked and fresh and the family is the nicest, funniest as they constantly walk around and chat and show you the new baby!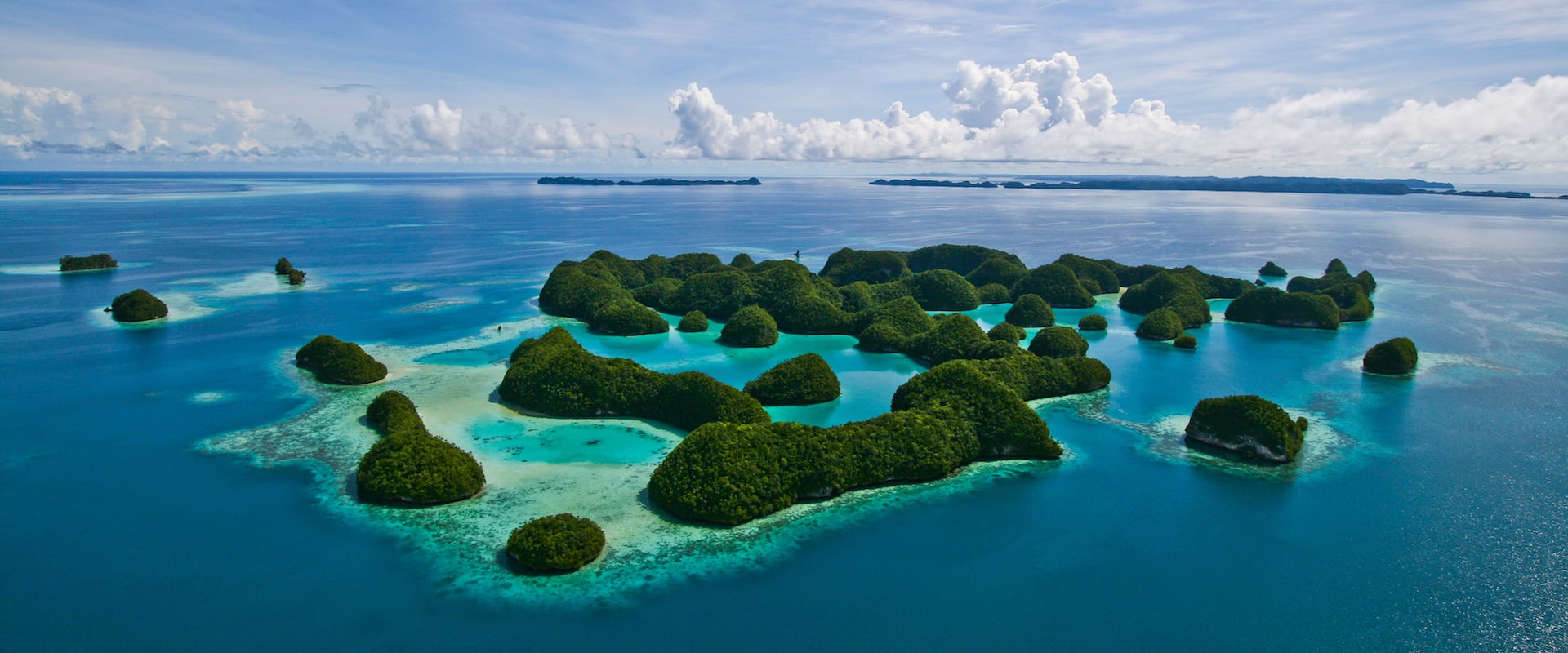 Would you love to dive in the Islands of Palau, which is located near the Phillipines, and the republic of Palau is in the western Pacific Ocean of Micronesia."It is one of my most favorite places in the world to dive,"says Rudolf, the person who owns ACTIONSPORT Scuba Diving of Regensburg. "People can spend 5,000 euros to dive 7 days in Palau, yet when we went every person said that it is totally worth it!"
ATTENTION to the FUN RUDOLF who owns ACTIONSPORT of Regensburg Diving
Some fun facts about Scuba Diving and Coconuts, "You are much more likely to have die from coconuts, which kill 150 people every year dropping from trees on tropical beaches onto a tourist´s head, and last year only 6 people were killed by sharks," says Rudolf.
"You basically take classroom instruction, then we do pool dives and open water dives in the shallow lakes here and after about 4 days of training you can do open water diving anywhere in the world with the certificate up to 20 meters. That is truly the deepest you need since most people don´t recreationally dive more. If you want to learn to dive deeper than you can always learn more training. Here we certify you to 20 meters.
After you take the course, most people love it and want to come with us on our many dives around the world. Just call me or come into the shop or message me and let me talk to you about the area of the world you wish to dive in. We are going to go to a couple more dives in 2019 and we would love you to come with us!"
https://www.facebook.com/Actionsport-Regensburg-166618286711569/
And make sure you come to the ACTIONSPORTS to say hi to
Rudolf
pictured with his Diamond Awards trophy and his new fashion pink Scuba Suit!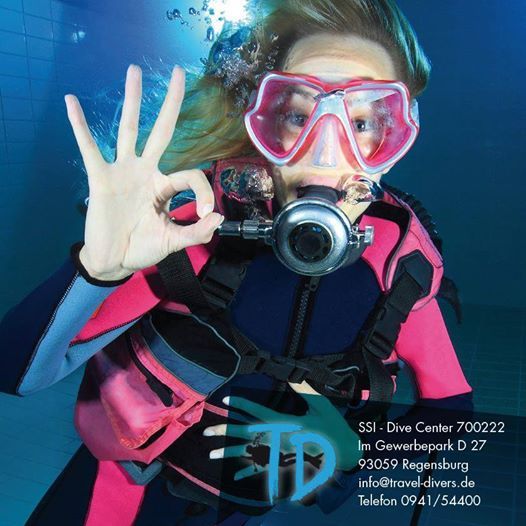 https://www.actionsport-regensburg.de/
With Indonesian divers, Rudolf says,"The people love the colors of the coral and the fish, and the Phillipines have many colors, which is the reason people love diving in the Phillipines."
"My new adventure is going to be scuba diving in Yap with the Mantas!"

"They eat plants only and they are very gentle underwater."
https://www.instagram.com/vinylbarregensburg/?hl=de
You have to LOVE THAT BAR named VINYL...mostly since the boss and his wife, Mr. & Mrs. Smith happen to be some of the nicest, happiest and of importance kindest people ever. Think Robinson Crusoe and you have VINYL in Regensburg.
located at Rote Hanhen Gasse 4.
"At the first couple of years, I would do the music as a DJ softly and maybe a friend would ask to play a saxophone a couple of songs, for instance and the people would dance. Nowadays the government of Regensburg says that you have to have a dance permit to do that. Now, I take that idea and say that perhaps my time in life is to do a raw organic food bar instead. Both me and my wife eat organic and healthy food at home and now I am giving that option to my guests. Starting the Jazz weekend which is July 19 and July 20, you can come to my Vinyl bar and eat real raw healthy options knowing that we prepare it for you. And we are calling the new facet of the Vinly bar the RAW FOOD RAW FUNK bar. That translates to the fact that on July 19 and July 20 you can come and hear me playing JAZZ DJ til 4.00am at VINYL and you can dance til 4.00am too!" says Mr. Smith as he and his wife enjoy a great breakfast of raw food and we sit and chat outside on the table together.
Mr. and Mrs. Smith contemplating a new idea of a RAW FOOD and RAW FUNK addition to the very casual and tiki type of bar in Regensburg.
"And to let you know, my bar is my idea and my concept and while it is true that everybody in Regensburg has their own concept of a cocktail bar, or tiki bar, or whatever they chose, mine is not really a cocktail bar. Mostly since in the beginning, I knew how to give you a beer and simple drinks. Now, I have many signature cocktails that I made myself with my own ingredients, all natural of course, since that is my personal philosophy and mine have say natural tea in the cocktails. People, I hope, love the friendliness and the happiness that we try to show when you enter the bar."
What does it take to make your own signature on a bar in Regensburg, the city in Europe with the most unique bars per capita? "It takes hard work, and the Vinyl bar that you see is made, literally, with my own hands. My father loved the sea and boats and the table to the right is made of a wood and a propeller! The bar I made with my own hands with wood. I am a DJ the last 20 years and I am the resident DJ here, yet, honestly, I never made a drink except at home in my life! I learned to be a bartender the very day that I opened. The first 2 years every bartender that I hired had never bartended in their life either! It is a casual and real and comfortable place to work and to come to." says Mr. Smith.
OK! From Vinyl bar and a little dancing to Vinly bar and soft music and great raw nutrition!
"You know the first time that I am offered the location it is maybe mid-November, of 2015. I was not prepared for that at all and yet I had the option of take it or someone else wants to do something in the location and I said yes. I had never made a drink in my life for anyone other than me or friends. I opened the bar, did all the work myself and built the bar and the tables in 2 weeks and opened December 3. I made my first drink for a guest on December 3. It has been that way with my life! I take risks and I am always happy that I took that risk!" says Mr. Smith and we all laugh and say that what is the absolute worse that could happen? I say that if I made a ceramic cup and bowl and nobody bought it that it is the same as if I never made it and so I might as well try and make it!
And whether you check the
facebook or instagram of Vinyl,
if you happen to be
walking near Vinyl you can always read their windows to see what is happening that weekend!
And what else do people do in Regensburg, Germany? The fellow below, while saying that it is a
Unesco Heritage Site, with a 1200 year old Stone Bridge and Cathedral, the Bavarians are most proud of the beer! And while it is a religious region, afterall Pope Benedict came from Regensburg, they love just sitting on the steps having their favorite brews!
Boulderwelt Regensburg
where you can learn to climb indoors! The Bavarians are very well known for their physical activity outside, too, such as
Boulderwelting!
The Boulderwelt locations in Regensburg are very safe and if you wish to learn properly please ask the training team to help you. They LOVE helping people learn how to Boulder and it is super inexpensive. You could stay the entire day for only 7 euros to 10 euros and including the special boulder shoes they give to you add additional 4.00 euros. HOWEVER IF YOU MENTION EMMEANESBOOK THE SHOES ARE FREE TO USE TO CLIMB FROM BOULDERWELT AND SEBASTION! It is super fun and the soft landings help you as you learn. If you have children they just built a safe child area of tiny bouldering upstairs and that way the children can learn in a safe environment and have fun too.
Boulderwelt Regensburg, in Gewerbepark, A46 on Bus lines 5 and 8.
Information at: +49 941 89963606
kontakt@boulderwelt-regensburg.de
https://www.instagram.com/hempys.shop/?hl=de
Stephan owns the cool and funky Hempys of Regensburg with new ShiSha bongs and very expensive grown your own tents in the historic 15th century basement that the store is now located in. To find the store head to Wahlenstrasse 24 and find it in Regensburg.
Tel. +49 941 5841091
The downstairs is full of growing your own plants and includes my real cool tents that I love. They can help you with everything that you need, just ask and bring a car!
They have so many of these I told Stephan they reminded me of a Skateboard Surf Board place in Venice Beach California! You can create your own image!
"The CBD products that we have make up some of the most varied that you can find in Germany and it is important to know about the legality of my shop, which is 100%!" says Stephan.
Meet Tommy Chong!
The team is super kind and helpful and especially the boss, Stephan, so don´t feel going in and asking tons of questions for Hempy´s to help you with all of your supplies you´ll need!
The charming cafe is open to the Public and situated right opposite the lovely Palace of the Thurn und Taxis and as you can see they have real great sweets!
In the 1980s, Princess Gloria thew a ball for her husband,
the Prince,the likes that had never been seen before or since, and rumor has it when she descended the grand stairway in the Palace with a 2 foot high powered white wig of Marie Antionette, the 500 guests had a moment of silenced awe...the real story of Marie Antionette is
Archduchess Marie Antoinette was the 15th child and the last child of Holy Roman Emperor Francis I and the powerful Habsburg Empress Maria Theresa.
At the time of the marriage Marie Antionette was only 14 years old when she married the futuer King Louis XVI, and the real reason was for political aspirations of forming a alliance between the enemies Austria and France from the 7 years war.
With the offer of the hand of the littlest child from the reigning French King, Dauphin Louis-Auguste, the alliance is formed!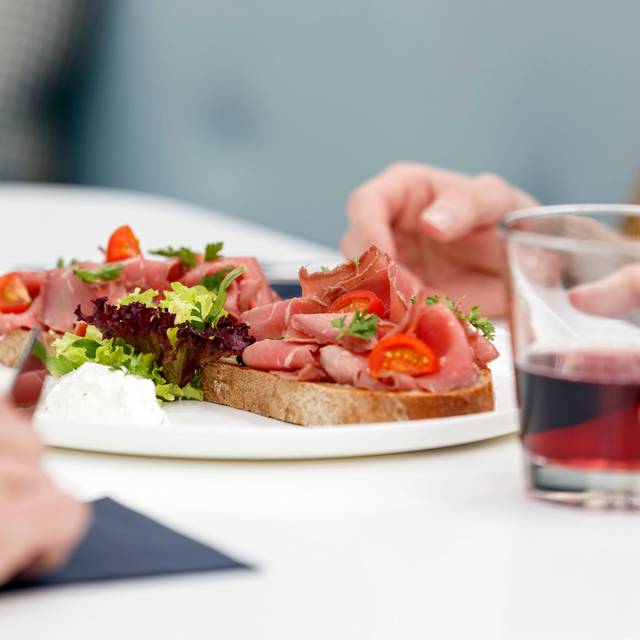 If it is the first day of you trying German Food in Regensburg, I hope you come here.
German food is always known as Bratwurst or
sauerkraut
, yet here at the Cafe you can try some items that are not associated with making sour faces!
Emmeramspl. 6, 93047 Regensburg, Allemagne
The Cafe is named Antionette, as in Marie Antionette, and since my sister happens to be named that I love the cafe and the family of Thurn und Taxis. That is when I am not falling over concrete posts near the Christmas Mercatos as I run to chase Albert aka Austin Powers, or trip down the stairs or fall flat on my face on the cobblestones. Yet he is real cute and thus far worth it!
ORANGE BAR
REGENSBURG
Daniel Jacobs, the architect who says, "the Orange bar is my love and my hobby you could say." owns the funky Orange Bar in Regensburg Germany. "
I have had it since 2006 and rarely am here at night now since I work in the day, yet a couple of times a month I come and have fun in my bar and actually work here.
Everyday when I open the doors of the Orange Bar, I smile. I love the Austin Powers and flower child era and that is totally the Orange Bar."
located at Keplerstraße 3
http://www.orange-bar-regensburg.de/
When we chatted on the December 22, a young college aged crowd soon wandered in. "It is usually that way on a Friday and Saturday, as the students seem to love the bar and either stay at home drinking til midnight and then go to a Dance Club in Regensburg, or come here and talk a couple of hours, listening to the music and just being in a casual atmosphere.
The bar is supposed to be a place where you can feel comfortable. My drinks are cheap compared to most places and it is really about the feeling of the Orange Bar, I guess that brings the people here. I have people of all ages, too. From 18 to 65!" laughs Daniel.
About 15 minutes and here come two gorgeous 40 year old women with coiffed hair and dressed to the nines sitting at the bar ordering more exotic sophisticated drinks! About 5 minutes later, here come 4 business men laughing and ordering mojitos at their table. Very eclectic and very cozy with just the right touch of cool Austin Powers decor and light soft modern music.
The World Famous Jazz concerts at the Leerer Beutel´s studio space brings in 900 members and many guests from around Germany and the world. "Yes, we started as musicians and artists, as you know, and the restaurant is something that we had to do in order to keep our music space along time ago. Now, I don´t know whether the creativeness of the restaurant as the chef or the music is my favorite. We still have the guest artists that exhibit in the restaurant every year, too. That is something I try to encourage. To bring new artists to the recognition that they deserve. Now for a couple of months we have Normanno Locci from Italy. His paintings are very sensual and deep and rich. Very different than what we have exhibited in the past."
20.00 / JAZZCLUB IM LEEREN BEUTEL
Förderpreisträger des Bayerischen Jazzverbandes im Rahmen des Hansjürg-Hensler-Wettbewerbs 2018 am Jazzfrühling Kempten
Donnerstag
January 10, 2019
"We have the highest quality of local products. That is a must for me. I try to promote and use the local farmers and I insist on the highest quality.
Good quality does not come cheap. We do have a student menu and a special tester menu at lunch everyday for only 7.20 euros. That is to introduce the slow cooking food to the guests. At night it is known at Leerer Beutel as being a elegant and romantic restaurant with lighted candles everywhere.
"It is a good combination of the fun of the jazz," says Winny, the owner of the coolest restaurant and jazz studio in Regensburg. Bertoldstraße 9 located at.
Leerer Beutel Famous Restaurant
, Jazz Club Regensburg, Independent Cinema, Art Museum, housed in Leerer Beutel.
The inside of the restaurant is delicate and elegant amongst wooden beams and century old stone walls that are covered with the artists work. They have such heavenly dishes as
Farmduck
, Pumpkin Soup, Salmon and veal, and Venison! It is a real fine dining experience with the coolest artisitic owners to indulge in conversation with.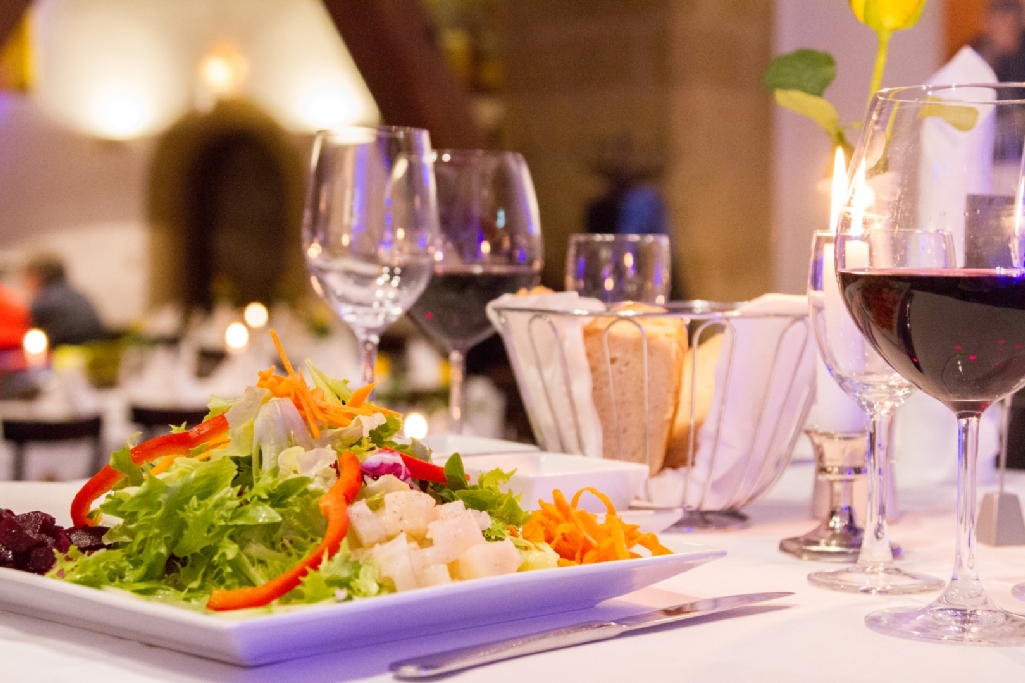 "The first month we opened Spitalkeller BEER Garden and Restaurant, 10 years since, we had only 6 people that came to our huge restaurant and beer garden the entire month of November. Me and my brother, Thomas thought, alright people have to know us, " laughs Stefan, who along with his fiance, Franziska, run the entire 1,000 seat Spital Beer Garden and 300 seat restaurant. "Now we have 1,000s of people everyday in the Spital Beer Garden in the summer since it is the nicest one here in Regensburg.
It is safe, up on the secluded woodsy garden, private, yet within a nice little walking distance to the Stone Bridge. Next April we are very happy that the biggest Whiskey Collection Museum is sitting up on the hill with us. That should bring in a lot of curious people from around the world, and of course after seeing and having a taste of the Whiskeys, they are welcome to eat some traditional German food and drink some Spital with us, " laughs Stefan.
Located at: Alte Nurnberger Straße 12
0941 8905 9170
https://www.facebook.com/spitalkeller.regensburg/
"In the summer it is simply beautiful and peaceful in the Beer Garden with all of the flowers and trees, until the 1,000 people come, of course, and at that time it is quite noisy!"
http://www.spitalkeller.com/
"We have many tourists that finally find us, if they venture opposite the bridge and walk about 125 meters, which, if they try to find the Schindler´s List House, it is right near us. And we have the local Germans. The people love the traditional Dirndls and Ledenhosens, too, and that seems to be a big clothing purchase for the tourists when they come to Bavaria."
"We have a lot of people asking to do the theater in the big theater space we have. Every month we have magic shows in the winter and a couple days a week the local Regensburg groups ask if they can do theater.
Of course you can drink the Spital beer and eat our great food and enjoy funny theater in the stage room. It is, I believe, a Bavarian tradition, to have a theater space in a big beer garden restaurant," says Franziska.
"We have traditional Bavarian Food, yet all of it is fresh and of the highest quality. That is something that both me and Thomas insisted on from the first day. Thomas worked in IT and since I loved Cooking and am a Chef, I worked in the Kitchen. Now Thomas has delved more into the marketing and IT aspect of his line of work and for me the restaurant is my life," says Stefan.
Hope you can come to the lovely cozy warm and traditional Bavarian Restaurant in the winter, where the fawn colored heavy wooden tables and curtains make it a homey feel to have dinner. Or if you prefer to wait til the weather is nice enough to sit outside, come and enjoy the Bavarian Beer Gardens of SpitalKeller.
The Beer Gardens of SpitalKeller, having fun with friends...
Rehorik Coffee
"I have a new store right opposite the Rehorik Cafe where I give espresso lessons," sazs Heiko on December 13. "And we teach people how to use the coffee machines that we have in the store. They can be very expensive coffee making machines, for instance they start about $3,000.00 to $16,000.00. That is the big one!" he laughs and shows me the cool espresso makers. "We give lessons how to make each type of coffee and we give you lessons on how to make the flowers and the fancy pictures that you see barristers do. We sometimes have from 20 to 24 people in the classes. They love it."
"The Rehorik Generations started in 1928 with my Great Grandfather who only roasted coffee in Karlsbad, Czech Republic which it is known as today.
It was very famous in Karlsbad and the store lasted til 1945 when the war ended. The Russians came in and said to us, We are taking your store and all of the equipment, including the roaster. Either become a communist or leave today.
We packed up and moved to Regensburg with only the clothes that we had. My grandfather traveled around europe playing in a band with a saxophone and made money to help my Great Grandfather who was starting up his new Roaster Coffee Store here and it opened in 1948 til today. That is how they started out. My father is the one who really introduced wine and spirits to the name Rehorik since when he traveled with his music he discovered much.
My father is the cheese guy," says Heiko laughing. "I know it sounds funny, yet that is his love. And me, I take after my Great Grandfather since I truly love the roaster process of the beans. I love the therapy, the smell of the beans, the sound and the entire process and it is me that travels around the world meeting with the coffee farmers."
https://www.rehorik.de/
"O yes, my fellow at the Rehorik Store on
Gesandtenstraße 16 is like family to me. He is the only one that works at that store," laughs Heiko, who after 4 generations is the one and only Rehorik that is still actively working.

Rehoriks wines include over 400 varieties and you are invited to try each one everyday, of course in both stores, however,
make sure to come to the 90 year anniversary on Friday the 7th and Saturday 8th, from 11:30am til 2:00am to hear live bands, jazz bands, a tent in the side parking lot with wines, cheeses, Rehorik spirits, and tons of food, and a "very wild and crazy DJ friend of mine that can go like 7 hours straight playing great songs.
Last time I hired the DJ he played that long and at least 30 people danced the entire time in the middle of the wine store all night. It was funky and I named the Friday section of the 90th Anniversary Funky Friday for the DJ!" laughs Heiko. "I just got back from Prague today where I hired a drone and we video taped the entire area of the city of Karlsbad to show on the website to honor where the original Rehorik Heritage and Roasters started in the Czech Republic." he says.
"Cafe 190 is my baby
and I love the cool cafe, especially where the people come to see in the open glass the entire process of the very old and very old-fashioned coffee roasting.
I love to roast coffee and I know you will love to watch me roast coffee." says Heiko.
"Incidentally, roasting in the 190 ° is done in the old ball roaster from the 1920s, where you can look over our shoulders at our roasting masters while you eat brunch, taste a light breakfast and of course enjoy Rehoriks 90 year tradition of us as roasters of coffee!"
Gaststatte Rohrl, Guiness Book of World Record´s OIdest Restaurant in the World
is located 11 kilometers
from Regensburg in a country village, owned 12 generations(if you count the little ones) of the same family named Rohrl, who added a addition of a Modern mixed with 14th century edition Hotel next door where the brewery used to be, run by the brother Andreas and wife Katerina. Below is Karin and Muk and children.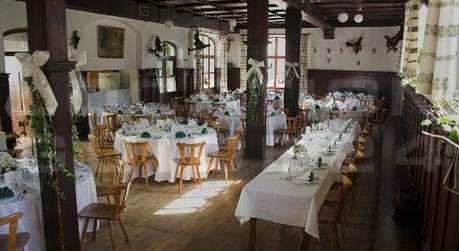 The restaurant is located in Eilsbrunn, which from Regensburg is a number 27 Bus, at the Train Station, 12 minute ride. Easy to do. (
09404 / 21 12)
Regensburger Str. 3, 93161 Sinzing
https://www.gaststaette-roehrl.de/
"People ask us why the food that we serve is traditional yet not of the 1600s recipes and I have a great reason why.
A couple of years ago we all decided in Germany to test a white gloved librarian edition of the ancient cookings of the 16th century Wild Boar.
Okay we thought, let's try it. We forgot that they had to use tons of vinegar and salt to preserve the meat back then. Which means that it is very sour with the vinegar since they used mega amounts of vinegar and salt. You squished up your nose when tasting it, trust me. Now we tweak it a little and it is much better, still traditional with my Great Grandparent's recipes, yet not 340 years old!"
"My hardworking team preferred the modern traditional recipes and while we do use the 125 year old ones, we always try to find new recipes to test."
"How does it feel to be famous with the number one restaurant in the World?," Muk answers me,
"I guess when you are the 11th generation, you are sorta used to it; however, I need to learn how to advertise the restaurant better. After all there is only one of a kind in the entire world, not to mention a couple of years since we had a
Motion Picture filmed here named Adele Spitzeder,
a famous bank loan shark in the 17th Century and they filmed two weeks in the wedding room and outside. That is totally cool, too. And we have Television specials focused on the restaurant and I have my own cooking youtube videos, and of course the museum upstairs that the educational groups visit." he says. O and if we forget to mention that his hobby is "Being a DJ at the big clubs in Regensburg on the weekends and weddings!" "The importance to me is the family and tradition and the fact that every item is homecooked and handmade. As you can see we spend hours just making the dumplings in the kitchen in the mornings for the big service starting at 5:00pm." says Muk.
GUINESS BOOK OF
WORLD RECORDS
At the Rohrl's second restaurant, THE DANCING BEAR, BRANDL BRAU, it is all about the food!
"The legend is that in the early 1500s, the circus came to town. The innkeeper of the restaurant, The Brandl Bear, had to protect his restaurant. The bear owner came and tried to steal the restaurant owner's money and had the bear with him. The bear reared up and attacked the bear owner and chased the robber away! The Innkeeper and owner of the Brandl Bear decided to chain the bear outside the restaurant to scare away robbers. I guess it worked and hence the name." says Muk. I ask if it is true and he gives a mischievious smile, "It is as the legend says it is."
UM....THE PIG DIDN'T FARE SO WELL
The Dancing Bear
is one of my favorite traditional restaurants and at the very experienced and capable hands of the Rohrl family of 11 generations who own the oldest restaurant in the World in Eilsbrunn, it has flourished since changing ownerships in 2013. "We have a great legend and I guess true story of the bear, do you want to hear it?" asks Muk when I see him at the totally awesome festival on June 24, at the restaurant. Of course I do says me...
Located at Ostengasse 16, Regensburg
"When I design of course as a Master Goldsmith sometimes the jewelry item that I am creating doesn´t exactly match the one I started to make. It all depends on the client. I have a idea that I start with and we work with each other. Mr. Mulbacher goes around the world to jewel shows and he chooses the stones. When he arrives back, he gives me the stones and tells me about each one. He tells me if he wants earrings made from such and such a diamond or a bracelet or necklace. I sketch what I imagine his vision is and he tweaks it a little. Sometimes he knows exactly what he wants and I make it. Or other times we work directly with the client that wants a custom ordered item," says the Master Goldsmith who I have had the pleasure of interviewing the last two years. It is fun to chat with him!
"Of course I love my job. I get to work with the most precious gems in the world and usually I can create my own vision of the gem´s best fitting. It is real fun to work with Mr. Mulbacher and I would definitely say that we are a great team here, " says the Master Goldsmith of Mulbachers!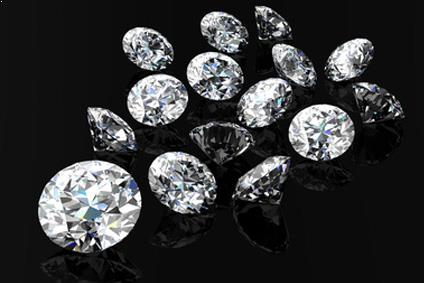 I ask the Master Goldsmith if he travels around the world with Mr. and Mrs. Mulbacher buying the stones? He laughs, "That is Mr. Mulbacher´s job," he says, "I guess when you have 112 years and 4 generations of knowledge, and you are a trained Goldsmith, you better be good at choosing the gems. Each Goldsmith is a designer in a sense and has his or her own style, such as the great fashion designers. Everybody around the world knows Mulbacher designs. I trust when Mr. Mulbacher gives me a stone and tells me what he wants designed from it. He sees my designs and I hope he is impressed and I learn from him everyday," says the Master Goldsmith at Muhlbacher's.

My beautiful room at the Orphee, the Junior Suite that Albert sponsored me 5 days with...loved it.

The Orphee Restaurant and Hotel in Regensburg Germany is French, lovely and the team great. I stayed at the Orphee about 5 nights my very first visit to Regensburg and loved Annette, my host, and her boss is Micheal. They have gorgeous rooms, one of which is my Jr. Suite with about 6 different sitting rooms, old wooden floors, dining tables in the middle piled with books and fruit bowls and daily bottles of free house wine!
The Jerusalem room is saved for a lovely old ballerina that used to come here in the 1950s. You can reserve it complete with a open wooden floor and claw bathtub, if you are not shy, in the middle of a huge room. However, if the little ballerina comes back, it is her room
from the orphee....
Restaurant Orphée is considered to be the most authentic French Bistro east of the river Rhine.
Since 1896 the interior of the restaurant with its vintage wainscotting and wood partitions has been preserved virtually untouched.
Red plush settees and marble tables await you in the front bistro area of the restaurant, wainscotting and formally laid-out tables with Thonet chairs in the rear restaurant area. The Orphée is a timeless "classic", open every day for eighteen hours, serving many a function: breakfast in all sorts of variations, daily a modest yet exquisite menu for the noontime visitors, in the afternoons a relaxed Viennese-type coffeehouse, in the evenings plenty of buzz and bustle, after 10 p.m. the bar takes over. The cuisine of the Restaurant Orphée is Mediterranean yet without frills.
The bars of Regensburg, Germany, of which they rank 2 in the world for most bars per person, and although that could seem impressive the coolest thing about the bars of the Historical Heritage Site City is that each one is either in a brick stable, or dungeon! or old Palace...they are each individual and each one more beautiful than the next. It is quite amazing to see even the Irish Pub of Regensburg in a 1300 year old cellar! ha.
The famous Irish Bar Murphys Law.
With Irish Music lessons weekly and Pub Quiz in German and English great fun!
Must come for game night where they do questions and trivial pursuit and you have each table be a team. Every week they have games to involve the locals and the tourists, and the University that came a couple of years now to the ancient city has brought 25,000 students each year to mingle with the locals!
http://www.murphyslaw-regensburg.de/
Spielgelgasse 6 Regensburg Germany
And I especially love the
Kasper Bar one and two
, although honestly with 150 specialty bars hidden and tucked down cobblestoned alleys, some with live music every night, you are sure to find a favorite!
https://www.facebook.com/ka5percocktailbar/?rf=108702859196180
With young bartenders, cool music and great cocktails, Kasper has been a favorite of the youth of Germany in Regensburg many years. Hope you love it.!
Hinter Der Grieb 5
For the 30 plus ages always has great rock music on Fridays at Jalepenos!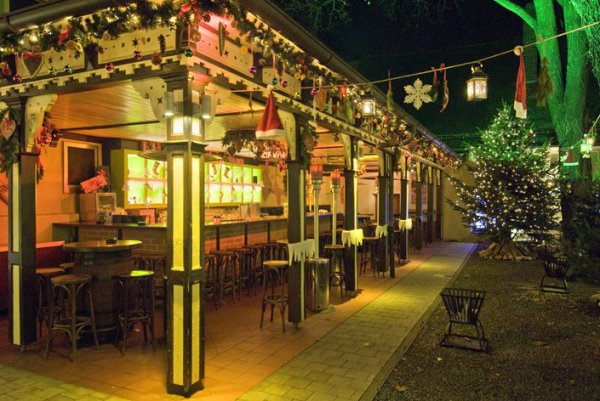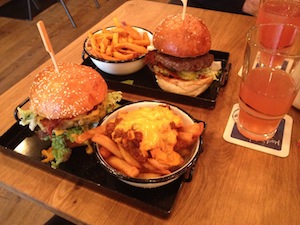 My good friend, Daniel, owns Jalepenos Bar and restaurant located at Schottenstrasse 4, and Buddys Gourmet Burgers.
and the Buddys Burgers are Great!
Buddys Burgers St. Petersweg 15.