For 5 years I have walked down the alley near Tre Marchetti and outloud spoke lavish praise of its beauty. To say that it is one of the lavishly beautiful restaurants of the world is true, yet the team is hilariously funny starting with the current Capo, Matteo. And yes they have been Michelin the last 10 years, including a star from 3 years.
"The restaurant is in my family 80 years and it is a funny story, yet let me tell you of the summer opera season that essentially starts at midnight every night and last til 4:00am. All of the audience and stars from the Arena next door come to the restaurant at midnight. That is about 100 people every night in addition to the usual lunch and dinner, yet all the stars sing here. I am a pretty good opera singer and have joined in every night. We have pictures on the wall of the known ones around the world such as Placido Domingo and Lucian Pavorotti, yet one night a couple asked me to sing because it is a man's wife's birthday." starts the funny story.
"That night a Russian Gentleman and his two ladies came in and were rather rambuctious and drinking tons of vodka. When I started singing the Russian Guy immediately stands up and crosses his arms staring seriously at me. I kept singing to the couple yet thought O-O it is 1:00am and my other guest doesn't like my singing. Yet when I finished the song the Russian guy comes over to me, grabs me by the shoulders and kisses both my sides of face. Bravo! he says! And I thought, you know that should show me not to judge a book by its cover." he says laughing hysterically and I thought yes it is better that the story has a happy side to it!
"The funny story of my mother and my birth is that I am almost birthed in the restaurant here. The night of my birth, April 9, my mother is cooking in the kitchen and standing over a big fish. She rushes to the hospital and I am born on April 10, and one week later I am in a basinet and my mother is back in the kitchen!" he says and I ask if he loves fish now? He starts laughing, "No I don't care for fish." he says and I say that is because he blames the fish.
If Music be the food of love play on... Shakespeare

http://www.tremarchetti.it/gallery/
http://www.tremarchetti.it/
"The glasses are water glasses set on each table and the guests love these, with the gold trim goblets that they can purchase from Murano from us for 300.00euros a box of 6," says the waiter Roberto proudly. Since it is the very first luxury item that you notice as you walk down the alley and see the tables outside, they cause quite the stir. "I keep imagining my years here that the cars will pass and grab the glasses in a Murano glass heist and keep going!" he says laughing and I say O that is a lovely idea!
The famous Mexican Tenor posing with Matteo outside the lovely Tre Marchetti, Ramon Vargas. "Yes I have many of the famous ones here all the time and last week Botero and his wife came. I didn't recognize him and thought him to be very nice and friendly and at the end of the meal he asked if I enjoyed his sculptures and I asked who he is. When he said that he is Fernando Botero I am very impressed I said." I of course LOVE BOTERO and tell him the story of his son.
"The Tre Marchetti is my home, and I am here more than at my real home. I live here and I make it a life's experience. The Opera and Movie Stars and the Political Stars and the People of the world come here to experience my world for awhile and every person is of interest to me and has a cool side of a story of the life they live. Seriously, at night we sing with the great stars of the world and I never have to buy a ticket to the Arena!" he says laughing.
"You know the Qatar Royal family came here, His Highness Al-Thani and they love horses and a relative is in the Horse Jumping Show that is internationally famous here at Verona every year, along with the Famous Wine Show. They all came in, people from the United Arab Countries and they all loved to tell stories of their horses. When I had to present the menu I felt ashamed since Cavallo is on it and I explained that it is a Verona tradition since Napoleon. They nodded, yet they ordered other items!"" he says and I say I don't think that they would order Secretariat on the Menu. White Truffles with Bigoli is more my style.
Me? Personally? I love Tartar.
"The menu that we have at Tre Marchetti is high quality and the best of the best. We see International tourists every year and the Japanese are coming like crazy. They love to order all the specials on the menu and they share all of these. Which is special to us since each dish is exquisitely prepared. Yet it is fun. My house, Tre Marchetti, is a model of eccentricities and a strange place!" he says. " White truffle risoto,Pappardelle with Red Ricioto with hare ragout, Bigoli with duck sauce, Pastisada de caval(stuffed horse stew in Amarone wine), these items are on the menu and in additon a fish prepared menu starts at 70.00euros per person and the Meat menu starts at 60.00euros per person. Yet you can comfortable eat a dish with a lovely bottle of wine for a couple of people at a nice price. Something for everybody." says Matteo. And Roberto, the waiter says laughing, "My friends usually eat elsewhere, only special days do they eat here!"
045 803 0463
"My family owns 5 restaurants including a Pub in Verona," says the busy Matteo and I ask which ones, "One is the restaurant that you love named
Torcolo
which is located at Via Carlo Cattaneo, 11, 045. 803. 37. 30 (my choice), with its soft colors and pure elegance", pictured below...
https://www.facebook.com/RistoranteTorcolo/
"One is the Hosteria da Barca at
Corso Castelvecchio, 5 with phone of
Call 045 801 1687" pictured here...
://www.facebook.com/hosteriadabarca/
"One is the Pub Re Carlo da Barca with as you can see a little difference such as we have the famous VOGA wine and the Karaoke every month...that is fun...check that one out at Via Carlo Catteneo, 12"
https://www.facebook.com/recarlodabarca/
Ristorante S Eufemia
Via Francesco Emilei 22/B

,

37121

,

Verona

,

Italia

Telefono:

045 800 6865
Luca is a doll, he has been at the family restaurant about 33 years now, and he is always improving and adding to the already famous Michelin Star Restaurant.
"It is Michelin quality, yet the Michelin status is when we were all white and black tuxedos and formal. The prices were very high in the 1990s and early 2000 since the Italian people and tourists spent all the time and everybody had money! I noticed that the tourists became more family oriented and friendly and brought the children and now my restaurant is family focused." says Luca.
"I have decided since one year a new concept to my restaurant. When you think of a restaurant you think in Italy of a very high class very expensive place. We have trattorias, osterias and restaurants and usually the price is about in that way. Mine is a special place that is made in the Cucina. I would love to name it Cucina instead of Osteria S. Eufemia since all of my work as if in a traditonal kitchen of the real Old-school Italian kitchens." says Luca as he walks in the garden aisle where the tables are on each side. The Osteria itself is gorgeous and the garden is actually in a alley with tables of romatic twos on the right side and big talbes on the left side. I sat at the table 3 and had a lovely dinner and glasses of dry verona wine.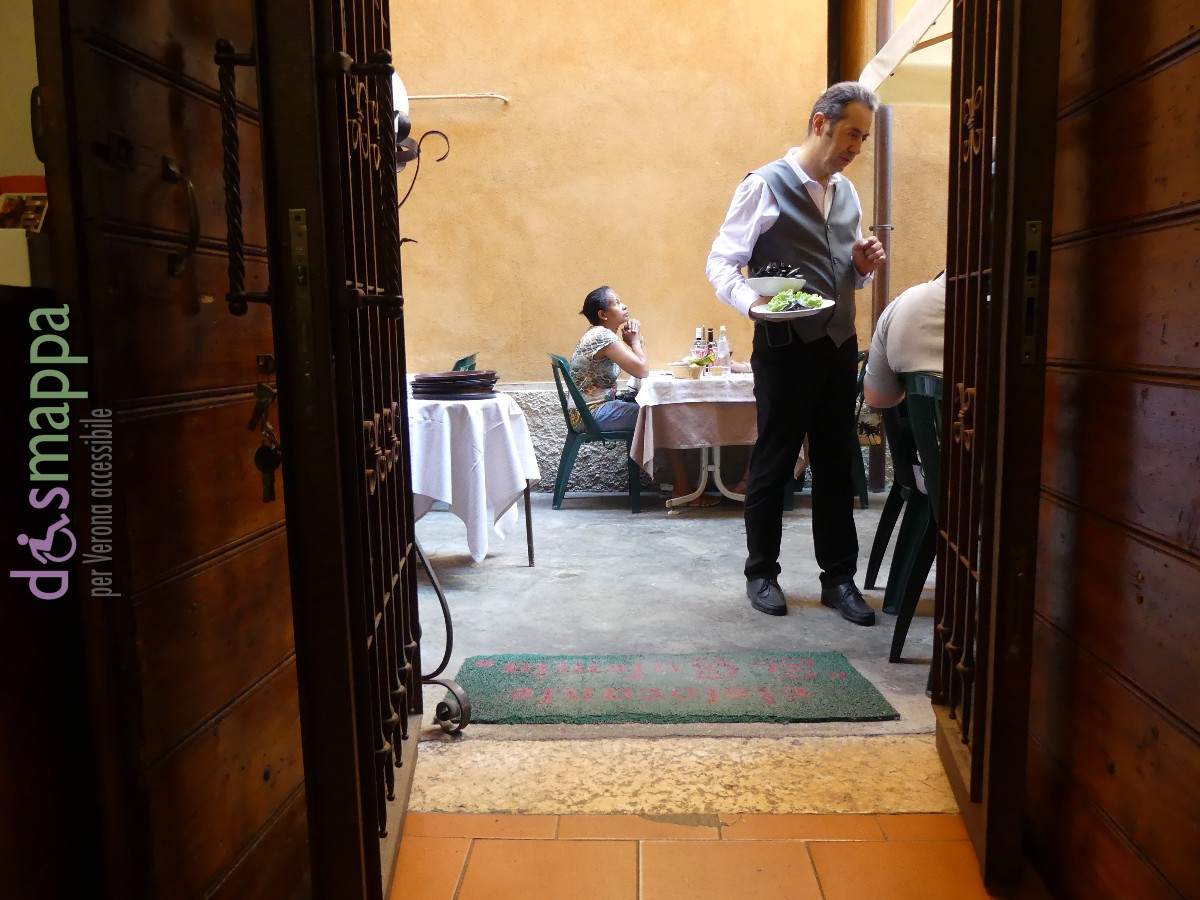 SINCE LUCA IS THE STAR of the 33 year old restaurant named Ristorante S. Eufemia which "used to have jackets only...black and white tie please to enter and dine here in the era of my mother and father, now I would love to enter
the modern age...you know honestly I never wanted
to be a cook...I entered university to do
economics and wanted to do something real important with my life and I had to become a cook...my father was the master chef and I
learned from him...the fresh pasta with
vegatables and mushrooms and orange cream sauce that I invite to give you is his creation..."
says Luca...
O MY GOD i say (appropriate since Luca's caring wife is German and calls his constantly to see if he is taking care of himself)last night as he gives me rabbit with polenta. My grandmother Ange from Modena used to give me rabbit with polenta, yet the one here is grilled. "In the summer I love to grill everything!" he says,
but I dive into the wonderful Cooks dinner as we laugh and learn about life in countries around the world.
I am VERY LUCKY TO BE IN HIS PRESENCE...WHEN YOU WANDER
DOWN THE ALLEY HIS HUGE FAMOUS PICTURE WITH THE KNIFE AND FORK
IS ON DISPLAY AND MANY PEOPLE
RUN TO SEE IF THEY CAN HAVE A Chat with the famous chef.

The famous Basilica is right near the Restuarant. "In the old days with the Michelin(i am the
same chef and with the same care) only if you
had formal jackets could you enter my
restaurant. It is full of expensive chests and wine and gold gilded mirrors and white and black tuxudoed waiters...(all by the way stand at attention to the great maestro) and now if it is more casual so that the families can bring the
little children that is alright with me.
I appreciate the food from my Italian Grandmother's side and my love of beauty from my German Grandmother, Agnes, who used to let me play with her huge collection of jewelry on Sundays at her home. Loved the restaurant and love the chef and team.
Please come visit Dario and the team at Tigella Bella located at the wonderful river scene where romance is a must here at the city of Romeo and Juliet" Via Sottoriva, 24 ... reservatons please call at http://www.tigellaverona.com/contatti/
Phone: Tel. +39 045 80 1309 8
The restaurant is wonderful and right on the cobblestoned alley or a wonderful balcony view in the river garden. And the team is lovely. Dario, the owner kept walking around since he is very busy yet invited everybody to come try his Verona cuisine!
Mamma Mia! That is the traditional saying of Italians and people around the world...however at the famous Greppia, the mama Giovanna has for the last 45 years made the home-made pasta for her family. The son took me upstairs to see her making Green Raviolis which she let me taste. The husband even made a elevator for mama to work in her laboratory.
http://www.ristorantegreppia.it/
"We have about 45 years of traditional famous homemade pasta and that is why people come...my mama makes it every day 3 hrs. We have the only private outside garden that is hidden between two alleys about 125 meters from Juliet's house...the best location in Verona!" he says.
"my mother is 70 years old and for 45 years she has come into the restaurant and made the pasta and cakes here," says Luca, the young son who now has taken over the outside duties of managing the famous Greppia. Vicolo Samaritana, 3 is where the famous is located...
"The traditional dishes of Verona we have...we are famous for the cavalla which is the horse meat. People from Verona know that is a delicacy. We have cavalla tartar and other famous dishes and the gnocchi and the Bigoli." Luca says and laughs when I am squeamish about the horses. "We at Verona serve Donkey meat too. The specialty of the restaurant, though, is the meat trolley. I love to say that I come to the table and prepare the meat myself. Depending on the day we can have up to 12 meats. That is the real famous dinner at Greppia."
003 9 045 800 4577...if you want to be brave and try the traditional dishes!
The famous restaurant is named Greppia since that is where the horses ate in the stables of the tavern. Now they serve horsemeat! Which is funny seriously! Downstairs is huge bricked vaulted ceilings, "my father and mother uncovered the downstairs when I was about 18...and they found the most beautiful brick ceilings and walls. In the winter the people love to eat here yet in the summer since my mother makes all of the pasta we have the upstairs and outside. Can you imagine my mother making over 200 plates homemade every day!" Luca jokes..."My favorite thing to do is see my mother and father when they have a day off..." says Luca. We see a old man riding a bicycle with bags of meat on it..."That is the same man that has given us meat the last 45 years, yes it is true...on his bicycle."
The restaurant itself has a green garden o
utside and is right next to Guilietta's house...about 80 meters away. "Yes the tourists love that ... and it is fun seriously to meet people from everywhere in the world. That is what Verona is famous for isn't it? The Romeo and Juliet."
"In the morning at 8:30am the first thing that we do is turn the music on...we're singing and dancing and we love the music. If people love the jobs they keep doing it. Because we live here. We're here about 70% of life and we must live here so we must turn the music on and dance and have fun." says the alive and totally normal! Luca. "I am the sommelier and for the last 2 years have been the official one here and for the last 4 years have drank the wine...so I can say I am expert on wine!"
He stands outside and greets the guests as he chats with me. "We have about 125 local wines. I know everyone and every Monday if my son is alright and my girlfriend is alright I take a trip to the vineyards and I try the wine. Every Monday. I can help you and tell you which wine is better with the Fettucini which we have everyday. The Quintarelli giuseppe wine is my favorite yet it is a little too heavy with the fettucini. We have typical lunch here for the tourists and for the locals and if they want a typical lunch we must give a typical local wine." he says.
Alright Verona is the coolest and I can't wait to see the Romeo and Juliet memorabilia, however on the way to the forum...here is a great group of people who own two of the coolest places in Verona...One is La Tradision which is pictured below... a "funky place that the three of us designed, me and my partners, Enrico and Denise. We tried to keep it traditional and to the wines of the region of Veneto. All the wines come from here, yet the most exciting thing that we say about the Wine Bar is that every bottle that we have you can ask to drink a glass. If it is open we give you a glass, if it is closed we open it and give you a glass. The most the wine is from 2euros a glass to 6Euros a glass. You can come in here to the Wine Bar and do a couple of aperitivos and a glass of wine and spend 5euros. Seriously. And the sausages and cheeses we do right here. The other food is cooked at the restaurant that we own named Al Bracere. The three of us are very happy with each other and the work that we do. It is total fun. I love it." Says Manuel, pictured here in the farmer checkered flannel! Enrico is the bald one on the right!
"You know, when I came to Verona from the
Dolomite Mountains in Northern Italy I spoke Italian and Ladin. I wanted to learn more languages and I studied languages in Verona. I met Enrico and started working for him at Al Bacere.
Now, I know 5 languages that I only use with guests at the two places! Yet I speak German and English, Italian and Ladin and French. And I can converse with many people around the world. I love it." says the VERY HIGHLY EDUCATED Manuel.
The Mixture of the Industrial think "Mark Zuckerberg office space" with the funky and trendy Italian style Tapas, great selection of wine and beer, and the team that is super super SUPER FRIENDLY...makes
la tradision the coolest place in the city to meet friends and have a drink.
"The ceilings and all of that is original. I know it is kind of cool," says Manuel when I say I love the cozy fun atmosphere of the Wine Bar and how gorgeous in person it is.
"We made the wooden crates and the bar front from a house that was burned. The artist knew about it and asked if we could have the wood for the project. We built the concept around that house. IT has that rustic look to it. I think that the people come since they can have a great glass of wine and relax in the atmosphere. The wine is real quality from the region yet the most expensive bottle that we carry is a little above 50Euros. That way the guests can chose any of the glasses of wine and it is only at the most 6Euros. And we don't have wine lists or menus. You just come in and say can I have a glass of that wine and we open it for you. People love the spontaneity and the variety of that process. I love to work with the team and my partners in choosing the wine every 2 weeks." he says.
Al Bracere
The Shabby Chic, elegant ristorante that has Pizza!
When Interviewing the capo, Enrico, who has owned the lovely place that used to be a church, for 15 years, I needed his other partner, the Capo of La Tradision, Manuel. They both partnered and built the industrial wine bar almost 3 years now, and Manuel started working with Enrico a couple of years before, that. Their chef, Juliano, is a character too and met me at the door of Al Bracere yesterday. He is all funny and fun. "Yes I am the cuoco. I make great food, here let me show you the menu..." and he shows me GREAT FOOD! "Here let me show you the pizza maker..." and he introduces me to the pizza maker. "Yes Enrico decorates it all himself! He is totally cool!" he says as I ooo and aaa at the gorgeous interior.
"Here is Enrico," laughs Juliano and says,"he speaks zero English!" and he has a conversation with
him briefly back and forth. "He says meet him at La Tradision and we can interpret!" that is the
6/a
Via Adiget to
+39 045 597 249
http://www.albracere.com/
Via Adigetto, 6/A
"Yes we have steak tar-tar," says Enrico, "and in the winter we have a specialty that is from the Napolean era when the horses went down and the soldiers had to survive. Since that time the Verona people, along with the Sicilians, eat the horse. It is a delicacy and needs 5 hours to cook to be tender. Yet, honestly here at the Al Bracere, we don't do too many exotic items since the people of Verona won't eat too wierd foods. We tried a couple of pieces of sushi and fish tar-tar but they said we are a meat restaurant and should stick to that. " he says. (ps I said O my gosh after the horse how exotic can you get! as in America we keep Secretariat we don't eat Secretariat.)
How does Enrico stay so happy all the time, I ask Manuel to ask him. Manuel first laughs and laughs, "Um, okay I can ask..." Enrico says, "I know that being a Capo is difficult and at times I don't want to do all that I have to do, yet since I am the boss and the capo I have to. However, at times it is boredom every day and therefore every month I change the decoration of the restaurant. I change the chairs, the tables, the colors. I do the menu 3 times per year. And one year I had to be the pizza guy all myself for one entire year since I didn't like the pizza guy!" he says. Now I know why Manuel laughs. He changes the Decor every month!
It is fun to interview the capo and the capo
and the capo...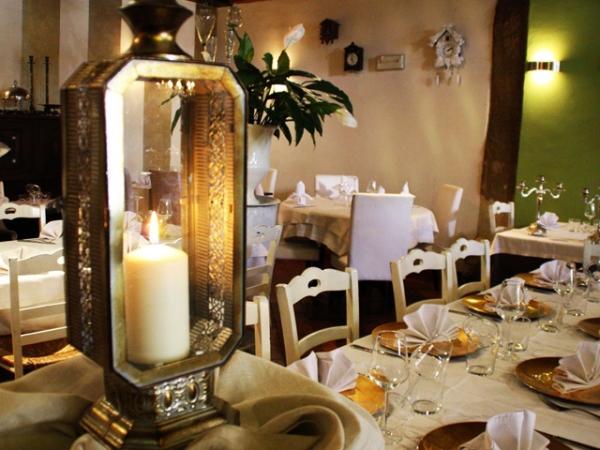 "Enrico wants to tell you the story of the Gnocchi Lord," says Manuel as we chat about the restaurant, Al Bracere in La Tradision.
"in the 19th century the citizens of Verona were poor. A rich lord said he wanted to help the citizens and one day he made huge iron kettles of potato gnocchi for the entire city of Verona. For everybody. He fed the poor gnocchis. Now at Carnival the city of Veron has gnocchis for 40 days.
Venerdì Gnoccolare is the name of the Carnival and the people elect one Lord from one section of the city to ride in the parade and be the
Papà de' gnocco."
Every kind of Gnocchi. Potato Gnocchi is the staple and every kind of cheese and bacon etc,
but in Verona it can be found with duck (anatra), donkey (asino), and horse (cavallo), shaved cheese with parmesan, you name it, they make it! Come to Carnival and eat the gnocchis!
And for the romantics that come to Verona for Romeo and Juliet a must to sit upstairs!
Trattoria Arco dei Gavi
"Hmm how did I start a restaurant? I don't know I don't know..." starts funny Marco. When I say do you know anything about running a restaurant? He starts laughing hysterically, "No nothing I don't know.!" and that is how it starts. "I finished my university and I am into culture and when I come back my brother, Alessio, who is a wonderful cook, says, "let's open a restaurant." and I say alright and we buy Arco dei Gavi."
And what does Marco love to do? "I love to cook." he says. And I say does he cook in the restaurant? "No not at all. Alessio cooks and won't let me in the kitchen." Okay funny again. "I talk to the people and tell them to drink the Verona wine and the Mantova wine since that is where I am from and that is what they should drink." OKAY!
"You must come during Carnival for the Gnocchi Festival where one day in Verona everyone must make Gnocchis and only Gnocchis can you eat!" he says as he shows me the funny pictures. "Here we have 10 versions of Gnocchis including with tomatoes, cavallo, cheeses, you name it we have it. Alessio makes all kinds for the people all day long!"
Alessio speaks Italian and we could communicate a little when I tell him, along with the very packed restaurant at lunch, that his food is bella! And he smiles and says grazie! The mom, Celestina and Nicola, father, help out. "Here is the boiled meats," says his mom as she pushes the trolley around the restaurant showing me. They are a REAL ITALIAN family and very funny with sibling friendly rivalry and good naturedness and from the 50% Verona people here everyday I know that they must be VERY GOOD!
I must admit that us Americans and "the Great Britain and Germany a little and maybe the Russians and Asians don't try the Cavallo too much, which is the horse, yet since 1848 of the War here in Verona the men fought all the time, it was winter and the horses were everywhere. I guess back then when you ate cows or pigs, it was natural to eat horses and the Verona people eat it traditionally. The tripe too the Americans won't try. They are very conservative!" says Marco.
http://www.trattoriaarcodeigavi.it/
Fratellos Alessio and Marco opened the lovely family traditional restaurant in Verona about 6 years now. "Alessio is the cook and when I try to enter the kitchen and try cooking he says, OUT, that is my kitchen!" says Marco who along with Emma and me sat outside talking about the lively Trattoria Arco Dei Gavi about 1 hr. During that hr. interview Marco gave me "try the Pumpkin Mousse of which we're the only restaurant in all of Mantova who makes it. It is my brother's restaurant. And the sweet wine..." he says as he gives me a little to taste. It is really good and not like the pumpkin pie or cake that we have in America. "It doesn't taste like pumpkin, it tastes light and airy. I love it!" I say and Marco keeps saying, "O it is pumpkin trust me. We have Pumpkin Ravioli too if you would love to try.!"
43, C. Cavour
37121 - Verona (VR)
Tel: 3393687354
"People are different it is impossible to make everybody happy all the time since everybody is so different, yet it is funny to be myself and hope they love me... they do trust me!
http://www.ristorantemaffei.it/ Maffei is Elegance Personified, Luxurious and Funny...does that make sense? Luxurious since it is in a Palace about 1000 years old and a ancient Pillared Courtyard that has its own private gate and entrance and funny because the owner's 25 year old son runs it. He is sophisticated since, "You know at the age of 21 it is a joke when my father says O you think it is easy to run a restaurant...try running that one. And I said O I can. I had to deal with people a lot older than me and important people that would look at me and think I am too young to be the owner. That is why I am serious all the time." he says. Yet he jokes while keeping a straight face too. Difficult!
Yes above is the inside of Maffei and the Outside...yet only one level. Underneath the restaurant is a huge wooden dusky wine cellar with the tables of the Last Supper and wait one level below is ruins that they discovered while renovating the restaurant in 1981. "It is the level since 100 Century BC. That is how long the city under the city has been here. When we renovated we said O...sugar! You know we had to wait 3 years to complete the renovations since the City said that they had to preserve the ruins. Yet they let us keep the restaurant and now we show people down here and have a special one reservation only of Modern Romeos and Juliets. People come here and do weddings all the time. It is the most romantic city in the world." he says.
Alright...ready to meet the owner? Lucas is 25, "Just turned 26." he says. And full of funny quotes..." You know success is hard work you can't take the elevator in life you have to take the stairs." he quips. When I say O hey that is a lovely great quote he says, "Alright I heard that somewhere. Seriously though it is creativity and finding the right colors and the right plates and word of mouth and reputation. I don't like Trip Advisor by the way. You know Trip Advisor is like a boom-a-rang. It always comes back around to hit you." I start laughing and he says, "O now that is my quote.You can quote that one...wait on second thought maybe you shouldn't then all the trip advisor peole will write bad things about me." he says.
"The restaurant here is formal and luxurious yet when I opened it with me at the helm I said hmm...we need the younger movers and shakers of Verona in here. Since I am born here I knew everybody in the city. I threw an outdoor invitation only party of 450 people that had to enter the gate. Here where the baker, Matteo, is I made it into the DJ hut and we had the DJ there. And a huge party to introduce the restaurant. We're Michelin 3knifes which is great. Yet a fun place to. I figured if the young people come their parents will come too. The table here is the Romeo and Juliet table. It is 150E per person and includes a private waiter and 6 courses with all the champagne you can drink. Many people come to do the weddings here." he says as I ask him to pose. Ever do private friend parties here with wild girls and champagne when the restaurant is closed I ask. "Of course all the time." he says. Ristorante Maffei, Piazza Erbe, 38 , 37121 Verona, 003 90 45 80 10015 Tele Fax +3 9045 8005124 "And you must try the gourmet burgers at my other restaurant named Oblo..." he says and I mosey down the 95 meters under the arch gate to meet Oblo.
Elegant Funky Oblo. Corso Cavor 5 Verona
Marco and Anna above, "You must see the menu. Lucas designed it that every gourmet burger has a special beer that is with it. It is when you eat fish and have a special white wine. Here you eat a burger and have a special beer that brings out the flavor." I say that is brilliant and the first time I ever heard of it.
"The food is Verona typical and the region of Venice and surroundings...and the wines that we have are about 120 kinds. O and the paintings on the walls you asked about-they used to be in my father's art gallery and now here. My brother is the curator. A couple of times people have asked to buy the paintings and I must see the price and then I sell the paintings to them!"
"My real love is whiskeys and behind the bar is a collection of all of my favorites. I guess when you ask what I love today about being the boss is little things like this. I can put any kind of whiskeys here that I want. I am the boss." he says laughing..."24 years now when I first started I was happy opening the restaurant and today when I wake up I have the same feeling of happiness. I love my restaurant yet owning a restaurant is a big responsibility. It is a Golden-" and he make the gesture of his wrists together-he laughs. "It feels like this sometimes."
Osteria Sgarzarie located at Corte Sgarzarie, 14A Verona, Tele 945 89993 12
https://www.facebook.com/pages/Osteria-Sgarzarie-nel-cuore-di-Verona/215192757080
Alessandro says, "Under the beautiful outside stones is a architectural wonder that is from 15 .BC. The city does tours almost every day and we're working with the city in the future to coordinate maybe dinner and a archelogical tour. That brings the history of the location together." The location is superb by the way...just check out that picture!
Seriously check out the location and view...how beautiful. "The city of Verona says which colors of tableclothes we can use and the style of the furniture in the outside historical structures. They want to keep that traditional style and feel to it all." Alessandro says.
"You know the city of Verona is a romantic city with the Romeo and Juliet story. They were in fact real families from Verona although Shakespeare embellished their story I think. I don't know if there are any Montagues or Capulets living in Verona today." Alessandro says when I ask about the tale. He is born here yet visited Mexico when a friend of his told him of a opportunity to open a restaurant on the California side of Mexico. "I went to Mexico and fell in love on the spot. I opened a beautiful Italian restaurant on the Marina. I owned that and went there in the winters til 2010 and it finally was too much for me back and forth all the time. Now I only have the restaurant here that I love the last 24 years. And of course my new project which is my own Tequila in keeping with my love of Mexico, it is named Mexita and is in the process of being produced." he says happily and shows me the Mexita label...a combination of Mexico and Italy.
Federica says, "Yes it is beautiful? Thankyou thankyou...let's stand near the wine which is Antonio's job and let me hold the menu." she laughs as we pose with pictures. Federica's mother and grandmother and grandfather owned restaurants in Verona and she has a lot of experience in running a restaurant. http://www.osteriailciottolo.it/ to make reservations: 39 045 8009236
"Federica does the menu planning since she could cook if she had to that is her expertise yet mine is wine. We are very different and I would get very mad if she choose the wine instead of me," Antonio jokes...laughing he says, "No, really that is my job to say O we should carry that wine now. We have a good balance of who does what and I think that is why the restaurant runs smoothly. The guests come the first time you know we hope they come back!" When I ask about the name? "O the name literally means Cobblestones. The river used to have all of these cobblestones and about 100some years now the owners of the building took cobblestones and made a floor. Even when it was a chocolate store they had the floor we have. As you can see it is a totally unique floor and everybody the last 100 years has kept that name." he says.
Antonio, along with Federica pictured to the left, owns the very busy Il Ciottolo in Verona. "I went to Medical school about 10 years now a little before I owned the restaurant and now. My family was very mad that I said o I don't know if I want to do the Doctor after school I think maybe I now want to own the restaurant!" he laughs and says, "Now from 10 years of owning the restaurant I say I am continueing to do the Doctor and be a pediatric Doctor. I hope all my guests bring their children to me." he says.
The famous floor of Cobblestones...
The famous church that Napolean closed in 1997. It is a 1,000 year old church with a 2,000 year old crypt in the underground that you can see from the glass enclosed cases in the floor. Cool. http://www.smatteo.it/ Vicolo San Matteo 1 , the Pizza Restaurant is named San Matteo Church!
I met a tour guide outside who told me about Napolean closing the famous chuch...
"We have about 131 pizzas on the menu...when the pizza chef first came here he made about 90% of the pizzas and alright lets say from that point on it is pretty difficult to continue to make new ideas of pizza. If someone comes in and says I want that and that on the pizza we can make that or find a new one and yes the pizza is the best pizza and we have great pizza."
The stairs to the Crypt underground! Do you believe in ghosts? "At night when I am here about 12:30am to 1:30am, sometimes I hear things you know. You can go up the stairs and to the tower from the restaurant and see the amazing views of Verona. Sometimes when I am here alone I am not scared yet I do think about that the people that came here to pray. It is a different kind of praying then the people today you know? At that time they were very devote and believed in God and I try to imagine how they felt coming to the church. I haven't seen a ghost yet though," he admits. "I enjoy people real people. I love being Creative and I try with my English yet it is difficult. I love all people. Americans? Hmm...sometimes!" I ask if that is since he met me! Americans are Americans...I say that we're little kittens or puppies and I laugh since when I first asked to talk to him he said that the big boss is busy surrounded with people and as I look to see who it is I see a little baby at a huge table and everybody oooing and aaaing with baby!
The beauty of the church/restaurant below and the directing manager to the right. "I've been here 14 years." and I interject that is how old Juliet was when she met Romeo! "Yes although am I a romantic? I don't know I guess it is a lovely story. My wife is from Taiwan and I love her and I love when she cooks Taiwan food since it is the real food. Is that romantic?" he asks and I say that yes although I wouldn't call Juliet's lovelife romantic since they both died 14years old! People get mad at me whenever I say that I know. He laughs, "Yes people think it is strange that the pizza restaurant is named San Matteo Church and people probably think it is strange that you don't think Romeo and Juliet's life a romance!"
Federico and Luca above. Federico is the chef, "Yes it is fun. The most beautiful for me is upstairs with its elegance but we only have 9 tables upstairs. Take a picture." he encourages. Luca says, "We're new here about 10 months and I am 36 which is 10 years older than Federico which is maybe why he has a better sense of humor than I do. I am serious." Luca admits. http://www.tapasotto.it/ Galleria Pellicciai 12 , 045 59 14 77
http://www.giancarloperbellini.com/it/
"This is Gian Carlo. He is the famous chef in Italy. The society that we're belonging to has 5 restaurants in Verona and he is the master chef. Right now today he is in Singapore! He has written a book and if anyone can make a restaurant happen in America it would be him!" Luca says proudly. The other restaurants that they are part of include:
"We had a architect come in and he designed it all. It is pretty cool. I am happy now." says Luca. Did he think as a Verona native at the age of 20 he would be owning his own restaurant at the age of 36 in Verona? "NO" he says emphatically. "Yet I am happiest now in my life and in the future I would love to open a restaurant in America." Anywhere in particular? "I had fun in New York 3 months and in Pasedena 3 months. Maybe Miami because it isn't too big and it isn't too small. It is perfect."
"The food here is inexpensive and tapa style. The people are mostley from Verona and Italy about 8 months and in May, June, July, August, September we hope international tourists find us!"
Above is the front of the TapaSotto the great Japanese style of eating tapas restaurant. "A lot of people come in and they order all of these little orders and they put these in the middle and share the food." Luca says. I tell him that from everywhere in the world people tell me that Japanese culture does that and he says that yes he only wishes the tourists would find his restaurant. Just then a bunch of tourists in a group, yes Japanese, walk by and I say O hey and motion them in and they just smile. I now take pictures of my food the way the Japanese do and add these to my facebook. "Me Too!" admits Lucas. "I take pictures of my food too." I say that the only difference is that I add the pictures to my facebook on my computer a couple of hours later and the Japanese Iphones them to facebook immediately! I need that new technology!
I know you´re thinking that it is a beauty product...right to wash the hair? Yet these award winning design bottles house the lovely wine named Voga...the creative genuis behind the stylish wine bottles is Giovanni, from America! "I live here in Verona now, and my family had a wine business of importing Italian wines for a long time...I have my family to thank for starting me here. If it wasn´t for that I probably wouldn´t of gone into the wine business nor have had the chance or opportunity to be creative. That is what I really love, launching new products, brainstorming with my small team and creating new wines. Voga has won 17 awards for the design of the bottle in additon to being a really great wine. It is marketed in 82 countries around the world and I first launched the wine in 2007." he says.
My family had a Italian restaurant since 1959 and we´re farmers of wine so to speak. My uncle imported Italian wines and that is really how I learned to love wine. I noticed in 1995 I call them the generation X...the Americans were really not this educated on wines. They bought packaging in the stores...If it looked good, they bought it. I thought to design bottles that when they´re in the stores it catches the consumer´s eyes and they buy it...once they taste the quality of the wines of course they continue to purchase yet it is arousing the interest first that must happen." he says... I say that he should work for Saatchi and Saatchi! "Na, I have much freedom to be as creative as I want and I have many projects happening at once...but I can´t tell you the one I am doing right now!" he says! "You know Italy is known for fashion and the highest quality products, Versace, Armani, Ferrari, Lamborghini,Maserati, and Voga! We´re the fashion capital. Yet you need to keep on doing things that bring success and that is what I am trying to do."
"I work for the largest privately owned winery in Italy. We do 110 million bottles of wine every year...and it is a family owned company since 1893 which is very important. We use about 200 farmers everywhere in Italy. Only Italian wines."I have a vision in life...that is what I want to be remembered for...creating new products that people really want." says Gionvanni the creator of Voga wines based in Italy. "I have offices in Miami and in Washington DC," he says "and I travel to America every month...New York, DC, Miami, everywhere marketing the wine. The new product i am launching is named Lady Lola..." he is a ball of energy and talks so fast you really can´t write fast enough!"When I am home at night I have a little notepad of paper that whenever I wake up I write down my ideas.I use pen and paper since it is more instant and it helps me to remember. It is 24 hrs. a day."
Francesco and wife Ida says, "We come from near Naples and the only reason that we chose Verona is since 5 years we wanted to open our own restaurant and a friend told us that the one here is open and available and we came and bought the restaurant. We've been here since 5 years. You know Italian is Italian and of course we miss our friends yet Verona is home now. I can cook that is my passion but I hired a chef. My wife does all of the desserts, all home made everyday." he says. http://www.osteriailbertoldo.com/it/ Il Bertoldo Srl - Vicolo Cadrega 2/A -Verona 0458015604 -
The restaurant is hidden and intimate. A perfect romantic hideaway in the most romantic city in the world...where the lovers Romeo and Juliet lived. "Yes of course I know a little about the story" Francesco says, "One time since moving here I had to visit the Juliet house. And you know here is a Romeo house but nobody ever knows about it." he says. He shows me on the map where it is located and at 10:00pm on Sunday night I navigate through the city and find the hauntingly beautiful house.
A famous dish from Naples is brought to me. Saucy raviolis. Yum. "Which dessert did you chose?" Francesco asks and I say that I chose the ricotta cake with pears. "O that is a good one." he laughs. "Me as a young boy I never liked dessert. As a matter of fact when little at my birthday parties all the cake would go to everybody else. I never wanted any birthday cake." Really? I say. Hard to believe that a child doesn't like birthday cake. "Nope. I never even had a piece of my own birthday cake growing up." Wow. Alright for the rest of the people in the world that love cake...yum again.
The famous arena of Verona where Robbie Williams is playing June 14Th Cool and most famous operas all year round.