VERONA is a sophisticated
glamorous city that loves to showcase
it's fashion and elegance.
Yet it continues to keep it's family owned restaurants and enotecas and fashion labels to itself.
I can say it is a city that continues to pride itself unassumingly on it's individualism while niching a place in the global world. If you walk down the promenade of its high-end stores at night to the central market area, you will see Italian women and men and children dressed to the hilt going for aperitivos and you will see the backpackers of the international set in casual clothing! It is a fun city and a kind city and of course the city of the romance...Romeo and Juliet. Located at Via September 144.
A family owned restaurant with a deep and moving story is the
Osteria Da Morandin.
Sofia, at a young age, helping out. "I went to school, of course and my Grandmother and Father and Mother were the strong ones in the restaurant that started in 1990. After, only my father and mother would be here. My mother as the cook and my father at the bar. We would only be two people and my mother would make risotta one night for every table or pasta one night for every table. When I got older, I started helping out. I went to Venice and worked and came back and although I am here 6 years, the first year my father would say to me, "Sofia stop ordering me around, go wait on tables. I tried to help, yet I was too young. Now, after 6 years he is asking me about the menu and about my advice. It took a long while before he thought I even knew anything about a restaurant and now he trusts me!" says Sofia as she laughs, talks, pours me wine, laughs some more, calls her boyfriend, gives me some meatballs to try, although not the horse ones since I am squeamish about my pets, and talks some more!
located at Via September 144, about 300 meters from the river and worth the walk!
"I eat the horse tartar since I am from Verona. Some people love it and some people prefer beef. We have bigoli with duck and donkey and we have horse tartar and we have lovely italian dishes. You must just try." says Sofia, pictured to the bottom left of the photo below with her wild and crazy regulars and friends.
It is crazy, the place. It is as if you are at your family's Christmas dinner every minute, with lunch people drinking wine yelling at me,
or the waitress telling me of the great calimari or Sofia finally arriving to the interview and pouring me a huge glass of wine!
crazy fun. PS the food great!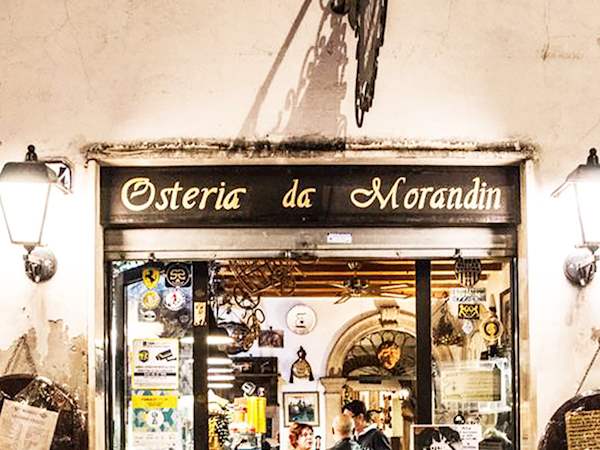 The prices are soooo low that you will drink 5 glasses of the best Verona white wine and still not reach the 10 euro rate! I drank about 5 yet the girl Capo, Sofia, maybe gave me about 10. I am not sure.
The wine is good and the conversation of 3 hours better. The plate with bigoli pasta and duck, for instance, is only 7.00 euros. That is wild! And the bigoli with the donkey is 7.00 euros.
The wine 1.50 euro! Incredible. The food is great, the atmosphere alternates between quirky and strange to the 90 year old woman who comes every night and dances in the taverna section of the Osteria about 10 feet from the dining room. A hilarious night!
"The best guest comes every night. The young people that are stag, you say, when boys are getting married? They came one night from Germany and party all night with her. Usually she comes and has some wine and dances in the middle of the tavern and people buy her dinner. She is great. We have locals and tourists. I enjoy everybody. I know that it is difficult to continue to support the Osteria, yet we try our best."
"My boyfriend went to West Virginia, his name is Ronnie. He loved America!" says Sofia when she introduces her boyfriend of 6 years who laughs and drinks wine with us. He loved America. "Right now I am a interior designer and I hope to do my own interior designs with the businesses of Verona." he says. Below, locals having a chat!
"I want to say that is my private chef, Luigi"jokes Fulvia, who has worked with the very approachable and very cool Capo, Nicola,
of First Sottoriva about 20 years and 10 years the elegant on the window seat Trattoria Vecio Mulin and now the Tosca his baby of two years. "I worked here many years as the director and we had too many midnight nights!"she says as she explains why she is front office now. "At 5.00pm I can come have wine with the girls." ps. Luigi created my cool entre named
La Sporta di Fata Matilde,
which is spaghetti half cooked in water served, in foil with shellfish sauce and clams. Of which most of mine I ate and had some big huge shrimps and shellfish legs as if big crabs...I am not sure! IT IS SO BIG i COULD ONLY EAT HALF!
It is a pleasure to sit and have a very funny conversation of why the place sitting on the window seeing the river of Verona is so romantic. As I have a little of the seafood and taste a white wine, we see under the white linens is indeed a story of his first restaurant as is written in poetry of Sottoriva and of Nicola. A poetry written on each table, yet hidden. I say that I hope he does little middle linens and lets his guest in the future to see the writings. Now that is romantic.
La Sporta di Fata Matilde
"THE DISH IS CREATED BY A MASTER CHEF IN VERONA and presented especially to the guest," says my very fun to have as a personal waiter during lunch and pictured here presenting as he does with each and every guest in a gift bag! YES that is how the entre comes, inside the gift bag to the plate.
"As a guest, I came here with my girlfriend, and having been in Verona over 20 years in the restaurant scene, I was very impressed with the restaurant and it's candlelights on the river.
We have the Grand Plateau di Crudi 2019
with king prawns, pink prawns, red prawns, Salmon tartare with pistachio and pear and Tuna tartare with tropea onion and apple and finally again Shrimp tartare with pomegranate and chocolate. Each one presented beautifully!" he says.
"Yes, my first one is Sottoriva, which I have had 20 years. And although I now have 3 restaurants, I can say that I love each one.
I love Sottoriva because it is my first and it is always changing.
Every 6 months, of course we do the seasonal menu, yet it's face is always evolving. I am not the typical restaurant capo. I do not say it is this and this. I say that my restaurant is my guest's molding. It is essentially for the guests that come, yes? And I am always laughing and talking to each person. That is what life is. My places reflect that and honestly they are all casual. Yes, the Trattoria Vecio Mulin is the most romantic and formal with the linens inside, yet outside the red and white tablecloths and while the night is candles on the river, the service is approachable and friendly. The presentations I guess are Michelin style, yet the service is fun and friendly. Maybe at Sottoriva a little cheeky. At night we have wine and aperitivos and a young crowd is outside til the early hours of midnight or 1.00am. We, as a Verona culture enjoy each other and we enjoy the elegance of Verona," says Nicola, with the laughing interjections of Fulvio.
located at: 23 di Marcolongo Nicola Via Sottoriva, 23
"We are very local. VERY," says Nicola, a little hesitantly. "Sottoriva 23 is steeped in history as far as the local foods are. The tourists come to Verona to try it especially and I am happy to help. You know as a person from Verona, there is tradition. And the donkey, is a traditional meat." he says laughing. I say that Mr. Trump would love to cook donkey.
And I know the story of why they eat Donkey since I am told the story at lunch how the donkeys used to die during World War II and of course...okay, we know the story. Anyway, Fulvia and Nicola fill me in, "The provincial charm of Siena is very provincial. The provincial charm of Verona is hidden on top of sophistication. We are a elegant city and proud to be elegant. As you walk the promenade at night, a city ritual, you shall see the women dressed up and the children too. We enjoy it. The food of Verona is traditional such as the Pig'shead or the Donkey or the Horse and each city has a different attitude and outlook on the food. Some people travel around the world to try exotic foods. We have exotic foods a plenty! I tried Camel once. That is my only time to try it and that is alright!" she adds laughing.
I say that I would love to eat Camel once and that perhaps people from Qatar or Dubai would not eat horse. It is a culture preferance and each culture has their own yes's we can try or um rather not!
"The signature drinks at night are our specialty too: such as Devil Mule is Gin, succo al lime, ginger beer and peperoncino, and Lazy Sunday is Rum Scuro, ananas, lime agave and bitter al cacao, or the contessa is VODKA sambuco , bitter and pompelmo," laughs Nicola.
FINALLY BISTRO TOSCA
At Tosca Cafe and Cucina Bistro in Verona, Nicola's 3rd success...
Via Ponte Nuovo, 8/A
"We have the typical red and white linens, which is different than red and white plastic!" jokes the director at the Tosca who directs me to Nicola at Sottoriva.
One of my favorite Capos and friends Luca of Ristorante Sant'Eufemia in Verona
Via Francesco Emilei, 21b
One of the reasons that I love the food of Sant'Eufemia is that Luca and the team make the homemade pasta fresh everyday...yum!
One of the reasons I love to say hi to Luca every year is that he is a real good guy. A nice person. A no-nonsense and down to earth Capo who is honest and appreciates honesty of his guests. If you love something tell him. If you want a little something special ask and he does his best!
https://www.instagram.com/ristorantesanteufemiaverona/
https://www.ristorantesanteufemia.verona.it/
"We are a Verona kitchen and I invite you to come try, especially the winter months where we serve inside the dining room
the typical regional dish of
we serve the Veronese dish par excellence: Lesso and Pearà with the traditional boiled trolley."
Here is my ultimate favorite of polenta!
They also have a rich buffet of fresh vegetables everyday for you to choose from yourself. I love the quality and seasonal variety and the seafood is quite good here to. "Every year people come back and say Hi Luca we are here again and that makes me feel happy. To know that they remember me and that they make a special journey to Sant'Eufemia. It is still fun for me and that is the reason I continue to do it."
"When my mother and father used to own the Sant'Eufemia, it was old-school. Jackets required. Very posh-posh and formal," says my lovely Capo Luca.
"We had and still have the archdiocese of Verona connected to the church and restaurant and very important members of the congregation used to come and dine. They still do today, yet we are less formal here. I actually added pizza, which turns out to be one of the favorites of my guests, to the menu because I wanted it to be family friendly. His lovely wife is as friendly as Luca and everytime I am in Verona I come for at least a glass of wine. Terrible isn't it!?
https://www.facebook.com/santeufemiaverona/
"The cooking and recipes are mine and a long standing tradition of my family. The kitchen is Verona and Venuto. I believe that people come here to try our culture and the regional food and that is the reason I choose it. And I happen to love my kitchen," says Luca.
Homemade, try:
Tagliatelle del babbo Sergio,
Tagliatelle con ragu d'anatra, for the truffle lovers try
Gnocchi Monte Veronese e tartufo, or
Ravioli ripieni con brasato all'Amarone, burro, salvia e Monte Veronese, and my special care is the
Spaghetti Sant'Eufemia al cartoccio, con scampo, vongole, gamberetti e salsa di pomodoro shown below.
Osteria Verona Antica
with Capo David!
https://www.osteriaveronaantica.it/
For people who truly appreciate wine, you can find the Verona Italian wines here at the Osteria. A typical and historical true Osteria is built on the wines, of course, and The Capo, David, invites you to try many labels of the Veronese wines of which he has some of the top Italian wines in addition. The wine cellar is a place to enjoy an excellent glass during business meetings or with a aperitivo with friends if you choose to. You can accompany that trip with dishes of the Veronese tradition and dishes from the recipes of David's associated with the Lessini Mountains.
If you are very lucky David shall invite you to his medieval cellars below the river level...cool! And as far as homecooked goes!
"David describes his Osteria as a typical tavern of local and regional Verona food." I think of a tavern as real good wine, and the food here is exceptional which is why I tell you about it!
Some very good Veronese Red wines.
"What I am most proud of and tell all the time is my important fresh products of the region. I am very interested in the local farmers and I am very care of my food," says David again and again. And David has a sense of humor too!
along the river with outside tables
Typical Veronese appetizer would be perhaps Polenta with cheese and mushrooms, of which my mother used to make for us every mushroom hunting season near Chicago where they would find wild mushrooms and on Sundays we would watch American football and eat Polenta! Yum. You could try the horse meatballs if you are very exotic or the Tenerona beef chop with Baldo mount. Intrigued? Try it.
Bigoli trafilati al bronzo con tartufo.
So today the legend of the lovely
SHAKESPEARE PLAY, Romeo and Juliet
continues... in
Verona!
The restaurants we hope to write about today are the Maffei with the capo Luca shown, along with his new venture named Oblo.
St. Eufemia
also has a Capo named Luca, my very good friend.,
And we shall be adding new articles about the existing places we feature and hope to add new ones today too.
Have patience today as we redo Verona!
Ristorante Lupo di Mare in Verona.
and of course Liston da Barca who along with Tre Marchetti is elegant and fun.
Tapasotto is very lovely too. hungry for verona? Tre Marchetti...the elegant one.
and of course David's Osteria Antico Verona...
Osteria Verona Antica
Love the homemade food of Verona!