RELAX Cafe and Bar
in 2 great locations:
Złota 8a, Pasaż Wiecha, aWilcza 17.
VOTED BEST SOCIALIZING COFFEE BAR OF WARSAW!
"Here is where you find the young artists, photographers, theater actors and actresses and the literary writers of the future...think a young Keats, Kafka, Hemingway bar and you find Relax Cafe
, which is right next to the famous RELAX CINEMA where in the COMMUNIST ERA the government showed WESTERN MOVIES! a first in the world! I hope people come here to meet the local artist community, to share in my love and my family's love of photography, of which my mom and dad still have the photo lab next door if you want to develop photos while you sit and have a coffee, tea, mimosa and play chess!"
"We have specialty coffees, such as Nitro Coffee taking 21 hours to brew as it is cold brewed, yet light and delicate, and we have many arabic style coffees that are very light
. We don't like dark bitter coffees. That is my choice, and having been here 8 years at my first Relax place, of course I have drank many coffees,"laughs Michal, Michal and the chef, the three Amigos as I say! I meet the boss, Michal sitting outside and his chef and barrister and we tasted coffees and talked about the fact that the boss always has energy since he loves coffee.
https://www.facebook.com/RelaxNaWilczej/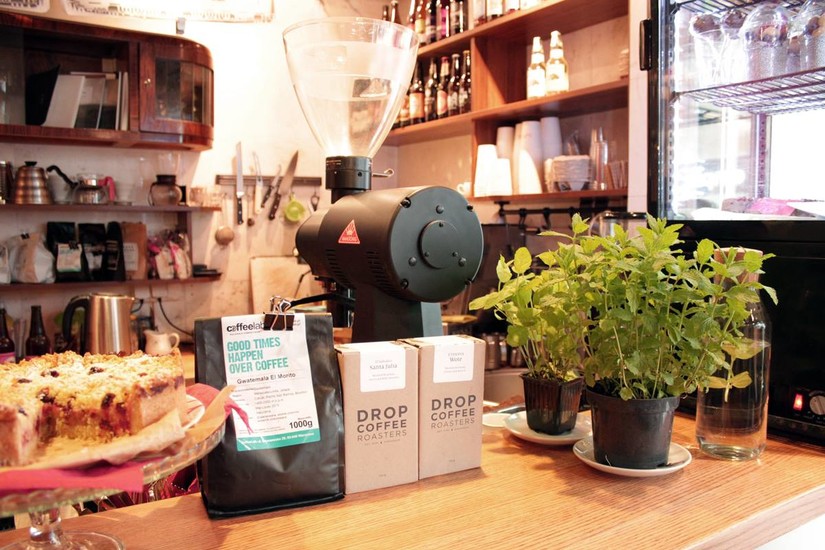 Michal has two great locations,"We are first in the area next to the Relax Cinema that became world-wide famous in the 1980s due to the fact that the Communist regime was predominent, yet the government knew that the people were tired of communist movies so they had to start showing Westerns and movies like The Lion King or people wouldn't go to the movies anymore!" he says to me and I can't stop laughing that as strict as the Western World thinks Communist countries were to their people, obviously the Polish Government loved their people more! Can't find it? look for the street there:
And the second location is on Wilcza street number 17!
The newest cafe is about one year old on the Wilzca street which is a more bohemian side of the city and one that I loved. "I am trying to see if I could maybe do a little photography exhibition here, too, so we shall see. I need some good artists to approach me!"
"Every year on the location of Relax Cafe and Bar, we have dance party.
The people dance all day to great music in the alleys and they love it. Now we are waiting for approval to do the dancing again.
That is located at
Złota 8a, Pasaż Wiecha and the other is Wilczej 17."
"You know we are a independant, yet we can compete with the bigger franchises with our award winning barristers and our unique specialty coffees and coffee processes and most importantly our guests!"
"You know it is about the coffees and the cakes and the new Vegan recipes that we have at the new cafe. We thought it very important to have Vegetarian and Vegan since many people eat very healthy today. And of course we do bake our own cakes. Yes you are right the Polish people love cakes with fruits on top and my baker says that it takes 1 hr to make the cake and 20 minutes to decorate it with the fruits!" says Michal.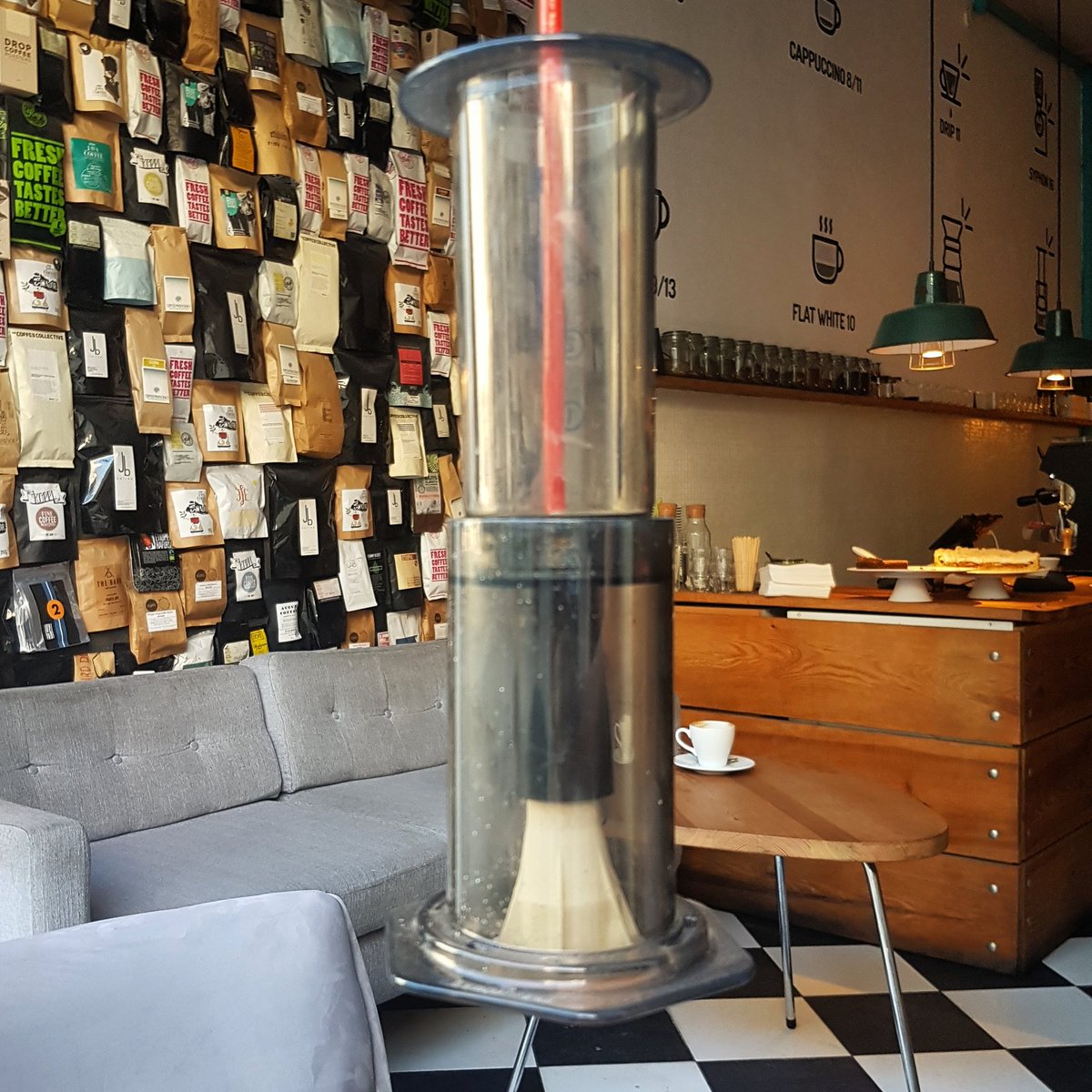 "You must come to the Relax Cafe and Bar since we were vote in Warsaw as the Best Coffee Place to Socialize! In all of Warsaw we got number one!" says Michal.
"And my coffee barrister recieved the top 5 in the entire country of Poland for the Best Coffee Filtering Contest!" We laugh as his barrister is named Michal, too and I ask the boss if the bakery chef is named Michal? "You should say that the baker is named Michal, too , since I am the baker sometimes!" His family, mother and father own Relax Foto in Warsaw the last 25 years and since he is a photographer from a photo family, he exhibits in his gallery up and coming photographers that he enjoys. Feel free to see the photo exhibits in the Relax Cafe next to the Foto Lab!
Welcome to Warsaw where the variety for Foodies is unimaginable and is represented with such delicate treats of homemade pastries and breads that you shall find at 20 locations of a private company named
VINCENT'S!
http://www.vincentcafe.pl
One thing to do in Warsaw is of course sample the local Polish exotic cuisine and while you try your best to stay slim, it is a impossibility here! However, what you will also find is a entire international culture of foods from everywhere in the world, and most of the time with Polish owners.
A example is Vincent's and from the master baker's own words...
    "Stuffed pintles from Lorraine, roulades bûches de Noël, sourdough bread  from the Dordogne - all the flavors of real French cuisine that have left a lasting impression in my memory have always been my best motivation for work."

                            Vincent Gauthier
http://www.vincentcafe.pl
With so many locations it is easy to find a
Vincent's!
My favorite is a tiny one located on the trendy
Nowy Swiat
street that links it's way on the Royal Road to Old City.
While it is true that Vincent's has 20 locations in Warsaw and with so many you would imagine that they would be sort of touristy, right? They have such DELICACIES and so many lovely varieties of very fattening treats that you can do breakfast, lunch and dinner at VINCENT'S!

As a famous Crazy Ophelia Shakespearean character always says, "I would give you Daisies, but at Vincent's we use sunflower seeds when we bake!"

A very fattening, yet who could resist it, maple caramel pancake breakfast. I am very tempted to eat every item in the bakery, yet the cakes with the fresh fruit on is a very Polish thing to do and a little more healthy...o what the heck, give me the pancakes!

Okay we have cookies and macaroons and pancakes and breads and croissants and pies and cakes so full of fruits that it is difficult to find the cake under the toppings.
"The typical Polish family is all about the cakes, although mine is a little freaky," says a beautiful Polish girl in a bakery, "Mine go to the fitness clubs and we all work out, yet most Polish families eat a big lunch about 1:00pm and with that always cakes. At night we don't eat out much and usually have tapas, finger food or sandwiches." Alright, good to know about the Polish culture!

I love the fact that my Tennessee Whiskey, JACK DANIELS sponsors JACK's CINEMA BAR & Restaurant, WARSAW!

Jack's boss is Jacek(Jack) Czauderna, who is a very fun person who loves to HAVE fun and has created the incredible tribute to Texas cooking, Tennessee Bourban and Louisiana Chile all within the last 8 years.
"You should see my Jack's Bar in Gdansk!," he says today as he graciously gave me some of the famous Jack Daniel's recipe of chile at lunch. "In Gdansk it is 7 times as big as the one here in Warsaw!"
located at Ul. Bracka 18

www.jackscinema.pl
"I worked in the corporate world of Nestle in the advertising and marketing about 17 years and lived and worked in Russia 2 of these years and know marketing. When I retired from the company my friend, who knew of my love of the American culture and of the great whiskey, Jack Daniels,
said that I should open my own bars with the Jack Daniels as the main drink since that is my name! It is all in fun, yet 8 years now and it is huge.
I have 8 bars and restaurants now in Poland and want to expand in europe with a franchise and in America!"
www.jackscinema.pl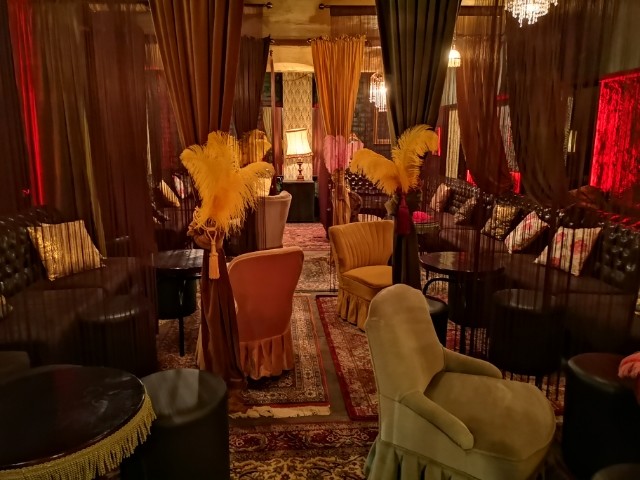 Where almost every item on the menu, even the jalepeno burger, is made with a little Jack Daniel's in it...the official SPONSOR OF JACK'S CINEMA AND THE TOTAL 8 JACK'S BARS IN POLAND!

"I would love to open a place in America, maybe New Orleans, or Nashville, since I have been to Nashville and as you say every country music singer drinks Jack Daniels," says Jacek and I remind him that actually every country western fan drinks Jack Daniel's too!

The boss is 100% Polish, t
he food is 100% American with Chicken wings and hot Jack Daniel's sauce and Jack Daniel's chilli
and Big Huge American steaks and burgers! The drink is...of course! Jack Daniel's.The audience always being filmed for some music video that Jack, the boss, wants on his television screens or some promotion or just some cinema related event.
It is a funny place where the team is anything but serious, always laughing and smiling due to the fact that the boss is a real very nice person and the company Jack Daniel's is as wholesome and country and American-the-way-apple-pie should be nice!
https://www.facebook.com/jackscinemabar/
Do you know this lady?

🤔


It's pin up candy biggest star in Poland!!!

💃


on Jack's cinema stage you will see feathers, glitter, Retro Inspirations, JUST SOME OF THE shows at Jack's...come on in and check the schedule!
https://www.facebook.com/jackscinemabar/
"I own 8 restaurants around Poland, the biggest is in Gdansk and the one here in Warsaw the tourists love, especially the Americans! Upstairs here it is cinema inspired and you can find black and white drawings of Steven Spielberg and Woody Allen and Marilyn Monroe and many others and many rap stars and music stars, like Jennifer Lopez and others. Some of the celebrities have come here to see their drawings! We have the live music stage and downstairs is the smoking room with pictures black and white of all the celebrities smoking!" he laughs and says that while he has 5 children, he is the mastermind behind all of the decorations of the Jack's bars. "I was in advertising and marketing many years and that is what I do. Here it is fun fun fun and it is more my hobby, building the Jack's bars around the world."
https://www.facebook.com/jackscinemabar/
While in Poland visit:
https://www.facebook.com/fahrenheit.gdansk/
Jack's Bar Fahrenheit or try the Jack's White Rabbit Saloon in Gdansk at:
https://www.facebook.com/whiterabbit.gdansk/
Try the Jack's Legendary Bar in Lodz, Poland at
AKWARIUM
is located on a square right in the middle of Warsaw's Old City. You can not miss the beautiful outdoor events club and cocktail square which has been opened only 2 weeks. In addition to food coming in another 2 weeks, the place is like a Beach Club with Chill outdoor lawn chairs and great cocktails with a team of 40.
located at: Krakowskie Przedmiescie 60a
www.skwerhoovera.pl
Alright let's hope I can list it all the way it is supposed to be since the event list, a EVERYDAY EVENT LIST, has such cool items as the first ever Jazz Club of Poland housed here since Rafal and Piter took it over only 2 weeks now, and that is every Monday and Tuesday and the first Sunday. Have I mentioned that they are always live shows! Live DJS on the weekends with Piter, the partner with Rafal being one of the most famous DJS in Poland, and we have Live Comedy shows on Thursdays, "I think, " says Rafal since, "I have a team of 40 and I have 5 event entertainment managers that handle the live bookings!". OK! and continueing on Wednesdays sit and relax and watch a international movie on the lawns on the big screens! That is totally cool. Every night they provide live entertainment for their guests and on Fridays and Saturdays you can mosey on downstairs to a huge room that has another DJ! Alright people, what are you waiting for! Come Party!

"It is a cultural establishment to entertain and offer to people from around the world a chill place to enjoy yourselves and a fun night out. If you want to party til 3:00 am be my guest!"

"We wanted a party place, I guess. You know if you go out in the city you want to have fun. Have a great cocktail or some beers and party with friends. Here, as the owner, I just drink a little less beers, yet I am more stressed," laughs Rafal. "Wait, did I say that right? Ok I am a little more stressed since we are learning and it is a big place and with a team of 40 I am trusting my team to do their jobs and at the end of the day at 3:00am we laugh and have beers. Maybe that is the way to do it, that is the way we do it!"

So, here is me listening intently!

"Every night after Alberto is the DJ, we can sit and have some beers? I guess! Maybe that is a good way to describe us chilling as a team!" laughs Rafal. "We laugh and we are very happy that the day has been a great and fun day. Maybe we have some cocktails together or a beer and I guess we could do that. Yes, let's do that, have some beers!" he laughs at that suggestion!

www.skwerhoovera.pl
Check out the events list on the website in addition to the great cocktails with a Margarita about 24 zloty,
"That is the average price in Warsaw and we are very proud of the fact that as a cultural outdoor restaurant, families can come and enjoy the events and it is very reasonable for the locals as well as the tourists," says the very fun head bartender, who Rafal introduces laughing,"How many kegs do we go through? I don't know ask my head bartender. That is what I do, delegate!"
"We want finger food, the Polish tapas, where families can grab the food and it is easy to eat that compliments the beer and wine and cocktails and most importantly the free live events that you can come and count on everyday to be entertained here," says Rafal.

"Are we serious here? Do we look like we're serious!" jokes Rafal. "I guess we want to have fun. I want to have a great team that gives tons of great entertainment, great drinks with my very good bartenders and in 2 weeks great Polish tapas and food for everybody. I told you it is only 2 weeks now!"

Alright let's go see that movie on Wednesday on the big open air theater screen and have
one cocktail, two cocktails, three cocktails...you know the routine! Call 7 31 910 7 7 7 for directions!

So Whether you want a romantic
BOLLYWOOD INDIAN DINNER
in the beautiful velvet booths staring at the gorgeous
Nowy Swiat 58
street at 22.00pm or the after dinner party downstairs at
Club N58. they have it all! Call for reservations: at 22 8 270 2 83
The famous N58 club where the DJS are wilder than the crowd!

Okay, how much is the Shisha Boss, Tarek, loved in a Bollywood famous Indian Restaurant in Warsaw? Well, if it is the most famous Shisha boss of 20 years experience in Warsaw, from Egypt, and if the Shisha originated from India and if they have Indian superb shisha and Jamaiccan blend, very much! "
🎉
🎉
best birthday wishes to our dear boss sheeshy!
🎉
🎉
Tarek, we wish you happy days
😘
thank you for being with us
💕"
"Okay, ready?" asks the totally funky and totally cool Sebastian, Big Director of the entire Shisha bar, the Award Winning Whiskey Bartenders, the entire Bollywood Famous Restaurant in Nowy Swiat and the very wild and crazy number ONE club in Warsaw, N58. "When I say HOT, I mean HOT. The cooks are from Delhi and every time we do a new menu I have to taste it. For instance the last menu which is a couple of months since, it was INSANELY HOT and I had to tame the Indian cooking down to the Western European standards. However, if you want it the real way the Indians eat it, just ask and we can certainly do that!" says the funny Sebastian.

And you can always find the events of the N58 club on the facebook for the entire month!
ATTENTION; Go to the facebook and enter your name on the guests list of the clubs event, every Thurdays(russian and english kareoke!) and famous DJS on Fridays and Saturdays and if you come in on the list between 8:00pm and 11:00pm you enter free!

We love CLub 58, and since Albert of Monaco is born in 1958 we know that the Princesse's and the Olympic Swimmers(one in the same!) love the club, too, and let's see My son December 14 from Philadelphia loves the club, and "celebrities from around the world such as Toby and Pucci
https://www.facebook.com/tobyandpucci/
of Beverly Hills Wives TV show love it and they moved here from California and opened a pet grooming place and they come here and party all the time," says the very cool and very funny Sebastian who I had sooooo much fun talking to at lunch today!
Met Ceasar and Adrian, and we hope the spelling is alright, the very talented and cool bartenders of Bollywood Lounge, ShiSha and Club N58 today.
Ceasar, "I am in the last class of working and being taught by Zdzisław T. Nowicki, THE MASTER who wrote THE book on Bartending in Poland.
He died in 2007, though, yet I learned many ways to do cocktails and when people come to my bar, I ask what they love, put the cocktail menu aside and start creating!"
https://www.facebook.com/bl.warsaw/
Later at about 3:00pm, Adrian shows me the Club N58 and tells me how he was invited from BUSHMILLS WHISKEY in North Ireland the last 2 weeks as the winner of the entire European BUSHMILLS contest of the best drinks. "It was awesome and I got to meet THE man who tastes every Bushmills when it comes to the public from the distillery. THE DISTILLER! They gave us 4 nights and 5 days and all expenses as a thankyou and of course we have to use Bushmills and of course that is the top shelf so we all say,"o alright!"" says Adrian!

Smoke some SHISHA, eat some Indian Food, drink best cocktails and enjoy the Belly Dancing at the Bollywood Famous Indian Restaurant on Nowy Swiat 58.

Trattoria Rucola in Warsaw with 5 locations

"About 15 years ago, my friend and partner, Piotr, I am Piotr too, went to Australia under the guise of studying at the University. He fell in love with surfing and became a surfer and quit university and worked at night at a great Italian pizza restaurant, similar to the ones he made here back in Poland.
When his mother and father found out that he had not only quit the university, but just loved surfing all day and working in Italy at night, they stopped the funding from America. They said he had to study and he wanted to surf.
6 years later, he came back to Warsaw and met one of the other partners and they opened the first Trattoria Rucola near the Stadium. That is 8 years ago. Now the one here in the old city is 6 years old and we have 5 in total." says Piotr today when I had the happy chance of chatting with him about the evolvement of the best italian restaurants in Warsaw!
https://www.trattoriarucola.pl/en/contact
Stare Miasto(old town) 888 57 54 57
Piotr is a BIG ENTREPRENUER
, as a partner in the Trattoria Rucola and the ToTu chinese dumplings bar and a sweetheart and presented me with a pizza of Parma ham and eggplants on one side and truffles and delightful veggies on the other. "The chef is from Tuscany, I don't know the city, yet he is the best. His name is Francesco and he comes to every one of the 5 places everyday to check on team. He is the head of the kitchen. His pizza is great, thin, not Roman and not Neopolitan. You must try it," says Piotr and I do yet I am happy they chose a pizza for me since they have 42 to choose from and each one is unique. The pizza is light and airy by the way and I tell Piotr how natural you feel and how healthy they seem.
"Yes, I own ToTu, which is a Chinese dumpling and Thai food bistro, 4 of these, and that is very healthy. https://www.facebook.com/SzkolaRysunkuTOTU/
The chinese food is espeically healthy.
I went to China 5 years ago and took a chinese cook home with me, which is very difficult to do since you need passports and paperwork and the Chinese government DOES NOT WANT TO GIVE THESE to you! Yet we finally brought him here and guess what? After 2 years he just ran away! I have no idea here he went." He says shrugging his shoulders. "O well, we have Nepal cooks in the ToTu bistros now and they are much easier to work with anyway!" The locations for these are:
"The pizza dough in the location here in the old city at Midowa 1, I personally make everyday. Me and the Pizzaolo. The pizzas are the favorite, although we have such a great chef and we have the pastas and the salads and antipastas that make Italy famous. We have only wine from Italy. It is a Italian restaurant, and we do carry a couple of foreign and polish beers along with the Italian ones. It's fun. The Trattoria is always with a great team and every week the team works in a new location of the 5. I think that I am the nicest boss of every boss and the one that jokes the most and they like me the most!" laughs Piotr. He is a sweety which I believe that I have already said. Funny and happy to tell you about his Trattorias, his great partners that are his lifelong friends and his trip recently on a "Catamaran in the Seychelles with, of course Francesco since he is the greatest chef, and 10 buddys! We fished around the islands and we all cooked, and had a great time, yet I must say that Francesco is the best cook!"
The locations are as follows and you should visit a couple of these, although the recipes are the same, the teams change and you can say hi!

"Alright, let me tell you that we have mostly all of the ingredients imported from Italy, such as the Parma ham, and let's say maybe some veggies from Poland. It is a 100% Italian restaurant and we want the salamis and the hams and the cheeses Italian. Now that we have 5, and everybody approaches us to franchise, which we will not, we think about others, yet it is friends as partners and we need to keep that family."

"The TOTU i
s really chinese dumplings bar with a couple of Thai dishes, although people say that we have the best Thai in Warsaw, which is funny, since it is a Chinese Dumpling bar!"
ŻOLIBORZ
Tel: 530 449 449 ul. Słowackiego 12
SASKA KĘPA

Tel: 797 194 039 ul. Niekłańska 33 lok 11
URSYNÓW

Tel: 795 073 071 ul. Wąwozowa 36 paw 8
Located in the Royal Castle of Warsaw, Cafe Zemek is beautiful. A historic restaurant since the early 1900's, the location can be used for dining, parties, weddings, banquets. Come have a little look!

The cafe is a highly stylish place decorated with antiques and precious porcelain and you can enjoy a coffee and while listening to great classical music such as Chopin!

Cafe Zamek Kawiarnia
Restauracja pl. Zamkowy 4, Warszawa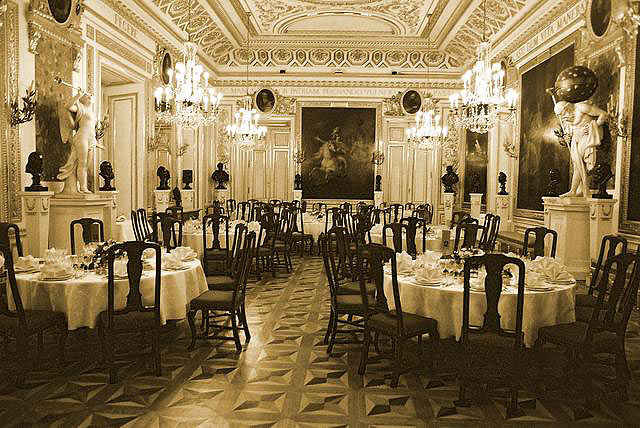 https://www.cafe-zamek.pl/index.php?strona=kawiarnia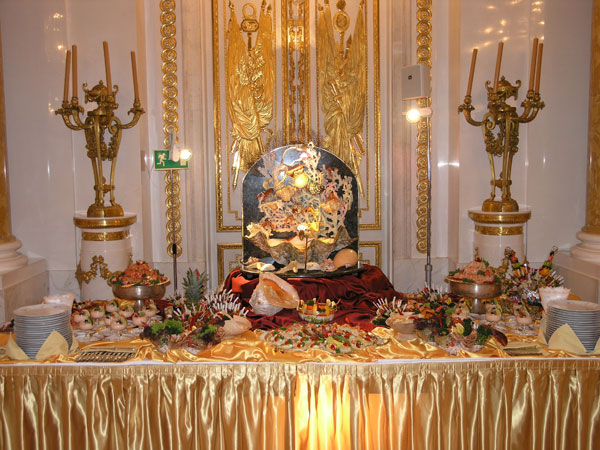 Try the historic Cafe Zamek of Warsaw and take a guided audio tour of the royal grounds. The team is sophisticated and professional, yet very playful and fun. You will love the entire experience. A wedding? Can be found here!

The Polish owned and very authentic Mexican Dos Tacos!
Since I am loving Nachos! They have 3 huge kinds of these.

"We've been here the last 5 years and I am very happy I decided to do the Mexican embassy location first since I made some very good friends who helped me realize that I had succeeded in making the restaurant real. They at times would suggest different ways to cook or something that they add and sometimes we would try these tips, yet most of the time only for them personally would I cook something special. I love my recipes and I love my restaurant and I especially love that fact that it has a great reputation with the people from that country. If you are Mexican and come to Warsaw you always eat here!"
You can just walk on in to the Dos Tacos or call them up:
22 243 46 18
ps try the original frozen Margaritas with sugar on em!


"I just loved the Mexican culture and every time I would visit Mexico I brought back recipes and tried different tequilas, that I would do so much and brought so many tequilas and mezcal home with me. I had trained as a bartender years before the Mexican restaurant and I had always said that is my goal to make my own restaurant something unique and special," says Michal of his very respected Mexican Restaurant, DosTacos.
And as a bartender what can he tells us about tequila?
"Tequila is made from the blue agave plant near Tequila a region of Mexico and it is only produced there, the rest is called Mezcal," he says and as usual everyday I learn something new to add to my huge vast knowledge! "We were originally for 3 years in the Mexican embassy building and the employees and friends and visitors would come to eat at the restaurant. I absolutely loved the fact that they would tell me my Mexican restaurant is just the way that their moms would make back in Mexico. They loved my restaurant!"
"Yes, of course we use the ingredients from Poland since I want the restaurant to be fun and the recipes totally real, yet at the same time I want the ingredients to be fresh. I don't want to import beef or chicken from Mexico when we as a Polish country have such great products here. The chicken in Mexico eat corn and here in Poland they eat seeds and that makes the Polish chicken taste different and it is white, whereas the Mexican chicken meat is yellow. However, the fun thing is that the Mexican consul has become my friend and he cooks in my kitchen sometimes with me!"

http://www.dostacos.pl/
The playful image of DosTacos is exactly what the owner, Michal had in mind when he opened,"The first real Mexican restaurant, totally authentic with recipes from my girlfriend(who was Mexican) and her mother. I wanted something fun that people would feel comfortable coming in to and yet at the same time when I had visited Mexico about 5 times I realized that the real Mexican food is very different than the Polish Mexican versions."
Located at
Ul. Jasna 22
, right near the Oki Doki Hostel, where all the youngsters can hop right on over and dress casual, order a Mexican SOL beer or a variety of great Margaritas and some huge burritos and chow down! When I ask Michal if he has a unique Mexican style Margarita he says,
"Well, it is a bit difficult to really change the Margaritas, since a Margarita is a Margarita; yet the Tequila really makes the drink. If you have great Tequila you can have great Margaritas. That is the one thing to notice when the Mexican people come in here. They always point at the selection of tequila that I have and comment on it!"
And although I could list his menu, the pictures say it all; however, click on the links to check out his list of truly authentic Mexican dishes and cheers! http://www.dostacos.pl/index.php/menu
"I remember you from when you came to Warsaw 8 years ago, the minute you walked into my cafe I remembered you. I used to work on the Old City Square and I remember you wanted to know so much about Warsaw and Poland and talked about writing about the culture of the city and I kept telling you to go to Krakow since it is more beautiful. It was the winter," says the very friendly Martin who owns Kawiarnia Nowomiejska, named the Coffee House on the Nowomiejska street. "I should change the name since I didn't know so many people who have such a difficult time pronouncing it," he says. " Personally, I remember visiting Warsaw in 2010 when I first started my writing and thought of doing a cultural book, later when I went back to America I thought to keep the writing and continue the online book instead of publishing it like Lonely Planet.
located at: Nowomiejska 10
I tell Martin that just the fact that he remembers me from so long is a plus for the people that come to his cafe. He must really care about his guests. "Yes, I love people. I worked for 10 years doing waiting jobs and working with the Craft Beer Place downstairs and in the Coffee house here and last year I finally bought the Cafe. I am very happy with it and I love to hear stories from people everywhere in the world," he says laughing and smiling. Martin is always laughing and smiling and it must have to do with people named Martin, They are always happy!

"I have the students at the university work for me which is fun since they are from everywhere and they are interested in people. They're nice. I have some people that come in here all the time and since the beer pub and the hotel are all connected here, I have tourists that wander in, too! And yes I love PacMan," says Martin when I ask about his PacMan shirt. I tell him a story of a Colombian billionaire that had a birthday party in Colombia with a live PacMan and then say maybe that is why on 6.24. 2019 Brexit happened when I flew to America, for someone else's birthday and we laugh. Some British people were in there and they said that they were not too happy that Theresa May made Brexit her birthday present when she should be worried about politics!

The cafe is situated above
the Craft Beer place located at
Nowomiejska 10, named Same Fusy Craft Beers.

When you find Same Fusy Pub, go down the long hallway where their tea room is downstairs,
yet go upstairs to the cozy and welcoming cafe where Martin is!

https://www.facebook.com/kawiarnianowomiejska/
A Polish lawyer starts talking politics at the cafe bar and we laugh and talk the three of us, Martin and me and the lawyer as he tells his views on politics, the French Notre Dame Cathedral, the Yellow Vests, the Amaretto coffees here that he prefers and the fact that Russell Crowe bought a Dinosaur head from Leonardo DiCaprio 20 hours before. He says that he must google that one! By the way we just called him Russell Crowe since he looked like Russell Crowe.

Maria and Daniel own the funky fusion Italian restaurant named Freta 12 in Warsaw, and I had the pleasure of interviewing her today. She is happy and full of light and energy, a bubbly little blonde who says,"I have 3 jobs really! I am a mom, I work in a office as a adminstrator and I help Daniel with the Italian restaurant at night and on the weekends. We've had the Freta 12 the last year and 1/2 and it is let's say our dessert. We have fun here. We love the guests and we love the playfulness of giving the guests dinner and lunch everyday!"

"I hope people come here since we are friendly, we have a great atmosphere and attitude with each other and our guests and honestly the food is great. I guess that is why!" Maria says when I ask her to tell why she believes after the 1 year that they are such a success. "And it helps that we are the only restaurant on Freta Street that isn't Polish!"

"And you say you love pizza and I do too, yet it is fattening for me since I could eat it everyday! The Pizza is great, though and the funny story of our first real Italian chef last year is that we hired him and the first day he told us he didn't want to make pizzas since he made too many pizzas in Italy!"

"We love the way that the chef combines the fresh local ingredients of the Polish food and we buy the Italian products from a importer from Italy. It is really fun for me and for Daniel. We say to each other that we are very happy with our idea of opening the Italian restaurant for the local people to enjoy and for the tourists," says Maria.

"You know, the menu is exotic Italian, with fusion of Polish ingredients such as duck ravioli and white cream gnocchis with cheese and spaghetti with meatballs in white sauce.
They are italian dishes with twists of the Polish regional cooking. That is why people love it here."
Let's try a healthy shrimp salad!
"It is funny since me and Daniel went to Rome, a city that we truly love, about 10 years now. We fell in love with the city, the people and of course the food. We love Italian food, but honestly if I ate Italian food everyday I would be fat!" Maria laughs, "It is difficult to not eat it everyday!"

"I'm not sure what Americans name the outside with the big umbrellas, but the Polish people call the outside seating the beer garden! We have Polish beer and Italian wine, and a cook that has spent 20 years in Poland and Italy and really knows how to cook Italian food," says Maria.

"Here try these, they are real coco chocolate beans from Mexico and you roll these in the hands to take the oil and you can make hot chocolate with these or just eat them! They are very strong, though," says Martin as he lets me try the beans. "My own creation is named Tonicaespresso and it is basically Tonic Water mixed with espresso on top and tastes great. Another item that I have that is exclusive to me, I believe, is that the Arabic coffee I make with Ethiopian beans. I use the Brazil beans for my other coffees and have such items as Amaretto coffee and caramelized ice cream. It is a cozy cafe with cakes and sweets and of course my love of coffee!"

The famous Duck of the
Restauracja Kamienne Schodki
"In 1960, we opened the doors as the first Polish restaurant that served the rarest duck and today we continue the tradition with the original recipe that hasn't been changed the last 45 years. At first the duck had bones in it and now today we serve the duck filets without the bones.
We were the restaurant that introduced duck to its guests and we are one of the most famous restaurants in Poland because of it," says Thomas of the highly respected
Restauracja Kamienne Schodki
located at
Rynek Starego Miasta 24
. He introduces me to Piotr who along with Hania own the restaurant. Piotr is smiling and graciously kisses my offered hand, "I worked many years here in the city of Warsaw, perhaps 30 years as a waiter and I always said to myself that one day I would own that famous restaurant on Old Town Square and here I am. Along with my partner, Hania who worked some 20 years as a waitress. We are very happy to be owners and it is always fun. The responsibility is alright since we are both interacting with the guests everyday that we work. We come to the tables and wait on our guests.
We are very involved in every detail of the guest's visit, including the breakfasts that start at 10:00am, yet you must come and try the duck!" he says laughing.
+48 22 831 08 22 weddings

"Yes, we have black caviar and red caviar and Dom Perignon Champagne which guests order a couple times per week, yet mostly it is the famous duck and the venison which is a very strong taste or the local meats. Polish food is healthy, yet strong and with our chef using the traditional recipes, but with modern twists, I believe that you can be pleasantly surprised with us," says Piotr.
http://kamienneschodki.pl/en/home/
"We have had many famous people here in sports and movies and we have personally served the ambassador of Japan and the ambassador of France," says Piotr proudly. I would be very proud to say that my claim is the boss of such a lovely and historic place sitting right on the famous Old Town Square in gorgeous Warsaw.
Okay where is that chef!
"The red wines we have on the menu have been with us for years, the vineyards, the producers, and we don't change these since they compliment the famous recipe of duck that we share with the guests. Occaisionally Piotr or Hania might try a new wine, yet it is always the red wine," says Thomas translating for Piotr!

Or how about the Salad with livers or the
Polish Tripe with Ginger sauce that a wedding party
was enjoying today as I interviewed the team! The restaurant is romantic and elegant and the food is beautifully and expertly prepared!