http://www.hotel-adler.ch/
My Balcony literally!... and the sitting room mural...
Beautiful. I asked Demet if people sat in the chair and the bench at night reading and she said that yes they do and that the little light comes on automatically at about 18:00 every night...I haven't sat there yet...
There is a deceptive boutique 3 star at Zurich...inside each of its rooms is a mural on the wall of a section of the city. There is a coordinating map on the wall with that section circled and a guide book of each of the sections in case you would love to do a little fun touristy thing the day you stay there. Each room is numbered and the numbers coordinate with the section...for instance my room had 3 names...101...limmatquai(the section of the city along the river) and Heidi...named after the big blue cow on the balcony. The cow is a tourist attraction! Funny and when I would stand out on the balcony
everyone would take pictures of the cow! The room is huge with a little loveseat and internet station and that lovely cow!
The manager is Demet. She is from Turkey and one of the most sincerely affectionate warm person I ever met.
Demet, "Here let me show you my favorite room. It is Heidi the Cow!"
Emme: You're kidding right? There is actually a room attached to that cow on the balcony?"
Demet, "Yes." She opens the window and we stand on the balcony. A tourist takes a picture and I put the peace sign behind the
cows ears. "If you stand here at least 5 minutes I guarantee that someone will take your picture. As a matter of fact I thought
about doing pictures with the cow for 50Cents each!"
Emme: You know that is a great idea. When I went to Venecia I saw two people with the Venetian Masks on and they were charging
5Euros to take a picture with them! And all of the Japanese tourists would take pictures of the Mask people!"
Demet, "Yes they all love the cow."
We walk into the hall where there is an internet station and a beautiful 4 story mural on the wall of a square sitting area.
On most of the walls is original paintings of the painter who used to live in the building, Rudolf Koller from 1828 to 1905.
Demet, "People all the time ask if they can buy the paintings we say no there not for sale."
Emme: The rooms they're totally interactive and I love the fact that guests could find they're room section of the
city just for fun. I would do that. Do the guests participate in trying to see that section of the city that coordinates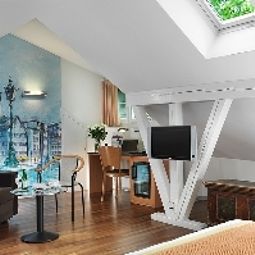 with the room?
Demet, "Yes they do. And I have guests that call me to reserve a special room if they've been here before. They'll say
can I stay in St. Peter's room this time, or can I stay in Mustergasse. It is a way to see the city in a fun way.We have 85%
occupancy at the moment the last couple of years."
Emme: I bet it is because of you and the friendliness of the staff but I bet it is in addition because of the interactiveness
of the rooms. Its lets each person have a goal and be a tourist. Like a scavenger hunt!"
Demet, "Yes and at Christmas Heidi has flys."
She makes the image of wings and I giggle: You mean wings? Angel wings?
Demet smiles, "Yes Wings. Forgive me my English."
Emme smiles: I love it. It is better than my German of course or Italian or French or any of the other languages...
You know my father knew 7 languages fluently...and when I would try my 50+ words in each language he would smile and say you know Emme you give a knew meaning to the phrase Sticks and Stones may break my bones but words will never hurt me.
Instead of being embarassed that I only knew a little about languages he said he is happy about that. That words in all languages would never hurt me because I would never know if somebody was saying something bad about me.
Demet laughs, "I try English."
Emme: It is very good-You seem such a warm friendly person. You can see that your staff respects you.
Demet, "I try to say to others how do you say to do to others the way that others...How do you say that?"
Emme: That always do to others the way you would love to be treated. One of my friends says Good Karma.
Demet smiles, "Yes that is it. Good Karma. Even if someone is not treating me well I try to treat them well."
The entire 3 star reminds you of home. It is as if you're at home and I say that to Demet.
Demet, "Yes I try to do that. Of course home is best but I try to make people feel at home. And I would love to invite you to dinner tonight. To try real Swiss food."
Emme laughs: I am getting very fat in Switzerland.
We check out a couple of the rooms on the top floor including ST. Peters 408 and it is charming with sloped walls and wood beams.
Later I take the book of all of the paths and pictures of each section of the city and try my own scavenger hunt...but I am hopelessly lost. I have no idea how to find anything. About the only thing that I fould is the Limmatquai river which is difficult to miss! And a couple of the fountains on the list. Later a young man trys to help me find the fountain across the river but neither one of us could find it.
When I come back to the Adler Demet is waiting to seat me in the restaurant which by the way at 6:30 is packed.
Emme: Wow it is full.
Demet, "Every night it is that way.With hotel guests and with tourists and with residents."
Emme sitting at her little table. Demet immediately opens the menu and asks which Swiss food I would love to try.
Emme sees the table next to hers of 4 young Japanese people eating fondue: I would love to try Swiss fondue since
I've never had it.
Demet smiles, "Okay with or without meat?"
Emme: Um I thought it is just cheese.
Demet, "We have one page of cheese and one page of meats with cheese in the fondue."
Emme chooses one with mushrooms and Demet says that she will choose a wine to compliment the fondue choice. I must say that I seriously have never had fondue before and it is really different...very salty but pretty good. And the wine she chooses has a woody barrel taste to it. Lovely. The staff is sweet. Nicola was my waiter and there is an Aziz and a couple of other waiters that were busy busy busy. The atmosphere maybe because of Demet fluttering smiling everywhere is totally Swiss Alps Charming and I had the sweetest time. I thanked her for her gracious hospitality and went out again to see if I could find more of the sections...when I came home I went to the balcony and petted the cow! That cow is hilarious. It is seriously the funniest room I've ever stayed in in my entire life. Ever. When I would walk past the restuarant I would see it but I just thought it was the sign of the SWiss Chuchi...But yep it is my room...enter a room of total luxury and comfort and friendly warmth. I didn't tell Demet that I had said a prayer for her that some rich person would come and buy the Adler for her. It reeks of her taste her friendliness her caring. I can't imagine another person owning it.
Seriously. She is one of hte sweetest people I know.
Okay at Basel it is totally fun from local bars that have military men yelling at you if you play Johnny Cash to High very expensive 5 star hotel Cigar Bars that have a back door to the "Fitness Room and The Massage Room"... o hey need to drink a little before a cigar and massage...head (especially the totally cool and wealthy and the Arabs) to the Les Trois Rois... but if you happen to be staying at the Total Discreet and Very cool Basel Back Packers Hostel where they offer private rooms and dorms.... stay here and sneak in a massage at the 5 star...Stefan has a huge collage in the downstairs cafe and huge lounge couch room open all night... he says that he made the collage because he loves PULPFICTION... I love that movie..."Every Pulp Fiction is like Cheap Fiction the meaning is that and I googled that because I wanted to know that meaning... and I bought all of that Pulp Fiction on Ebay ...everyone is a cover of Pulp Fiction and I bought all of covers and I made a huge mural of all of the covers into a huge mural out of all of the covers I bought on ebay."

Hi want to have fun at Basel Switzerland?
Come to Basel Back Pack located at
www.baselbackpack.com/de
Tel:
+41 (0)61 333 00 37 Dornacherstrasse 192 the Basel has a great room downstairs where people hang and talk and mix stories plus right down the lane is a GREAT BAR where about 250 people hang out and drink and it is TOTALLY COOL and you just hang out there drink and make your way like an alligator swaying side to side to the Basel Back Pack Hostel..where as you can see the rooms they're totally cool and the kitchen with two stoves and laundry is open ALL NIGHT! There is tons of showers and the people they're always out on the couches chatting. Plus they've got PRIVATE ROOMS!
Talked to Stefan that is with a f as in friend at the Basel...
Stefan, "I am from Germany but a year ago my friend who owns the Basel Back Pack asked if I would love to come and partner and I said yes..." He is totally cute, girls therefore I would suggest The Basel and when I asked him about the Germany train system of where I could hop on and off to see all of Germany he shows you the map and tells you the best local knowledge, "See Come straight to Bad Basel Bad station and buy the ticket there that is the best option..."
Okay that I am cool about since I am totally clueless and would of went all the way to Stuttgart to buy the ticket many euros later....
http://www.stadthof.ch/ Love to Ammann who I interviewed the bosses right Hand Lady. She takes care of all of the reservations and financial stuff and the Boss is the President of all of the Resturants in Basel including the 3 yes 3 that locate in the famous Stadhof Hotel. It has been in existence since 1295. My Little room is adorable with a great view of the church above out my window... a tiny charming number 3. Sweet.
Emme: The Boss is the President of all of the Resturants in Basel! How in the world do you ever find time to talk to him? I see that he is running to that restuarant on the Level one and running into the kitchen and out to the Pizzeria and back to say one word to you and zoom out the door! Amman laughing, "Ive been here almost 7 years and I am used to him. I know that he can give me 15 minutes and I write all my questions down and I ask him all the questions of the last couple of days and he tells me all that I Need to know in 15 minutes! I am super busy as you can see but he is 100 times more busy than me!"
Emme: Is it fun to be so busy all of the time, that is my first question and my other is who is the funniest Person that works at the Stadhof? Amman, "Definitely the Boss and of course there is one that I hired his Name is VIto. He is from Siciily and he is hilarious. He always makes us laugh. He tells jokes to all of the guests." Emme: If the Boss said Ammann what would you Change about the Stadhof what would that be?
Ammann, "I would put other Colors in the rooms with bright paint and you shall see when I Show you the rooms...maybe different Colors with the curtains and make These Little changes."
The pretty and adorable Stadhof.
When Ammann Shows me my room it is charming and I see that it is huge ceilings all in White. She would like to paint murals and Colors and use the charm and character on the ceilings and walls. I find it adorable. Being such a cool Boss with the knowledge of the entire restaraunt Business at his Hands I am instructed to write 25 questions in an email to the Boss and he can answer all of em. I sit down to write my questions all you would ever want to know about eating at Basel with its old world buildings and interwoven alleys.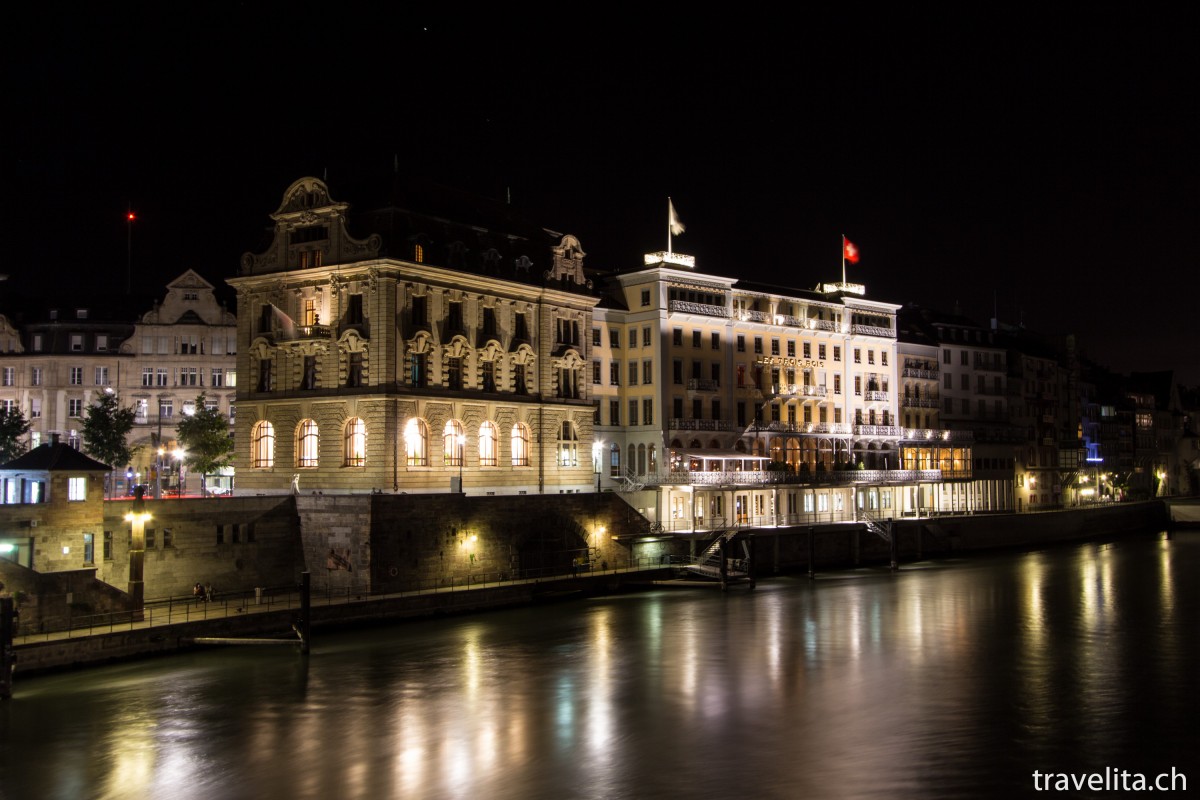 At www.SPECIALIZED.com in Basel Switzerland is a Young Team with a Young Boss who doesnt really think that he is Young, "Going out to drink Cocktails? Um I cant remember the last time I went out ...I have 3 children now and I cook dinner every night. If me and the wife want to go out to dinner we drive to a Japanese restuarant in Zurich! It is only one hour away. Children their the best one time when I went to a School Meeting for my Little one almost 7 years old the teacher very seriously said to me, "You know she doesn't put a lot of effort into School...it is almost as if she just Comes here to hang out and to make friends with everyone." " He starts laughing, "And I said, yes?...I mean what does she expect a 7 year old to do at School... of course she just Comes here to hang out and make friends."
Emme laughing, "I think she was comparing her to the other children.. such as well all of the other ones try really hard at their books etc. and your Little Girl just has fun."
Specialized Boss shrugging his shoulders, "She is almost 7 I expect her to hang out and make friends."
When I ask the employee a Young kid if he likes the Boss he says, "Yes that is my Boss." He probably likes to just come to the bike store and hang out and make friends! Funny.
Emme: My Computer is lost at the Airport and I am doing a fundraising to find another Laptop...is there any Laptops that the bike store has that you would love to donate to me?
Boss at bike store, "Give me 5 minutes let me see if there is one in the bikeroom...." He runs around the store trying to find one, "We had a Laptop. Serious. But I can't find it. If I find one I can email you and you can take it." Emme...Um that would be great since I Need one. Let's see .... on to the guitar place... at Alfi's Guitars... all friends there. Cool place and the owner is giving a lesson to a Young kid on electric guitars. Upstairs there is Little tiny Baby guitars with painted flowers on the front and cool.
Alfi, "Yes I Play every Instrument. " He Shows me how to Play the electric guitar and he Shows me the drums. As is expected in every Music store there is tons of mess everywhere and ususally only the owner knows where it all leads. I like Music stores and artists. They're always friendly and funny. Emme: Can you Play the Little guitar here?
The Young kid, "No I am just learning the electric guitar and I don't know how to Play the Little one. "
Alfi, "It is different the electric isn't the same as the Little one. " Emme: Is there a Website to the Music store?
Alfi and Young kid laughing, "Yes but it is a mess. Here is YouTube Video of Alfis store."
Okay if you would love to see the YouTube Video here it is...
Alfi's Guitars, Switzerland...
Okay walk out at the Hotel Stadhof and as you Exit to see the nightlife of the City make a left here is a Little bar and local hangout with a cool Jukebox o say about 150 meters to the left of the Stadhof... as I enter there is tons of Young college Kids thank God as you will see in a Little while and on to the older Group of about 35 to up at the bar. I say hi to the bartender a Girl and a Young guy is at the bar. He hears me asking the bartender about Basel and he starts questioning me. When I see the Jukebox it becomes funny. Emme: O MY GOD I love Jukeboxes.
Guy, "O really? Okay let me Play some of my favorite Songs. He starts playing obscure Songs and when I ask if he can Play Credence Clearwater he says that is too old of a song:) Lou Reed a Walk on the Wild side starts playing on the Jukebox.
Emme: A walk on the wild side?! That is the oldest song.
Guy, "That is a great song. I'll be right back I see my friends outside and I want to go talk to them."
He leaves and I go to the Jukebox. For only 2 swiss you can Play 5 Songs, so I Play 5 Johnny Cash Songs, I love Country Western. The song I walk the line starts playing and everyone in the bar starts to Dance.
Guy enters bar, "O GOD...WHo the *%*" played Johnny Cash? I hate Johnny Cash. Show me the Person who played Johnny Cash and I am going over there to start a fight." Emme.... UM... Geez that is so strange I ddint even notice anyone. Hm...Strange.
Guy, "Come on you must of seen who stood here and played Johnny Cash." Emme: Nope I was talking to These People at the bar. No idea.
Guy seeing the lineup on the Jukebox... 5 more Songs of Johnny Cash to go...."O Geez I am leaving I am going home. I can't stand Johnny Cash. Come on tell me who played it."The conversation went on and on.... Emme relenting : Okay...see These two college Girls over there with the Long Brown hair? They played Johnny Cash.
Guy, "O Great they're with a bunch of college Kids. I can't yell at them. " Emme: àOkay gotta go. See you later.
Portuguese Woman working at the UN, "The Swiss sense of humor I don't know... Portugal is better since we love to make party at Portugal." Emme: Can you tell me a portuguese joke? Portuguese Woman, "I can't think of any right now."
Banker Man near UN, "The famous swiss joke I know only in French but here is my bad translation, If you see a Swiss banker jumping out of the window follow him...there is probably money out there." Emme: Here is my joke.... Do you know how to make a hankerchief dance? Banker Man, "What is a hankerchief?" Emme: It is like a kleenex but a fancy one in Banker's jacket pockets. Banker Man, "O I know that....okay how?" Emme: Put Um a little boogie in it. Banker Man laughing...okay that is a good one. That is funny. I like this one.
Emme: It is funnier than your banker joke jumping out the window... Banker Man, "That is because I had to translate it...it is funnier in French."
Man working at International Patents at the UN, "I don't think the Swiss have a sense of humor... it is because there is a lot of NGOs near the UN."
Emme:What NGO
I don't know what that is?
Patent Man, "Non Governmental Agencies non-profits...you know Unicef things like that...and the Swiss love to make money! Emme laughing...I guess that is why they invented the Swiss Bank Accounts...Swiss French Architect, "If the Swiss have a sense of humor no I never noticed it." Beautiful Polish girl working at Ritzy bar, "I don't think Swiss have humor. I am from Poland and the Polish people have a great sense of humor." Emme: Yes I love the people of Poland and here is a great American joke that Americans always joke about the Polish people..."How many polish people does it take to screw in a light bulb?" Beautiful Polish girl shakes her head...? Emme: 6...one to hold the light bulb and 5 to turn him around. The beautiful polish girl stares at me unsmiling. Emme laughs...See it is funny the polish people I found to be beautiful and smart but everyone around the world does polish jokes and it is really the opposite. Polish girl still unsmiling.... UM... Emme: But you know You're really beautiful. you know... it is a joke but the Polish people they're really smart...get it? Beautiful Polish girl stilll staring at me unsmiling...
Ever find a team with a dry sense of Swiss Humor? All day now 3 days and running at Geneva Switzerland I asked the people of Geneva if they know whether the Swiss enjoy a sense of humor? All of the internationals laugh and say that the Swiss sense of humor is nonexistent! The funny thing is I found the Swiss to have a great sense of humor...they're kind of like the keystone cops...The team at the Eden Hotel a 3 star all give credit to the manager...Leo. His sense of humor is serious of such a serious nature that you almost don't know if he is joking or not! The staff is geniunely friendly and naively innocent and kind and funny all led from Leo the General Manager. The breakfast staff is almost like the French designer woman on Parent Trap...you know when she is running around trying to find clothes to pack in her suitcase and everyone just nonchalently almost acknowledges her as if they're used to it... a little casual intimacy yet professional at the same time? you know terribly excited to please you but nervous all the same?
And...Their cappucino is the best...Sales Rep and CEO Working at Sports Magazine of Geneva near Webster College, "The Swiss French and the Swiss German have a rivalry against each other. The Swiss German think that the Swiss French are snobs and that they always say that they're the best and then Swiss French think that the Swiss German they're right all of the time and they follow the rules. They're really diffferent and the Swiss French they're too proud."
UM... Emme: But you know You're really beautiful. you know... it is a joke but the Polish people they're really smart...get it? Beautiful Polish girl stilll staring at me unsmiling...
Emme: Oops... Um... okay nice to meet you...gotta go...Ciao...thankyou very much backing out of bar...
http://www.manotel.com/jade/en/
Rue Rothschild 55 Geneva 022 544 38 38

The Peaceful Garden at the Hotel Jade in Geneva:notice the Buddha:) My room faces the garden and is elegant and quiet. In addition there is a private car park to all of the people living in the modern world...however the minute you step into the Jade another world greets you.

The entire theme is Chinese influence and is calm and soothing. The General Manager is Mr. Silva showing me a picture of a Chinese man on the dining room wall, "It is the first time that he ever left China. He came here to America and designed the Feng Shui in all of the rooms." Emme playing with the sand garden in the lobby, "I thought it is Feng Shui the minute I entered you can sense the serenity of it all."

Mr. Silva,"Yes the Chinese clothing designs on the walls are typical outfits that they live in day to day. We have a buddha in the garden and here(showing the little sand garden) it is supposed to take the stress away."

He rakes a couple of times in the little sand garden in the lobby.

Emme: Do you do that a lot every day? Laughing.

Mr. Silva laughs, "No not every day. But I see all the business people sitting in the lobby casually raking in the sand garden all the time."
Emme: That is because their so stressed.

The Chinese Gong the tam tam give a crash sound when played in Orchestra and traditionally used as a official greeting when two important groups met each other on the road they would bow down to each other and sound the gong.

Since my book is about culture around the world I choose the Jade Hotel out of all of the Manotel Hotels of which there is 6 and all can be found on the website. However being in Geneva and it is the UN city it is cool to experience a little UN culture. Every time that Ive had the pleasure to interview a person of Chinese heritage I have found it enlightening and intellectually stimulating. Their culture is one of inquisitiveness and maturity.
Sports store owner, "I use it all the time at work and I use it at night to check the sports scores. Especially tennis." Emme: My favorite tennis player is Roger Federer. Guy at sports store, "Mine too. I like Roger but he is getting a ltitle old. 31, 33 that is old to play tennis." Emme: That is young. When I went to Dubai Roger is there with his wife on the beach. Dubai is really pretty. Guy at sports store, "Ive never been to Dubai. I heard it is expensive." Emme: No it isn't expensive at all. Woman owning organic food store of soup, "O I use it a little at night to watch my favorite shows. It's a long story." Emme: How did you decide to open an organic food store? Woman, "O It's a long story." Emme laughing,: It's okay I have time. My story is 4 years long. Two 65 year old Gentlemen sitting at cafe in 5 star, "O I use it to check my emails. All business emails." Emme: Does anyone do facebook? One Gentleman, "I do. I am a ghost facebook writer. I only check it a couple of times per month." Emme: Is Hugh Hefner alive? Second Gentleman, "Who is Hugh Hefner?" Emme: You know the owner of playboy is he still alive? One Gentleman, "Yes he is alive. He is alive."

Speaking of the UN here is the famous flags and entry into Geneva's UN
Emme to business owner: How many times do you use the computer per day? (he answeres none) Okay favorite restuarant in Geneva?
Man from Sri Lanka, "I eat everything. Goat, Fish, Human." Emme stopping him: HUMAN. Man from Sri Lanka, "Yes I am from Sri Lanka and we eat everything." Emme: I heard that they do that in Uganda but I didn't know about Sri Lanka. Man from Sri Lanka, "I worked 20 years at the UN. I know they do that at Uganda. The leader of Uganda used to kill his people and eat them." Emme: There is 22 United Arab Countries and they kicked Bashar Al-Assad out of the 22 United because of the war in his country. They should kick Uganda out of the UN because you do not eat human people. Man from Sri Lanka, "There is now 22 Countries in the UN. We don't kick countries out of the UN.Now I am retired. I have 2 children and I was bored so I opened up my store. My wife left me." Emme: That is probably because you agree that Uganda should be in the UN.

Man Who is Owner of Bar, "One time when I worked at a 5 Star Hotel about 125 kilometers from here a Saudi Arabian Family rented the penthouse. When they left I went in to check the room and I found a 3-1/2 foot krocodile in the bathtube." Emme: O MY GOD. IS IT ALIVE....A KROCODILE. A LIVE KROCODILE? Man, "Yes a real live krocodile just splashing around in the bathtub. It didn't hurt you since it is only a little one. But a real live krocodile. And another time a group from Lebanon some Sheikhs came in and they made a campfire on the floor right in the middle of the floor and they roasted marshmallows and we had to replace the entire floor."
Okay went to Les Salons de Theophile and met the owner who is sitting at the bar...he gives me a special cocktail that they do as their specialities and I take a Tequila Sunrise.
We talk about the bar and music.
Owner, "It used to be a famous clock makers a real place where they made clocks and I bought it and now it is a bar but upstairs is many of the original clocks. On the walls downstairs I painted the colors of the swiss military."
Emme: I assume you were in the military?
Owner, "Yes. All of the red ceilings and walls at the bar I painted those too. And my staff is great."
Emme: Yes I already wrote about the girl parading with the wig on.

Owner, "What"
Bartender Alex, "O she is talking about Cassandra okay she was just fooling around."
Owner, "Bring Cassandra here. Okay you mean she is a fashion model? She is a real fashion model in real life."
Emme: You should only hire fashion models and beautiful people and everyone will come to the bar to see the waitresses and the bartenders.

Bottom line go to the bar you can see silly fashion models parading up and down with wigs, famous clocks, a

totally cool owner, great cocktails, and request and dance to the music.
Emme: O you should do like the famous "Dicks Last Resort " Restaurants in Las Vegas, New York , Chicago.
Owner, "Ive never seen Dicks Last Resort...lets you tube it." We you tube it and here is a video. "Okay maybe I can hire all models and actors and do a Dicks Last Resort a couple times per month to promote that."
Emme: And do a Clockwork Orange a couple times per month to since you're famous to the Watches of the Restaurant and that is about clocks.
Bartender and Cassandra, "Yes we could dress up as the characters."
Owner, "Okay and you too behind the bar can work for me since you're attractive enough but I might have to hire a couple more people."
Emme laughing...Um and the music could be better we should hear some Tina Turner and Kredence Clearwater.
Cassandra putting on Kredence Clearwater and Bad Moon Arising and we all start dancing to the song...

Chez Arsène - 4, ruelle de la Vinaigrerie The Head Chef Um is Stephan Mac Donald and totally sweet totally cool but busy...he has all home made recipes and a totally cool life and he cooked personally for President Bill Clinton and Hillary Clinton.
Stephen, I guess I loved it. I used to do a specialist in China Antiques and before that I speculated about 4 years and worked as an American Ambassador…in addition to cooking for famous people one of which is the President Bill Clinton and Hillary Clinton.
Emme: Wow totally cool. I heard that when President Clinton was in office that one of my friends is a lobbyist on Capitol Hill and that everyone in Washinton DC knew that Hillary was a lesbian and everyone in the conservative politics circle knew that and that is why Hillary was so blasé about the Monica Lewinsky affair…
Stephen leaning to me really fast, I never slept with that woman.
Emme laughing: Um very funny.
Stephen, I don't mean Hillary.
Emmeä o okay… Maybe I shall come and try some of the famous home-made cooking you do.
Chez Arsène - 4, ruelle de la Vinaigreriez Stephen Mac Donald Head Chef
Comedian at Costume store behind counter : Can you please wait and ask questions til I am done with my purchase ?
Emme: O I thought you worked here.
Lady behind counter of costume store, No he is a customer. He just always comes behind the counter.
Comedian, I am a discreet comedian. I only work with millionaires. I do intimate parties.
Emme: O and about billionaires to do you do that?
Comedian, Yes and they make me sign agreements that I won't tell about the parties.
Emme: And do you have a website that I could put on my website? It has 3.1 million views every month.
Comedian, No I don't have a website only facebook.
Emme: Okay give me data...he gives me the facebook address+ UM...okay facebook only has a couple billion views
Girl at Ballet store, Yes my grandmother started the store about 50 years ago. UM and
I started dancing here as a child and I had a baby and I started working here and I'll probably die at the ballet store too.
Emme: Laughing Okay I guess it is ashes to ashes dust to dust…Ballerina to Ballerina…
www.salons-de-theophile.ch/Rue de la Cité 13, 1204 Genève
022 310 30 23
Les Salons die Theophile bartender, Yes we do Jazz nights on Wednesday and we have finger food and stuff…
Emme: Seeing a girl parading up and down the tables strutting her stuff like
A cat on a catwalk with a huge brown curled wig and then she looks in the mirror and rips her brown wig off and she is blonde underneath…: And do the parading bimbos come with the atmosphere?
Bartender laughing, No she is just Cassandra, having fun.
Emme: Um okay…

On to the bar Le M …Hi can everyone say their favorite restaurant to eat.
One of the waiters comes in and Latifa the Queen behind the bar says , Le M of course and le Baroque.
Waiters, And Quirinale is pretty good.
Emme: And la cave du m is?
Latifa, That is the wine we have red and white.
Man owning store at Geneva, I don't like because I used to live in Dubai and I left Dubai
And I love Zurich and I live in Zurich 8 years and than I transferred to Stockholm
Emme: Stockholm
Man, Yes Stockholm and I got bored so I come here to Geneva about 8 months.
Emme: A you've been in Geneva about 8 months?
¨Man, No NO 2 years. My name is Uddin Dinesan.
Emme: And you said that you come from Banglesdesh.
Man, Yes Banglesdesh and my passport is Swiss
Emme: I am born at Qatar and at the age of 3 went to Virginia. Do you think that I can receive a passport from Qatar and Virginia since I am born at Qatar
Man, Yes definitely do research research.
Here is the Lausanne Palace that I stayed at last night...in lovely room 105...it is huge...I took a champagne bubble bath at 11:00pm and the bathroom is bigger than my bedroom at home:) and the bubbles where higher than the ceiling...luxurious luxurious luxurious I guess all that you would love in a 5 star...but when I went out on the balcony I couldn't believe my eyes...a huge stone veranda on overlooking the main public stone veranda below...and my iron table and chairs and a huge stone pation balcony that opened to all of suites on that level. Amazing...
I talked to Mr. Gauer the Director who is a total delight. He is intense and serious, "Yes I am proud of the hotel. I am here 7 days per week. I try to keep a great staff that I can trust. Trust is very important. I know that the people that work for me I can delegate responsibility to."
Emme: And I am sure that they're loyal?
Mr. Gauer, "Yes totally loyal. That is important to."
Mr. Gauer, "I would love to offer you 3 nights at the Lausanne Palace complimentary on us. And you can enjoy it and write about the service..."
Emme: O MY GOD... wow... okay yes that would be great...
And about 1 hour later chatting in the lobby bar with Mr. Gauer he went to talk to other guests and I went to jump on the huge bed in my room.
Mr. Gauer had said that there was a crisis in Europe,"Ever since the economic crisis 6 years ago it's been difficult financially to fill rooms. We do great but it is difficult to do that. Everyone struggles in Europe."
While that is true people do struggle including me it is fun to run around the room in the big white bathrobe and slippers...."Weeeeeee...." Writing about the hotel noticing the little shampoos and the complimentary yes that is right complimentary mini-bar... Great hotel great 5 star...and economically crisis staff?
Who knows... all I know is that it is a lovely Palace and great rooms and a beautiful stone 50 meter by 250 meter stone balcony with plants and iron wrought intimate tables and huge chandeliers and beauty.
LAUSANNE GUEST HOUSE at Lausanne Switzerland is located at
www.lausanne-guesthouse.ch Chemin des Epinettes 4
And is owned with a team of Anne-Marie, Christian, Jodoc.
Anne-Marie has had it about 12 years and while I stood there she had to, "Check in 60 guests tonight, do paperwork, and do salary checks..." and a couple of other items that she rapidly rattled off all in a funny laughing manner...which is just what you need when your rattled yourself from climbing up and down cobblestoned hills to find the guesthouse...it is a little more charming than most backpackers hideaways...which all around the world I found many but the one here is a huge stone building set in a residential neighborhood totally near the Central Train Station and a pleasant walk down to the sea.
Welcome to the Theater as in The Hotel du Theatre in Zurich Switzerland and the great wild theater Schauspielhaus Theater with its actors...


http://www.hotel-du-theatre.ch/
Okay they've got a great website page:) and a great staff to smile and make that swiss sense of humor jokes ...o and

did I say that the manager Isabella is smart and knows all about the history of the famous actors and theater that is now a cinema! called ArtAlba attached to the beautiful
Hotel du Theatre? In the 1950s all of the famous actors around the world and the important Swiss Stage Actors played and stayed here.

When I asked which the owner enjoyed more...
Isabella, "It's both. His dream was to own a theater and to own a hotel! And he did both!" She proudly shows me the red carpet treatment literally up the winding stairs and in all of the halls and rooms. To incorporate the theater with the hotel their is pictures in photographic windows aligning the hallways and written scripts adorning the floors such as famous words of Woody Allen and Jean Luc Godard and of course Andy Warhol all in my room:)
They literally have goodnight stories that you can listen
to in the rooms to soothe you to sleep! Stories of Zurich
of the Theater, of the Hotel du Theatre...of life. It is truly amazing and along with the Hotel next door is the Cinema...now showing independant art movies around the world.
Isabelle showing me the intimate balcony dining room, "That is from the stage. We needed more room here in the dining area and we made 1/2 of the real stage as another level...and..." as we went next door to the red velvet cinema
"Here is the stage that the audience sees..."She takes the curtain aside and shows me the big viewing screen where the stage used to be.

Emme in awe: Wow is that the dining room on the other side?
Isabella smiling, "Yes. 1/2 of it is the ArtAlba Theater and 1/2 of it is the dining room."
Emme: Totally cool. Can the people that stay here see the shows?
Isabella, "Yes on Sunday we do a special agreement with the Theater. You stay with us on Sunday and we include a ticket to the show. We do that on the weekends since that is when people have time to unwind and have fun. Most of the week day people are business people and they don't have time to see shows and all of that."
Emme: I hope that you see the shows all the time...I would be in here every morning watching a new film:)
Isabella laughing, "I wish. It's funny since I work all the time I never have time to see the cinema. "
Emme: But you have keys. You should come in here in the mornings and do a private viewing.
The Picture Adorning the Walls at Hotel du Theatre of the 1950s Great Actors
The Actors below at the production of the modern day Wilhelm Tell http://www.schauspielhaus.ch/home

Adresse
Rämistrasse 34
CH 8001 Zürich
Telefon +41 (0)44 258 77 77
Telefax +41 (0)44 259 77 77
theaterkasse@schauspielhaus.ch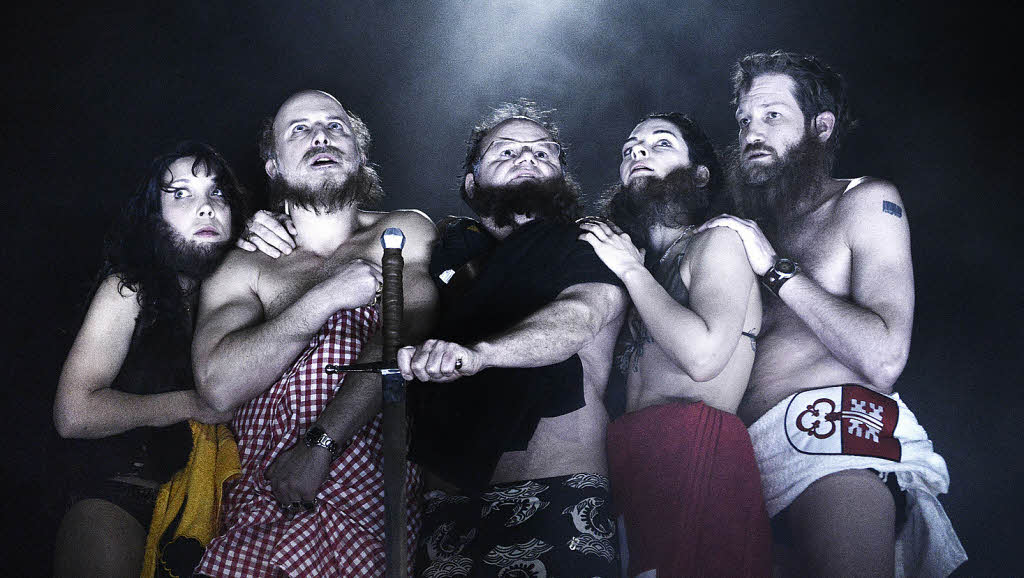 The Actors were Charming and real and
funny. I especially loved the bathing scene

where they incorported being spooked with

their scenes...great improv and laughter.
Isabella laughing, "We have keys to do business! I love my job and I love the Hotel du Theatre but I've never been an actress myself. Sometimes we do have famous people stay at the Hotel they remember it when it was a theater but now it is mostly business people."
Emme: O I love the theater aspect of it.

I make a note to either see a show or a theater show at Zurich to tie me in with the theme of the Hotel du Theatre.
And...that night I went to Wilhelm Tell...to make an experience of the theater at Zurich. You can connect directly to their site at: http://www.hotel-du-theatre.ch/en/
or at Trip Advisor where they received the
Award of Excellence in 2012...

http://www.teppichforum.ch/ Spiegelgasse 29 is the address... Hasan at Galerie H. Ermis Carpets which include mostly Turkish and Persian Carpets...one of which is such a beautiful 250 year old Persian Brown Carpet valued at around 250,000.00 Swiss:) wow. When you see the carpet it is lovely and changes colors at every angle. 043.810.60.60 is the phone number


Hasan:" I shall tell you the story of how I got involved in Carpets." He says as he serves me tea...it is my third time to the store. The first day interviewing and to his family to dinner and today. He serves authentic tea every time and every person that enters the store he immediately serves tea. If there is 0 room at the desk he sits his friends down on the numerous carpets and serves tea.
I laugh as he serves me tea and write down the story of the carpet business.
Hasan, "When I am 13 my father said that I must not attend school anymore but go directly into a business. I went out on my own to my relatives in another city and lived with these relatives and attended school part-time and worked at a carpet store 1/2 time. One day the owner of the carpet store was going to cut the carpet to fit a horse but I stopped him. The carpet being beautiful. He said that if I paid 20Dollars that I could own the carpet. I bought the carpet took it home and cleaned it to beauty. A couple of days a professor from American that bought and sold antique carpets came to the cafe. He told me that he bought and sold precious carpets. I showed him my carpet proudly. He asked how much for the carpet. I couldn't speak ,english only a couple of words and I held up 4 fingers meaning 40 American dollars since Ihad bought the carpet for 20. He nodded agreed and pulled money from his hat, money from his wallet, money from his pockets and counted out 100 dollar bills totalling 4,000.00 American Dollars. He gave it to me and smiled and took his carpet. I stood there with my eyes wide open and just stared at him. I ran all the way home. We bought the entire house all the stuff it needed and food for one year. With the other half I put myself through the rest of my school for 3 years and graduated. A couple of weeks later the professor sent me a letter with $400.00 more in it and a letter saying that he had sold the carpet to the musuem for £170,000.00 and that he felt he had cheated me! That is why I went into the carpet business.

Hasan invited me to dinner a couple of days since and I went with 2 of his friends...one a teacher who had taught his youngest son then a lawyer who I couldn't understand if he worked for himself as a lawyer and said that he is brilliant or that he worked for someone else who is just as brilliant. Either way we all trekked a subway ride and a tram ride to the suburbs 30 minutes later.
While there his wife invited us in for a real traditional Kurdish dinner. I sat opposite his youngest son who along with me had the giggles all night...I only understood about 15 words he said and vice versa but the languages being spoken back and forth totalled 5-6 and Hasan's wife only speaks Turkish and Kurdish and a little Arabic. The child knows Italian and German and Turkish and the guests me included know Italian, German and English.
The youngest child played various instruments for us one of which resembled a guitar but I can't remember the name. He reminded me of Elvis! Hilarious. He had never taken any lessons but just got up there and started moving wildly like Elvis and singing and playing really fast and we all laughed and clapped. He is adorable truly precious. Hasan is such a wonderful person to invite guests to his home. He said that in Turkey if a family doesn't have
a guest for the day at dinner it is awful. They say: What is wrong with us? How could that of happened? Did we insult somebody? They must enjoy guests to dinner every night. Early that day Hasan said that he had called his wife to tell her of the guests and that night she was apologizing saying that if she would of had more notice that she would of prepared more tapas with different meats! And wine wine wine. The Swiss and Italians drink much wine but Hasan said that at Turkey a bottle of wine to enjoy at dinner is equivalent to 200 Euros and that the average Turkish family only makes about 800 Euros per month. It is impossible to serve wine therefore Hasan said that his family enjoys wine all the time since they can afford it here.
The son that played the Turkish guitar's name is Rustem and the other two sons who we all met as we were leaving that night are Fuad and Serhad. Hasan's wife's name is Asise and she is lovely.