The stunning beauty of the 1350AD Blaue Gans Art Boutique Hotel Salzburg
The owner of the Blaue Gans is a delight and I had the pleasure of sitting outside at lunch today to interview him, "You know we have many festivals in Salzburg, the Jazz festival I would be most interested in you promoting since it is about a fusion of culture in the sense of the way a classical ear is trained to listen to music. The typical Mozart concert today always has a certain rhythm to it. The Jazz is outside the norm of that rhythm and makes you listen to it in a different way, yet it stretches the culture and sophistication of the ear since you must learn to be in sync with different rhythms." he says.
https://www.blaue-gans.com/
Getreidegasse 41-43, Herbert von Karajanplatz 3+4
00436 628 4 249 10
"My hotel is from the 1350s and it is a 4 star. I believe that my sophistication and attention to detail and art lends a certain level of respect to the hotel and restaurant the minute you walk inside, yet the team is super friendly and sincerely nice. They laugh and smile and I try to be a good person with the team and a good boss. The kitchen, for instance, is always sitting down and eating in the restaurant at 11.30am everyday, not the room of kitchen staff, yet the real dining room. That is a very Italian style of team building. They are my team and I want the team to feel comfortable in the place that they represent," he says.
"We have a deep cellar of wine of 1,500 bottles in the refrigerator that the groups of 10 people or more can enjoy seeing while they dine. The menu is set and they share, along with different wines, they share plates of degustation. Although I don´t have Michelin and nor do I want Michelin, since the menu would have to change and I specifically asked for a traditional Austrian kitchen, the menu is 4 star."
Below the CITY FLAT...
The family of 100 years has just celebrated the life of their reign at the 14th century hotel
and restaurant with a huge party and the renovation of 22 of its rooms, (34 is the total) GORGEOUS!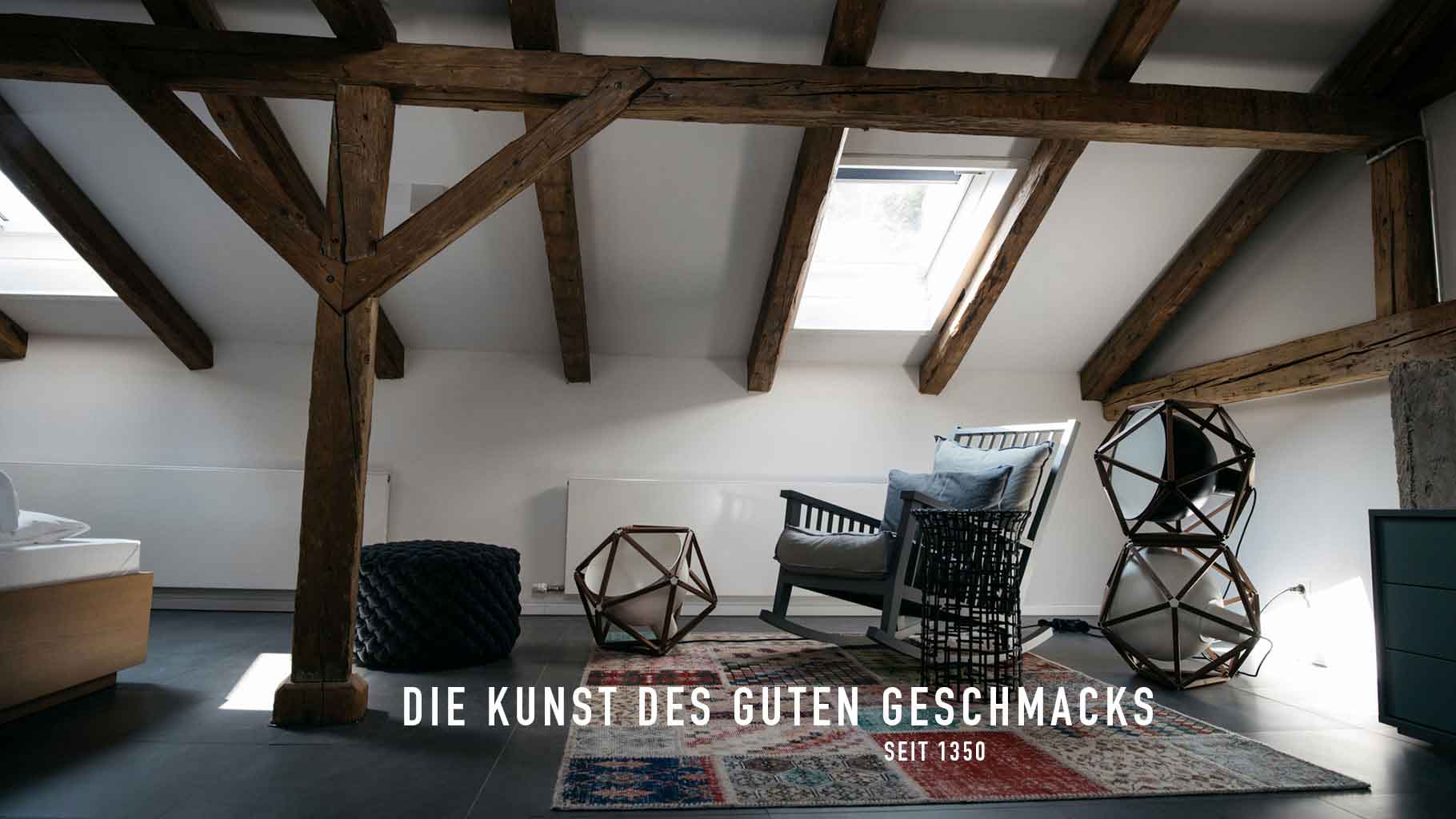 Cook and Wine
is a juxatoposition of a Cooking School and a Fine Dining Restaurant,
set to the left of the Peter´s Monastery, in the Old Town, where the famous Mozart Concerts are held.
http://www.cookandwine.at/
Kaigasse 43 5020 Salzburg Austria
00 436 622 316 06
"Yes I had the cooking school which is International the last 4 years and since 1 year I have had the restaurant here named Cook and Wine and the Cooking School in one of the dining rooms that has a folding blind attached where you can cook and dine in the same place.!" says the very friendly and sweet Capo, Gunther, of the Chic Cook and Wine restaurant.
"For the young and old...
"Plastered all around the restaurant you see white stretched clapboards with the guests drawings and writings...these essentially are the guest books, and we love to have fun."
"The kitchen is international and as of now the last year about 70% Austrians that find us. I wish the tourists would venture the last 100 meters from the Mozart Concerts to us and find the real authentic Austrian restaurants, including mine.
I love the Cinema shaped open window room where the guests can feel like they are in a Movie room watching the room, drinking 6 bottles of wine 3 hours like the 5 german girls do a couple of days since and having a lovely life.
That is what my restaurant is all about. Enjoying life and eating exotic food freshly prepared with a bottle of wine. " he says. He is a little sophisticated yet friendly as can be!
"Here is my cooking at the Cook and Wine school.
And when the people come to eat at my restaurant, named Cook and Wine specifically because we are a restaurant for long hours. You can come and eat dinner and sit with friends for hours and have a couple of bottles of wine. It is all about the wine. Yes, of course we have beer for the guys that want to just relax, have dinner and a couple of beers; however, the richness of the restaurant is the wine." says Gunther and his cook , Philip. "Yes Philip is the restaurant cook that you have when you come to dinner and I am the cooking teacher. And no no no no the students cooking the dinners do not give you the food they cook, under any circumstances!" laughs, (seriously) Gunther.
"The cooking school is open such as, let´s say a couple of people visit my website and see the cooking classes.
http://www.cookandwine.at/
They can email me or call me and we can fit each person in a class. It is that simple. We want you to have a good life and a good memory in Salzburg. Come and cook with me! I am the one and only teacher. And if you want to join 10 other people that is alright.
If you have a group of 6 to 20 people, I open the folding doors and have a private little dining room for you. And yes we do cook with wine in the food, sometimes unintentionallly,"
he laughs.
loves life and is funny. His food; however, is exquisite and even though he jokes about he guests not eating his client´s cooking school food, all the pictures here are of his school...so.....!
"You need to come and have a bottle of wine," he says and I say A BOTTLE! .
"Yes, " he says!
http://www.hotel-hohenstauffen.at/
Here in the little sweet and cozy charming lobby we all sat and had a beer during the interview...I waited 3 days for that beer why? "Happy Hour at the Hotel Hohenstauffen from 5 to 7...2Euro beers..."That is for the last 10 years, however, when I asked Linda tonight, is the beer still 2.00euros at happy hour!? NO! We raised the price to 3.00euros now!" she laughs and I say I shall meet her for a beer at 7.00pm! My favorite room is the parlor which has every imaginable board game to challenge you and start conversations along with competiton! Very cozy , warm and affectionate.
The first time I interviewed Linda and Andrea he said, "When I first saw Linda I thought she is the most beautiful and the most intelligent girl at the school. And there is 500 students at the school. Whenever there is a test I would peek at her sheets sine I came from Portugal and I spoke very little German. All the people in the class wanted to see her tests since she is the only one who had all the answers right!" I loved that story so much I kept it in the article!
Alright and the funniest tourists?
"The Americans they always show the paper right in the face here is the reservations they say and they always need directions from the train station and they always come on the last train and in the morning they rush rush rush...the Asians always show the reservation paper first yet they have even less time! The Italians, Austrailians, Germans and Austrians sit and chat." Hmm I laugh that is true.
http://www.hotel-hohenstauffen.at/
The two met in Vienna at a Hotel School where they both studied. They have much experience in the formal education of hospitality yet they say, " Yes we learned the right way to run a hotel and the right way to treat guests, yet we do it are way!" the 3rd generation of Hohenstauffens say! Yet the breakfasts are personal and yummy all homemade! Elisabethstraße 19
I love the rooms since they are old fashioned and mine has a little canopy at the top, with traditional doors all handcarved wood, plus since it is a bed and breakfast ideally it has that homey feeling to it.
http://www.hotel-hohenstauffen.at
From the 4th floor collection of vintage prints of a cool car collection(and i am on the 3rd) to the sweet old-fashioned breakfast the little charming hotel is full of treasures.Linda personally brings you
the china set of tea or coffee?
She is definitely from the old school of etiquete although when I asked her if her and Andrea kept the techniques of the Hotel School? "NO!" they both emphatically say. "We do all of our own stuff. We changed everything from the service to a buffet breakfast to redecorating the rooms to suit our taste.
It is a technique school to teach you the basics of how a hotel should be run however when you take care of you´re own you do all things differently!
" they laughingly admit.
BALTHAZAR CAFE & BAR SALZBURG
She is very beautiful, Fleur, the wife of Darko from Croatia, who owns
Balthazar Bar in Salzburg
, and gracious too! She took time from her busy life teaching law at the university in Salzburg to introduce me to her 2 kids eating entire Ben and Jerry´s Ice cream on a Saturday and sit with me to talk about her husband´s bar. "The people come here to talk to Darko, plain and simple. They love the multi-culti(multi cultural charming!) feel of the place and everybody around the world knows the place. It used to be the one of the only smoking bars in the city and of course the smokers find it and the government said "no no" we have to do as the other European nations do and ban smoking and all of a sudden they said, "o it is alright we can smoke in restaurants and bars now!" Now the people smoke outside on the casual wicker furniture and chat and have a glass of wine or beer inside. The government building is next door and they come here to unwind after work and chat." says Fleur.
"O! that Coca Cola sign has to be hidden! We are not a Coca Cola bar!" she laughs and we do another photo, yet the photo of her is so beautiful! I see the quote...hmm.
Kaigasse 31
"I am a very inspirational person and people always write that they love that quote or that one etc. I love to write quotes on the facebook!"
"Alright the bar is in the middle of being redecorated and we have a girl making letters and drawing on the wall to showcase the new menu...kind of funky. The bar lights were green, now they are blue, you know that kind of idea and people do notice it. One day last week I walked into the bar and Darko was just tearing all the stuff out! He said that he is redoing it! OKAY! Here we are. The wooden booths are new and now I can add my quotes to the bar. If you see my facebook all that I now write is quotes. Everywhere and the people always love to read the new quotes!"
"Darko is from Croatia and I am 1/2 Thai and 1/2 German. At the first couple years, my mother cooks Thai at home, by the way, we had Thai food here. Now Darko is working with the Croatian restaurant opposite us and everyday we shall have one item Croatia such as Antipasto. And little aperitivos such as olives with every drink to have a little bit of conversation." she says.
"It is a great Salzburg bar that is almost 12 years old, and now we redoing it to reflect our real tastes. I think that it is important for Darko to have Croatian food since that is where he came from and I want a beautiful bar and today we are adding the drawings on the wall, you know little touches that way. I hope to have it finished in 1 month, yet of course the people want to come to the favorite bar and so we remain open!" she says.
"We just had the huge music festival in Salzburg and that is why the place is a little messy. Many people came to celebrate and they had so much fun at the bar. I really enjoy the people from around the world and yet it is really Darko that totally loves the people. He used to work for the city and he finally said "I want to open a bar and be with people and talk all the time!" And that is why we have the cool bar!" she says laughing.
How about some White (Weisse) Beer at the Brewery?
and music on Friday and Saturday
in the actual Brewery located inside the restaurant. The Brewery is the oldest one of the same family in Austria going on 24 generations! Located at Rupertgasse 10, great food, GREAT BEER including GLUTEN FREE and great music!
http://www.dieweisse.at/de/
https://www.facebook.com/salzburgerweissbier/
These days the music on Fridays and Saturdays give such a lovely compliment to the food and beer.
The guests are always dressed nicely, having a fun time and drinking much Weisse Beer here!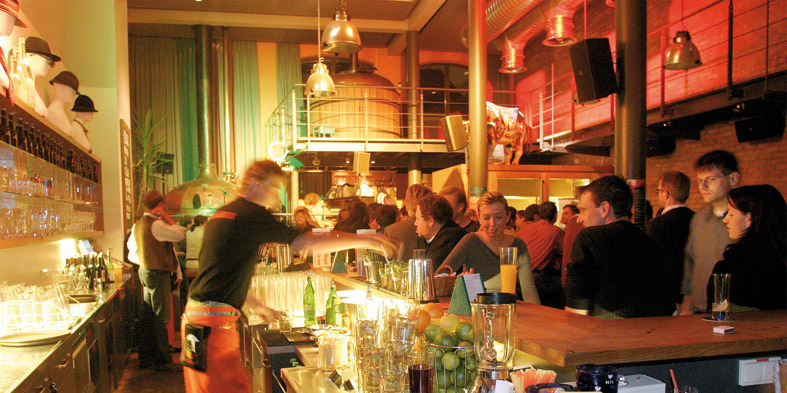 http://www.dieweisse.at/de/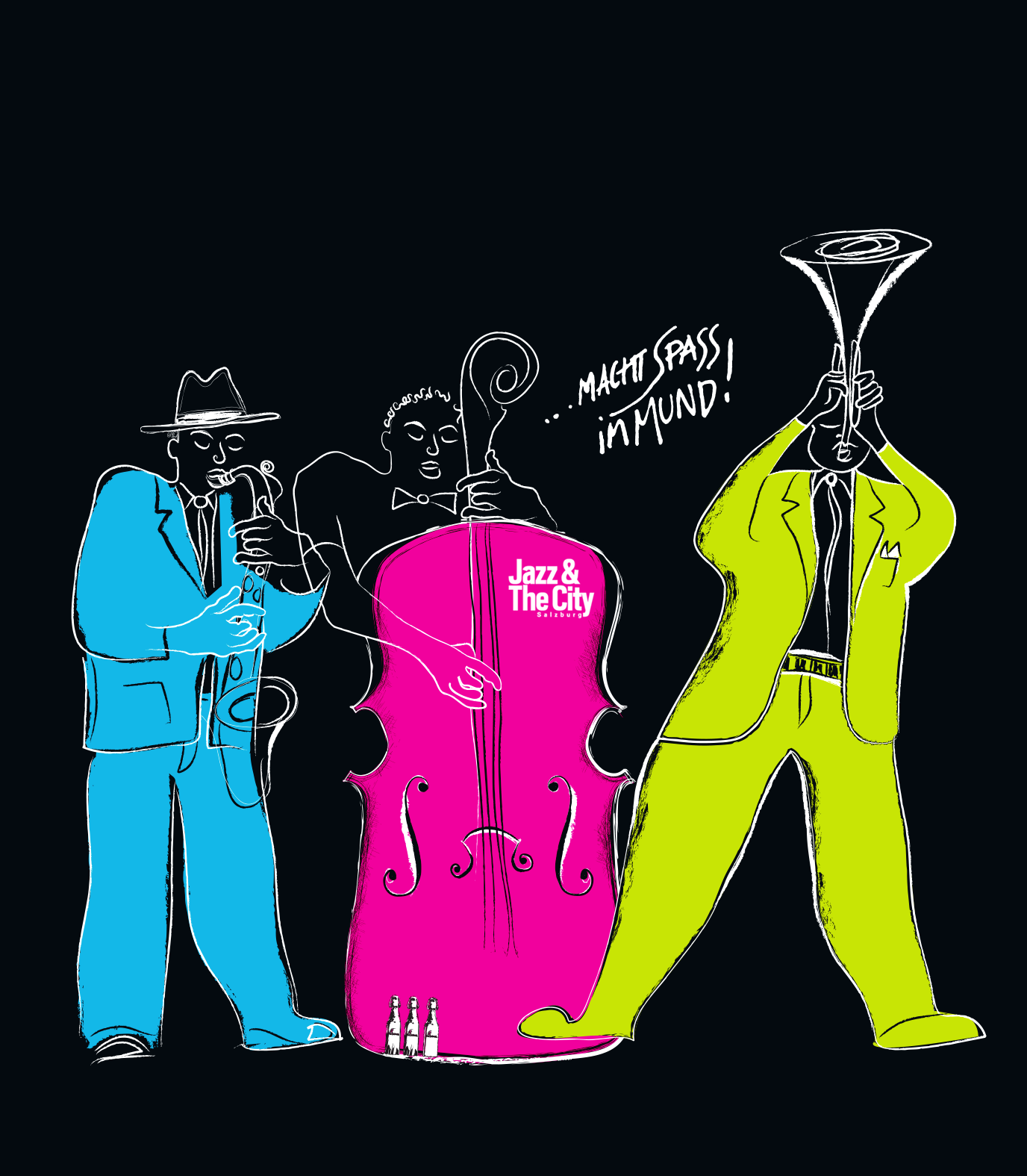 Peter says that he loves his job, "It is a difficult career, and it involves a lot of experience and knowledge to do it successfully plus you have to have trust in the team. My team is great and many have been with me about 20 years and I know about 1/2 of my guests that come in here year after year. And they know me. The tourists that come to discover us love it and I do it because I love the guests honestly and the happiness that they have. It is the career that I chose."
"The girls love Weisse Beer since it is sweet, yet it has gluten in it, tons, and that is why we now have gluten free that is available in over 200 locations in Europe, and now everybody can drink Die Weisse!"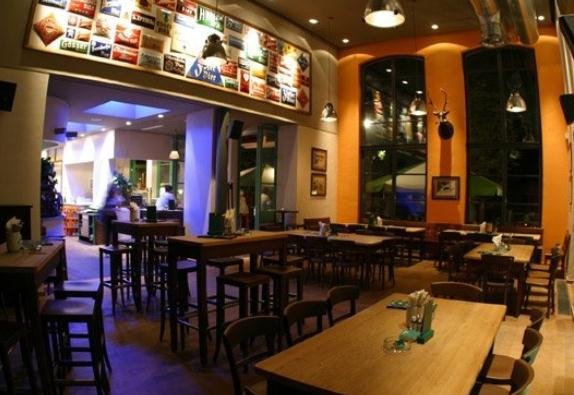 chiefs getting together to try a little of their own beers,
now when the owners drink you know the beer is good!
"The food is very good, it is a simple austrian kitchen and the beer is our own, bottled in the basement brewery. At first, the brewery only had its Weisse Beer here, which is literally translated to White Beer. In 1998, they decided to allow other bars in Salzburg to carry the beer and now, almost 30 years later we have over 200 venues that carry the beer, including Germany. The gluten free is the one that we have in Foreign countries mostly since it is a small brewery and we just have only so many bottles we can make!" says Peter and , Die Weisse Mr. Felix Gmachl.
"WE have the beer garden outside, the dining rooms inside and the bar area with the actual and real brewery here where we have music on the weekends and that opens everyday at 5.00pm. Yes, it is just a bar, it is just a brewery, it is just the restaurant, yet it takes a lot of people with each other working hard to do it right.!" he says.
Fidelen Affen and the team...
check out the facebook and website.
They are absolutely the absolute best in the entire world...LOVED EM...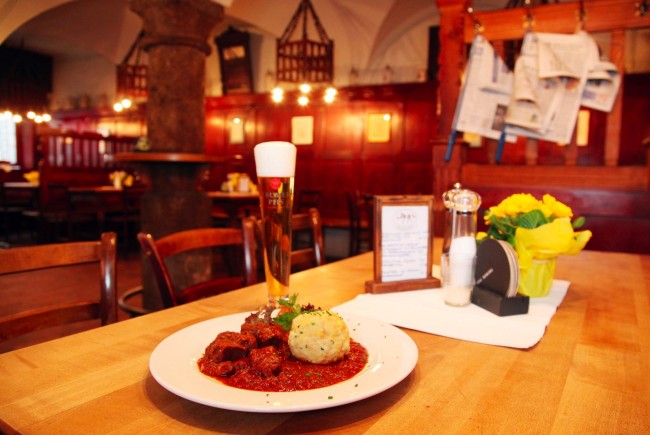 http://www.fideleraffe.at/de/
"It is a Salzburg custom here in the restaurant.
We have people share tables.
People sit with each other and at the end of the night even if they came in not so happy they leave happy since they had good conversation and they met new friends. If a english couple comes in and I know that at my one table I have Americans and they speak english I sit these people with each other, or if they all speak English I try to sit people at tables where they understand the languages.
The imporant item to remember is that when you come to the Fidelen Affen you must sit with other people at the tables to have a entertaining night!" said the new young owners, Nicole along with her husband Micheal.
They bought the restaurant 2 years now from the original owners Juanita and Robert who had been at the helm the last 27 years. Meet Michael and Nicole. http://www.fideleraffe.at/de/ They´re an energetic 30ish team that came to the restaurant 3 years since and fell in love with it. They have relatives that own a Salzburg hotel and inn and they worked there many years and now it is their turn to find something for themselves. +43 662 877361
https://www.facebook.com/fideleraffe/ https://www.instagram.com/explore/locations/740013976/
http://www.fideleraffe.at/
Priesterhausgasse 8 Salzburg
They serve the Trumer Pils, the traditional Austrian Beer, the traditional Austrian food and most importantly the traditional Austrian hospitality.
You can´t miss the restaurant with it´s cool Monkey outside. "It is the same as it was 2 years ago when we bought Fidelen Affen, and the same traditiona nd cook since the 27 years that Robert had owned it; however, we added a couple of little details, like we have modern logos and modern social media and a professional photographer who came in and took image photos and brought the traditional restaurant into the modern day." says Micheal when I interviewed him today along with his wife, Nicole.
Nicole walked me to the next door where the Tag 107Tage was prominently displayed. "We named the restaurant here 107 days since that is how long it was opened in the summer, and now it is being renovated to make it a modern restaurant with modern presentation of Austrian cuisine. You won´t find hamburgers here or chicken wings; however, we do want a young restaurant for the younger people to sit amongst colors and new furniture and new textures and feel comfortable to stay and chat with friends. That is the new one open 11.11.2017, we hope!" she says along with her assistant Anna, who does all the social media, such as their new look of instagram and facebook.
"Here is the excellence and quality of our kitchen is at the heart, so our kitchen chef Alexander Irsic and host Michael Rodler always strive to select only fresh, regional and seasonal products. These are traditionally prepared with love, time and with selected ingredients." says Michael and Nicole.
The Beauty of the
Mesgarzadeh Salzburg
Family Owned Carpets.
I had the pleasure of interviewing Cyrus, Ali´s brother, today who says, "We buy the wool and we give the wool to the weavers...it is all handpicked. The wool that we buy and work with the Iranian weavers if very expensive. Yet if we let them pick they would pick cheap wool. We need to know that each carpet each piece, all about it. We know the weavers in every country that we work with, and we know that almost all of the farmers in Iran farm first, and when they have moments free they weave.For instance a farmer from Iran will weave a carpet and when we receive it, it is one of a kind. If I call that farmer and say, I need an exact same carpet that you sent me, he will say NO! There is only one of a kind. He might decide to weave birds in one carpet and something else in another. They don´t use patterns in Iran, they only weave from heart. I prefer the carpets from Iran. They are special and they are the best in terms of the longevity of the carpet. These are the carpets that last 300 years. And we order the color and texture of the carpet and I know Ali said that we can wait up to 5 years til that carpet is ready. It is a long process. We know these weavers in Iran a long time. And everywhere. And while we don´t work with the people that carry the carpets on camels that is a romantic thought. We have trucks that go from tent to tent...yes they live in tents! sometimes that is true and we pick up the carpets. You know the better the quality the more these weavers are paid. They´re expensive too." he says. "However, now for the Afghanistan carpets, the weavers first bring their carpets to Turkey and we fly to Turkey to pick these up. It is too dangerous in Afghanistan now. For the last 2 years nobody goes into Afghanistan since the Taliban presence is circled around the country and had invaded the villages where the weavers work. The rugs from Afghanistan are some of the best in the world, although they copy the Iran designs at times." says Cyrus. He is a EXPERT in the Professional Oriental Rug Business trust me! He knows it all!
+43 662 84 22 42

Griesgasse 4, A 5020 Salzburg, Austria
Ali, who is Cyrus´s brother, showed me two years since one of his favorites from Iran. They also have a silk thin one from Turkey that resembles the one I have at home.
"Is it thin the way that one is? With the softness?" he asks. Yes I say I finally found one that is the way mine is. "Yes these are very expensive and rare. The little one here(the size of a table place setting) is 689.00Euros." Wow and why such expense? "The quality and they last forever. A good carpet lasts 300 years and that is one that you walk on everyday.
It is the quality. A square meter on a good carpet takes one year to hand weave. If you have a big carpet it is a 4 year carpet. That is how long it takes to make it. That is why they´re that expensive. " http://www.derteppich.com/ "They have been here since 1963...and Cyrus and Ali´s father came to visit a couple of minutes while I am talking to Cyrus. He excused himself to make a call to Persia! Persia! I say, how cool to call Persia, China, India, Afghanistan, Iran, Russia, everyday! Hey, be right back, I going to call Persia!
In addition to carpets that they have new every year Ali had said,
"The old old Chinese we have in special rooms you know they´re traditional with butterflys and lotus and huge and extremely expensive about 80,000Euros
. The ones in the store are mid range. My favorites now seem to be the tribal weaves from Iran. And of course the colors are unique to the classical carpet world. Bright."
They have so many beautiful carpets that you either must enter the store yourself or check out the website of every rug on it...Gorgeous! https://www.facebook.com/DerTeppichSalzburg/
Below the Salzburg Festival Highlighting the Rugs of Mesgarzadeh Salzburg!
"While the rugs from the Middle Eastern Countries are beautiful, the weavers such as the ones in Afghanistan are in constant danger, for instance a huge truck carrying very expensive prized rugs went to Turkey and along the way was hijacked. They told the people on the phone that they must pay much money for the rugs back, or they would burn all the rugs inside the truck. Of course the people were paid off. The rugs are very expensive." says Cyrus.
Oscar and Martha, the two Venezualian couple that own the cute "Latin and Venezuala Bar" in Salzburg named Sottiles(his last name) the last 3 months standing in the doorway. "I play Latin music and I try to promote the Venezualian Rum that is 5th best in the world in my bar. Yes the culture of Venezuala is totally cool, yet do to the inflation it is impossible to physically live in Venezuala. Me and my wife met and have a love story in Venezuala and moved to Salzburg in 2012. I love the city and I love Austria and I am very appreciative to be given a chance to live and make my life here, and I try to bring my culture too. That is why I play Latin music and I do Salsa and Rumba music. However, tonight it is the world cup and Russia and Argentina compete today. If you come to see the game from 9.00pm (21.00pm to 23.00pm) until 11.00pm you must watch the world cup soccer, yet afterwards we can have fun with the Latin music and drink the smooth Rum." says Oscar.
"It is funny since the Americans always ask for ice. If they drank one of my Mojitos without ice they would receive twice the amount of the drink, yet they insist on the ice in the drink. Plus the fact that the flavor is better without the ice and feeling the mint leaves, yet they want ice so I give the people ice." he says.
Oscar gives me a test taste of the Rum from Venezuala. It is the BEST RUM THAT I HAVE EVER TASTED: smooth and caramel taste.
"Yes that is the rum. It has a light airy taste and something that you feel yet can´t put your finger on...that little touch of caramel." he says. Yep and it is the best,; however, I must tell you that after about 25 minutes you REALLY START TO FEEL THAT RUM!

"The Diplomatico Rum is the best in the world; however, you have to import it. And if you physically flew to Venezuala I guess you could buy 6 bottles cheap, yet it is expensive to fly to Venezuala and you have to import it from the middle man and that is where it becomes expensive." he says. HINT: it is the best ever...loved it!
Indigo Salzburg with Kid Chau at the helm!
"I used to work at Innsbruck a couple of years and that store is huge," says Kid the young Vietnamese owner of the Indigo Restaurant in Salzburg.
"Here I try to make it a happy experience for everybody that comes to eat. They love trying a mixture of all the fun asian foods to suit their own taste. Especially the shake salad.
That is a salad free choice of any item and you can choose rice and cous cous and we shake it in a box and add a little sauce of Ginger!" Yum I tried it ...O is it fattening? Think Californian Sprouts! No.
"I take my team out for fun at least one maybe two times per month. We´ll go to the GoKarts or to Ice Skating or out to dinner and have fun. It is important for us to all get along. We have fun at work and work hard and we play. That is important." says Cha uKi en-Dat "Kid".

"The one item they all seem to love is the Risotto and the Chicken Curry, and we have a new curry at all of the stores that I am photographing in a salad today! he says laughing as he photographs the salad I take a look at all of the fresh items on the salad bar. Yum!
Indigo
pronounced
In-dig-go
is a cool Thai and Indian inspired restaurant in Salzburg with asian noodles and
all that healthy stuff...three types of different currys, salads that you can make yourself and add cous cous and rice. "Kid" the "Viet Nam" owner is down-to-earth and sweet.
Loved him...
from his boyish laugh to his happiness to see everybody when they come and eat his
exotic healthy sushi and cous cous from
as little as 3 years old...
"yes the little ones come in here and they say o give me that one to me I love that one and it is funny to see a 3 year old eating Sushi!"
"The Indigo is a franchise, however, being at the helm here in one of the 4 Salzburg Indigo´s one of the creative things that I do is add music 4 times per month. Usually on Wednesdays and Saturdays, anywhere from Jazz and Soul to Rock and Roll. On the 11th of the month we have a live band here and it starts at 8.00pm. Invite everybody and eat some of our healthy make it your self food with a couple of drinks and relax with friends. I hope you enjoy my Indigo." says Kid!
And yum for you and the folks back home,
STAINDLS jams, chutneys and marmelades.
As we walked the little charming cobblestoned alleys of Salzburg, I noticed something quite unique...a Marmelade and Chutney little Ginger Hut! I needed to know the story of such a colorful little places with so many chutneys, marmelades, more than maybe 120 of em...and counting!
http://www.staindl.at/
"My wife uses seasonal fruit of course and the marmelade and chutney is new every season, so you buy it 2017 and you eat it 2017, and in 2018 you buy new!" he says. And I think, how in the world could you look at that jam and not eat it right away!
The refinded cooking techniques of the master Claudia is within the international standards, of course, that have been established over 40 years. She experiments with new flavors all the time since she is curious and her daughter lives in London and is a Vegan, so yes she has Vegan. Her husband says, "When my daughter comes we have to buy especially for her. My wife said, I know, I can make Vegan Marmelade and Chutney and she can eat these!" I thought that funny!
The adorable and VERY TALENTED Claudia Staindl of the soon to be VERY FAMOUS Staindl Marmelades! Salzburg!
Her husband mans the store so to speak, "I am retired, actually we´re both supposed to be retired, yet 4 years now my wife, who loves to make the marmelade, decided to try her craft at the Christmas Markets here in Salzburg. Before that she made it for friends and family. We did so well each year that here is the first real store. It is tiny, yet it is enough!" he says laughing. He seems very happy to be in the store everyday and he LOVES HIS WIFE´s craft! "Now we have two ginger huts in Vienna this year at the Christmas Markets, and one here in addition to the store. And yes we have a online order form, yet we only ship to Austria, Switzerland and Germany as of right now. Maybe more later!" he says laughing.
And as I tried to buy the Chutney below to spread on a austrian bread, Claudia´s husband told me..."Chutney is to be used on cheese!"
Cheese! Alright! Let´s find some!
"You can order gift sets, which people do all the time at Christmas. We try to make it easy for you, yet you can choose among the many varieties your own special favorites. That is important since each little gift set is custom made!"
VERY IMPORTANT: the fruits are processed fresh, without sugar and without preservatives.
A real home-made treat is the Staindl´s original marmalade and chutney...hidden down a little alley in Salzburg! http://www.staindl.at/ visit her online store!
or walk and visit her Getreidegasse 24, Salzburg,
every one is handmade with Cladia Heilig-Staindl´s own loving hands, her husband, who mans her store is retired and laughs all the time, "She never has time for me since she is making so much jam!" he says. When does she make the jam?
"All the time, 365 days a year!" he laughs.
Getreidegasse 24 /is the location and I have already noticed dozens of curious onlookers trying to find the lovely homemade jams...I mean I bought one to send home to my mom in Chicago and ended up eating the pears myself! OOPS...O and for the Venetian lovers, they have a Aperol jam! YUM!
Better buy that brass instrument before Jan eats it! at BRASSWERKSTATT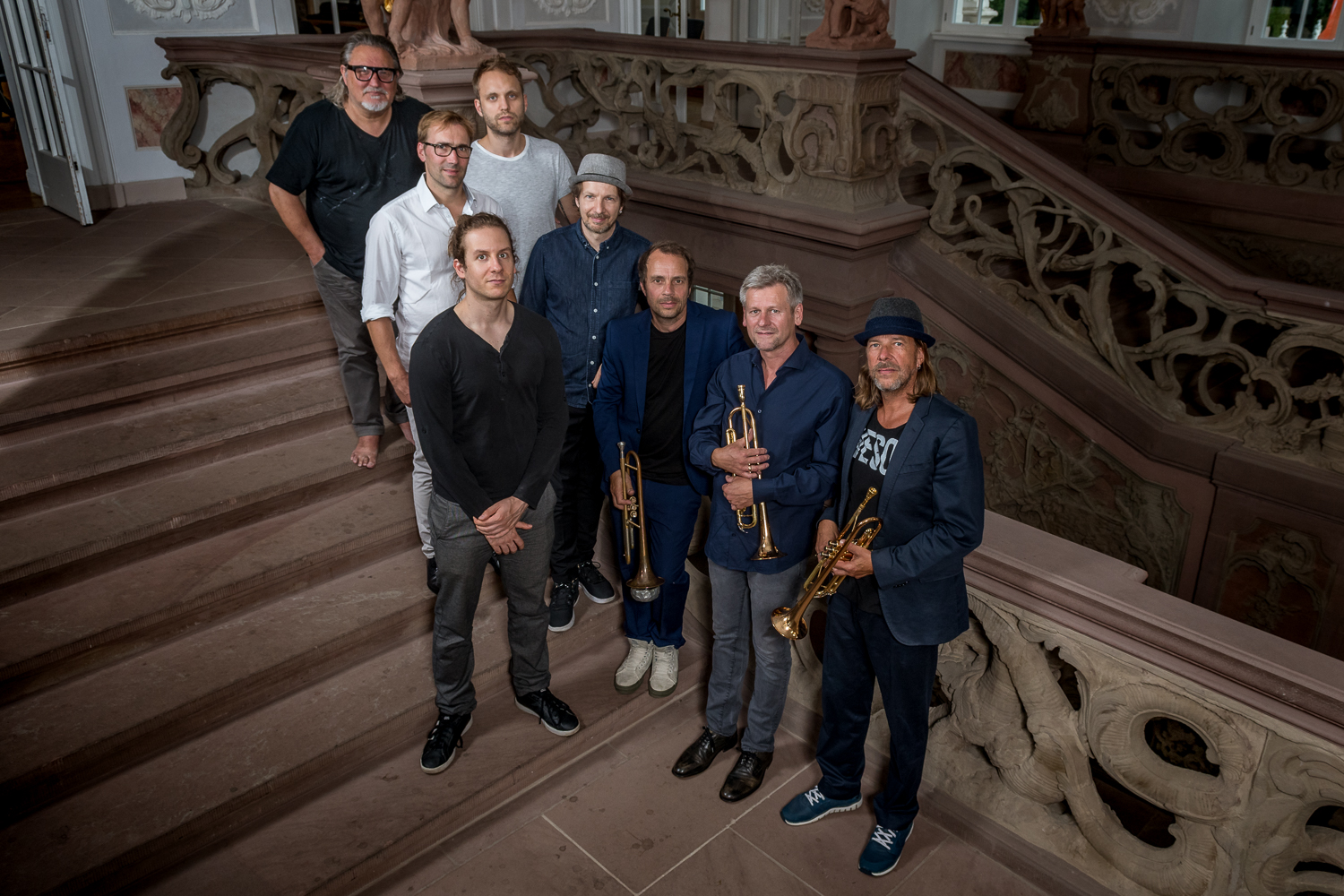 Brass Werkstatt
Gabelsbergerstrasse 28 Salzburg
https://www.facebook.com/brasswerkstatt/ ...since I play the flute and piccolo...
"The store is only 2 months old, and as you can see I have the flutes, clarinets and saxophones displayed and perfectly hung; however, I am still working on the showcase rooms for the others such as Trumpets, which I play, French Horns, Tubas, and all that there is Brass!" says the funny, laughing always and totally happy musician at his brand new showroom named Brasswerkstatt. "I hope to have the rooms finised in one month," he says and I hope music lovers come to his store today to help!
I tell Jan the story of my sister and me playing in a competiton of my playing flute and my sister´s playing the clarinet-I laughed during the competiton and kept losing my place and my sister kept playing...I kept improvising since I had lost my place. During us sitting in the waiting room waiting for the judges to interview us, my sister kept yelling at me, "why didn´t you play the right notes!", and we´re judged with the music judge and I keep laughing! WE WON THE BLUE RIBBON 1St place...and I always thought why do we win the 1st place and my sister says that maybe the judge didn´t know the composer´s notes!
Jan says, "Maybe you played it better!"
As I was talking to Jan getting all the information about Tubas, and French Horns and Flutes and piccolos...two young football type college heros came into the store and picked up a saxophone, and I thought to myself that only geeks played instruments in a band, yet here is all the jocks and cool guys and swinging funny people buying these instruments! I asked Jan if I could learn to play the trumpet? "Today?" he asks and I say yes and he laughs. "It takes many years to learn to play, yet everybody starts one day." and I thought true. Now my new item on my list is to learn to play the trumpet in the year of 2018.! IT is such a cool instrument and how much fun to dance and play. The life of the party!
Much better, the entire family is sitting at the Hanas Rasoi in Salzburg.
Bheem Singh And Ahluwalia Family.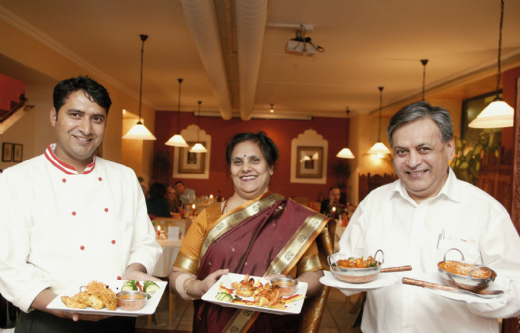 "Of course it is a Indian Restaurant, yet we come from Northern India. Not the most norther part where the conflicts are, yet each region of India has it´s own cuisine, such as the regions of Italy do. We use lamb and chicken on the menus, and honestly it depends which religion sect you come from since some religions of India forbid you eating beef. It is the religion of the person, not the region they come from.
The tourists ask a lot of questions, such as you and the only thing that I can truly tell you is that if Indians ask me about my restaurant I ask them a simple question. Do you come all the way from India to try Indian food or to try Austrian food? The other tourists can come here, of course, yet for me as a person from India I go on vacation to honestly try other culture´s food." says Alvin seriously.
He is one of the sons of the owners who today flew to their homeland country of India to visit. "Honestly, it is nice to have to work here a couple of weeks. I am getting tired of the Indian food sometimes, though and like to eat other places!"
WARNING : he is hilarious!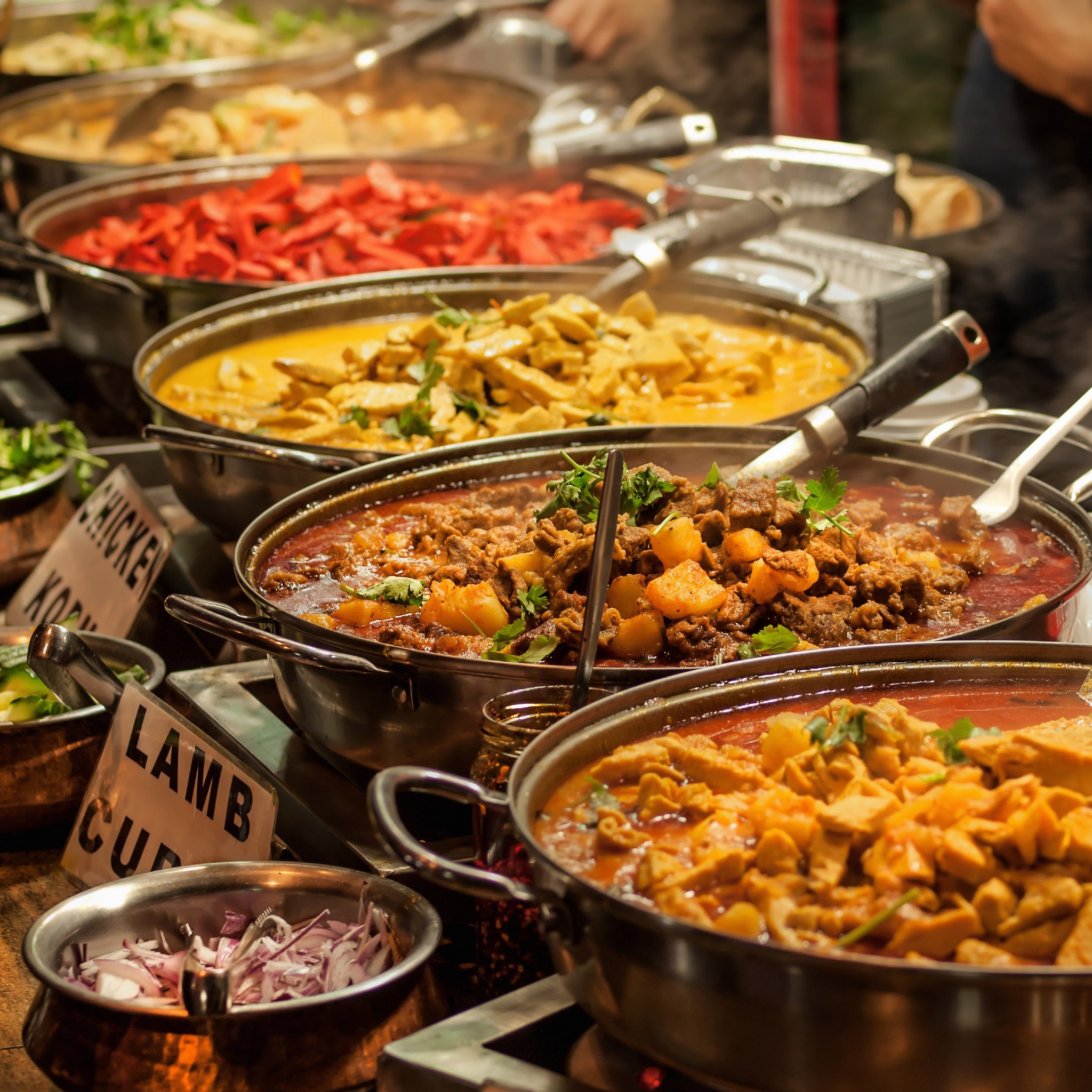 http://www.indian-cuisine.at/de/home/
"Here try one of my favorites which is theMethi Chicken with Ginger, Curry, Garlic, Garammassala(which is about 12 spices,) yet again
don´t quote me on the 12 spices sometimes, for instance if I make it there might be one or two spices I forget to add." Which when Alvin says that he laughs yet I think he might be totally serious.
"Sometimes if I am on a date and I want to impress a girl I ask the cooks here to let me see how they make a Indian dish. Then I ask them to make me a little bag and I take all the ingredients home and I cook for my date. That is if she is a little experimental of food and if she loves to eat. If she is real picky, I take her out to dinner." Alvin says. You can go onto the website and make reservations or you can call: 06 628 43 93 9.
at Getreidegasse 18, 5020 Salzburg
I love the authenticity of the Indian Restaurant and when I spoke to Alvin´s mom and dad a couple of years ago, they said that their dream is that every item in the restaurant would come directly from India. When I asked Alvin about that today he showed me some of the authentic pieces, "You can definitely see that type of decoration in a restaurant in Northern India, " he said as I took pictures of the beautiful Indian woven rug and the deep painted purple walls. "That is a Royal color of India and many place paint the walls purple."
My two new best friends who plan on making a Monster Mexican or Avocado Burger
specially for me tonight. The burgers look great. "My favorite city is Boston," says the tall one, "since when I wentto New York it is so big, yet Boston is cobblestones and a town and I walked everywhere and it is neither too little or too big and it is just right!" he says. I don´t know if he was reading me a Three Bears story or talking about the very HUGE and TASTY Burgers!
"I opened BioBurgerMeister since I love burgers, it is fun and all of the beef is from 15 to 20 kilometers away from Salzburg. The Highland Scottish ones have the long horns and they roam around the farmland without being tied inside a barn their whole life. The food that they eat is all natural and when I give you a burger I can honestly say that it has zero antibiotics in it. That is important." says Franz, who has owned BioBurgerMeister 7 years.
"The vegatables are BioOrganic, and the meat is BioOrganic. That is the main point. And now we have a Vegan Burger."
Basically they have a lot of people wanting to eat burgers of every vaiety and sauces, the main point is that it is all 100% BioBurgerMeat.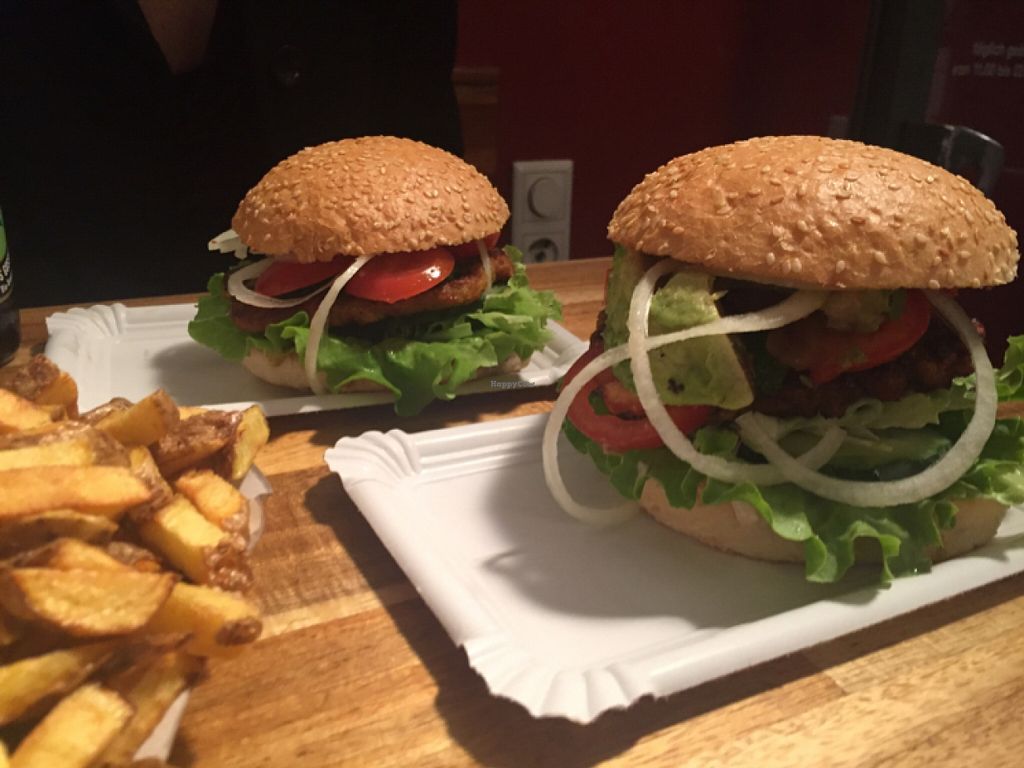 "The Americans are always squeamish about the mayonnaise on the Burgers, and I wonder why?" asks Franz and I tell him that the Americans always do ketchup or mustard on a burger, and mayonnaise on Tuna Sandwiches. "Really!" he exclaims and I say yes that is true and that we come to Europe and we taste mayonnaise and we add it to all the food now!
http://www.bioburgermeister.com
BioBurgerMeister is located at Linzergasse 54
06 622 651 01
Alright now for the fun stuff, "We have at one time about 24 burgers, and we have about 13 on the menu everyday. The one I have now, say is the Hang-Over Burger, the Mexican Burger, the Blue Cheese Burger, the Kahuna Burger, etc. Yet we have Wild Sheep burger coming next week and Venison Burger coming next week. I thought about a Wild Truffle Burger, yet, honestly it would be at least $24.00 a Burger and right now they are $8.00 and I am not sure the people would buy $24.00 burgers!" he says laughing. Yet he has thought about a Truffle Burger, right? "Yes thought about it! he says.
My buddys, Simon, and the Capo Josef. "That is my boss," jokes Josef and to which Simon hurriedly jokes back, "O no no no, he is the boss, why is there a problem?" And of course the funny conversations start. You can not enter the Hotel AM without expecting humor. Since the best thing about being the boss of the Hotel Am says Simon, "Is that I can go golfing everyday. And if I even pass a McDonald´s restaurant, I start to get the shivers!"
"What do I love about owning the Boutique Hotel am dom? Going golfing in the afternoon..."
says the low key owner of the truly different modern eclectic(think Andy Warhol) 1300 year old building in Salzburg.
Since "stress was" a huge part of his owning 3 McDonalds every day for 20 years
,"we did 2000 guests to 15,000 guests every day at each one." he is "very happy. The happiest I´ve ever been in life now." since owning the am Dom 6 years now. "When my life is McDonalds since my dad had 5 of em that is what I knew I had to do
...the youngest McDonald´s owner in the world at 24!"
he proudly says, "yet I always knew that I would do my own thing one day."
"And include that photo," he says as I check the photos..yes that is the breakfast room!..he is very HIGH ENERGY... when I say that he says, "Yes we had stress everyday and now I love McDonalds but every time I go in I have operational stress right here the minute I walk into the restaurant." he says as he holds his heart. I can´t stop laughing at him he is hilarious.
"You know I hear the bells and the machines and I start to go crazy everytime I enter McDonalds since I owned 3 for 20 years..." Laugh again.
Pictured left with mom and dad, "Trust is the one ingredient that you need," he says when I ask his advice for young entreprenuers..."Trust in your vision of the ideas of the future...trust in your dreams and if something doesn´t work cut it out and trust in the way it is now. Cut it change it and continue with that idea." Josef says. And you can always have the kids birthday in the 1300 year old cellar now used "to sit and chat and watch tv with the kids." he says...below his daughter´s birthday!
http://www.hotelamdom.at/
Pictured below is the list of owners of the
Boutique Hotel in Salzburg.
Josef personally researched everyone to try to find as many as he could and is happy to include himself!
http://www.miammiam.at
+43 66 28 782 58
franz-josef-straße 17a
The cool one-of-a kind Tongue-cicle from MiamMiam,"We had 50 white and 50 black and we´re already needing to do more. We´re sold out of all of em. People love the t-shirts and that is something new we made along with the young 6 year old agency." says Phil the creative design side of the agency. "Actually there is only 2 of us here. Me and Senad." He says that his agency, "Does the brand name advertising and grahic design and art all that a company would need. Right now we´re helping to open a new restaurant that has non-pork sausages in Salzburg...I guess Salzburg is sausage capitol!" he laughs.

Meet native Salzburg photographer at MiamMiam the cool young advertising agency and while you´re at it check out his AMAZING photos on his website. He did his master´s PHD type study of BABOONS in AFRICA...yes I know...wait til you meet him. Adorable.
Here is ALi restoring his carpets...a master at that and he is totally sweet located at Schrannerngasse 14 , 06 628 8079 2
The beauty of the Mozart Concert´s
http://www.mozart-dinner-konzert-salzburg.at/
Set in the restaurant that has the year 803 on it...Um wow! Is that cool or what! An abbey with monks practicing today it has the most beautiful architecture imaginable in many hidden rooms...the downstairs one is amazing...and the concerts are wonderful...I saw Don Giovanni and fell in love. Wonderful actors and dinner.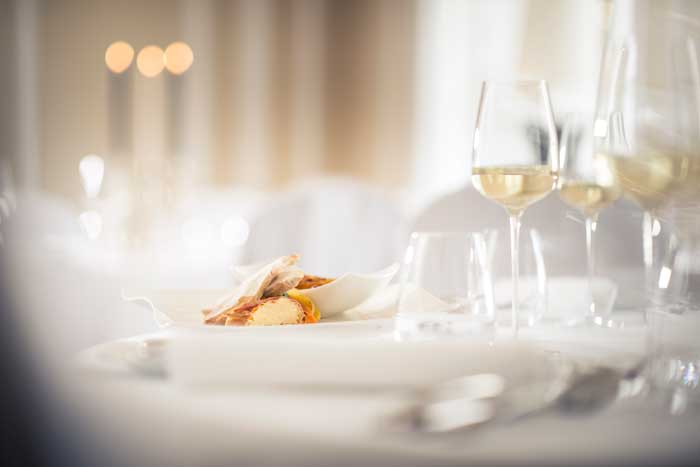 For me sitting right in front waiting for my date! is an experience I will never forget! The actors sing right here and I mean right here! it is exciting and cool. Loved it.

"Here on the wall is the owner and the family. It is a big family and they own the restaurant and they own the hotel however they have different managers , and now each one is individually responsible. The food is great though all Austrian. Try the Struedel." she says as she leafs through the menu. I personally love the elephants!

Johannes George Lackner is 4th generation of amongst other things cuckcoo clocks, wooden chess sets, nativity sets, and such beautiful armoirs and dowry chests that you´ve ever seen. His great grandfather was a master woodcutter and now George says, "I wanted to travel the world and I wanted to work on a yacht that is what I really wanted to do and my father sat me down and said okay you have to choose either you travel the world or you take over the business and if you don´t want to do the bar and the business I will have your sister do it! So I didn´t travel the world I worked inthe family business here."

The beautiful bar George started himself, "That is really my addition to the family. I am the owner of the bar and Sebastian is my bartender." Sebastian is shy by the way and I had to really coax him to ask if I could take his picture! Johannes George is adorable always happy and smiling and funny running up and down the stairs to help people out and to show me the cool items they have. There is wood everywhere and he says that the family buys the wood and handcarves the items in a huge woodshop. I say that he should buy his wood from Albert Thurn und Taxis since he owns big forests and George says laughing, "I´m sure he has great forests in Bavaria but we buy the wood from the Austrian forests and the black forests to make the cuckoo clocks."

"The beautiful gift that is a wedding present above is my favorite" says George..."it is a traditional wedding present from the 17th century and it is original I didn´t even have to restore it...the cost is only 15,000 euros." hmm pretty good I think not as much as the Elephant even.

The totally friendly owner of Trattori Domani in Salzburg says, "The funny thing is I run from table to table, weér on the 10 most best Italian Restaurants in Salzburg actually he adds, anyway I run from table to table and they speak Italian and Spanish and German and English and Pakistan and I have to switch to all of these languages it is hilariously funny and fun." he says. 0662 842743 kalgasse 33 A Salzburg hint it is on its way to the Castle

"I come from Pakistan to study my masters in cooking and I fell in love with the Italian food and people and that is why I opened my Italian restaurant here and my Pakistan restaurant is about 3 months opened first. That one is all of my designs and I am proud of it. The one here I redesigned yet it is all me. I fell in love with a Austrian lady and now I am here. Her sister, (pictured above) works with us and all of the about 6 and 1/2 years here we all work as a team. That is why each person is important to us."

At Trattoria Domani in Salzburg you can see the owners in the kitchen, from Pakistan and superb cooks, to the fun team although shy at the pizza ovens to the many Venetian masks, "Very expensive since we made these to fit the restauant," says Irfan the owner. He is from Pakistan and owns the Indian restaurant right down the lane named Indiya.

"I love being here. Everyday I make about 100 lattes...and I know all the people that come. My favorite is espresso. I have one every day." he says... I say that the Cia has Starbucks and that the barristers have to write...the lady that orders white mocca instead of the names of the people that is how top secret it is..."I know yesterday a lady said why do you want to know my name? That is odd to ask why do you do that and I had to explain to her that Starbucks writes each personal cup to give to people! Wow!"

And continue straight down the road past the McDonalds a couple of blocks and there on the side walk sits a New York Style kiosk that is named Chili Cheeses Kebab...with Kebabs from Turkey, the Balkans and a man who is Austrian that happily gives you and all the hungry students at lunch great deals.!
Jahnstrasse 19 0699 1087 1512

"Ha ha ha English," says the three little ones as they eat the lunches and I try to ask what the hat means...it is a sports team! they say.

http://www.starbucks.at/
Yes I know my first ever Starbucks! o dear! here is Kamil and company they´re both fun and work right near the Central train station at Salzburg...the manager "Chris" says, "It´s Starbucks everybody in the world knows Starbucks. That is why I love it and that is why they come." Enough said! love the triple hot chocolate yum
"Starbucks? It´s expensive I would probably go somewhere else...hey wait a minute is that a triple hot chocolate?" I am staying.
Alright come zoom straight to lunch and see what all the kids know...the best place for great food and that 5Euros that mom and dad give to lunch gets you a kebab and soda!