The Luxurious SYTE Hotel in Manneheim...the place´s elegance ROCKS and the prices? Seriously? A writer traveling around the world could actually afford it...Alright come Bill Gates, of Prince and Princesses and of course these cool Australian backpackers.
The 32 year old giggles all the time, "Really!" he laughs when he asks you about something you say...Playful, young, cultured, educated, and in awe of the Boutique Designer Hotel which he and the "hospitality guys which we named ourselves" created and opened in Mannheim, "You know we´re one of a kind here." Johannes says about that totally luxurious beautiful jewel sitting in the middle of Mannheim right across from the Train station. "We´re the best bar in the region to even come close you have to hang out at Frankfurt in the middle of the night," he laughs. "Check out the horse saddles,"he says as he enthusiastically shows me the saddles in the Champagne long elegant bar. Think Maxims of New York...or how about"the Laurel Designer room...it is the only room that the famous fashion designer of Germany approached us when we were creating the rooms and asked to decorate it. It is beautiful yes and in addition if you reserve the room you can at your discretion call the designer in Muenchen and ask for clothes your size to be sent to the room. If you´re wife is a size 36 they send a collection for her to wear while you stay in the room and if you love the styles you can purchase these. It is the only kind in the world that does that." COOLLLLL...
"See the floors'? They´ll all hardwood and the rugs persian carpets..." says Johannes, not to mention the fact that each item is handpicked in all 39 rooms and the detail to each huge room is amazing. "We opened the Laurel Suite August 15 and it is booked everyday. I guess the women like the concept of having the designer choose clothes for them!" he says... NO, YOU THINK! I say. "We´re in Vogue which is cool alright it is only one sentence..." yes I say yet one sentence in Vogue when you´re only opened 1-1/2 months is unusual. "It is totally fun to work with each other since we´re all young and we all love to make the bar and hotel as luxurious as we can."
SYTE Hotel Mannheim
Tattersallstrasse 2
D-68165 Mannheim T +49 621 - 490 767 - 0
"See the leathers and the bicycle seats at the bar? The first bicycle in the world came from Mannheim and the first Tractor and of course Mercedes. That is why we have tons of tourists here. And did you know that Mannheim is known around the world as the IT Silicone Valley of Europe? We have a lot of Americans and business people that come to have a drink at the best bar in the region in additon to the lovely champagne. But the best," says Johannes as he points to the DISCO ball on the ceiling, "is the disco bar-cool we have a black disco ball and live DJ on the weekends for people to unwind and have fun."

Azteca Mexicana Restaurant, "We have 4 different kinds of SANGRIA!, 15 Mexican Beers, because people love to drink Mexican drinks,"says the happy owner of the restaurant. "And the only way people are hired by me is a Smile on the face when they come here, no curse words, and they have to see me face to face, look in my eyes when they talk to me." he says. And how is that working out for him? "It is a great average of 1 in 10!" Mannheim.
"The fun employees that work with me and my team, my partner is from Sri Lanka and I have about 40% Indian. It is a multi-culture team with about 70 employees. The first two years very scary since I am getting used to running a restaurant and it is a huge risk. Now much better." Vishnu says.
"My name is Vishnu Arunachalam...it is a long name," the owner of the Mexican restaurant in Mannheim says. Although I tried to interview only German restaurants the Indian person who owns the Mexican restaurant(are you following me yet!) convinced me to write about his. "If you really want to write about Mannheim it is a multi-cultured city with many internationals. It has tons of IT headquarters and a lot of people come here because they love Mexican food!" he says. The people making reservations can call me at Tel. (0621) 18 14 47 77/ Stadthaus N1
"Now I am opening a big attachment to it and it is all tiles. Mexican tile tables to show the culture. You know Mannheim is a big cultural city. And it is the first that I knew that the bicycles and the tractors originally come from here!" (give me credit since I am the one who told him that...:)
"I worked 8 years in engineering and worked at Mexican restaurants during school. They gave me a chance. Now I own my own Mexican restaurant. TONS MORE FUN yet finding employees is a headache. The first two crazy. We would make food and give it to the guests and they would send it back! We kept trying and trying and finally we have a GREAT MENU! that people love. The Americans and internationals come here all the time. And the Germans. They love the food and it is hilarious owning the restaurant."
The epitome of class and culture blending the French Bistro of the 1920s and bringing it to Mannheim is the totally cool brass bar and restaurant, Cafe Journal.

"In addition to the Mercedes and the Bicycle and the IT we have the first ever city made from squares...it started when the Kurfurst from Heidelberg got tired of the 30 year war and said alright I am coming to Mannheim and building my city of squares and if you see the city it is made of squares...we´re here H1 and everybody´s address is that. He was very smart like Newton you know people said Hey why is that apple dropping to the ground... And it also has a planetarium that I took my son to. It sees the stars in the sky. He loves it. That and coming to work with me he loves helping. It is fun for me to work days since he can come with me. Otherwise I must wake up at 6am to see him before kindergarten!" Armin says.

"Since I started working here since 2010 I´ve tasted every item on the menu. It is a must of course. I need to say to the guests what the food really tastes like. I must try all. Every one is good too. My favorite is the steak with the special sauce and that is what I would eat if I brought my family here. It is fun for all of us to sit and talk about the menu. We try 2 to 3 days items and sometimes we struggle you know to get 5 to 6 meals together and the fun for me is when we try and the people love the food. They love the amount of effort we do. It is a big team effort and we love when the guests are coming and happy." he says.

"I was a tax lawyer!" says the affable CFO!
of CAFE JOURNAL
named Armin Hug. "That name comes here from the Hugoenots..." says he when I interviewed him at the dark wood brass bar representing the first ever classic French Bistro in Mannheim and the 2nd ever in Germany.
Armin Hug, CFO Cafe Journal
Breakfast of 10 Varieties and one baby breakfast at Cafe Journal..."including the famous Cafe Journal breakfast and the Bavarian Breakfast with the white sausages and we have a Washington Breakfast complete with cornflakes and scrambled eggs and bacon...Americans love bacon right?" he asks and for me I say that I do. I eat bacon everyday if I could.

See? I say the Cafe Journal´s interior is stunning.
Address: H1, 15. Tel: 0621 2 7102 on the Square of course! "Being a responsible person we have 50 employees and we have to pay for all of these um and of course we care about the guests the most. We give love and care to the guests. That is important and we learn and we see that." he says.

Herre,the owner, comes from the Netherlands and has a great story to tell..."I met my girlfriend in Perth Australia and she is a journalist and me a photographer at that time.We kept missing each other til finally we thought...hmm what could we both do and see each other all the time? So- we came here and opened a cupcake store. She knew how to bake and I thought it would be fun. Now 7 years later she is married to someone else, she and I partner in the business. It is a lot more work than I thought it would be though running a cupcake store. I miss the photography and the traveling. Does it sound strange that I miss getting shot at?" he asks laughing. "You know not the shots but the adrenaline of life, of taking risks and all of that?" and I say that is alright. I love the risks. That is life and although opening a cupcake store might seem safe in America..."You know in Germany cupcake is a new cake. Germans have to try the cupcakes. Americans have them all over."
"Alright here is my funny story," says Herre, "The person who brought Hash to Amsterdam brought it here about 21 years ago. He brought it from Lebanon on a boat. He went to the people and said here let me make it legal I have a huge shipment that I must take to Rotterdam and I want to pay taxes on it. He paid all of these taxes and they said okay we never heard of that yet we'll let him pay taxes and he takes the shipment of hash with his receipt to Rotterdam. The customs tries to stop him since he has TONS of hash and He produces his receipt and guess what? They let him in." Why do I somehow believe him?!

http://www.royalcupcakes.de/
Charly Brown
"Let's see my favorite is the Charly Brown Cupcake" says the owner Herre of Royal Cupcakes at Koln.
He is a 31 year veteran of photography doing "freelance" work around the world and candid when I ask what he wants to do with the cupcake store? "I want to quit...!" he says...that is the first time a owner ever said that to me..."I would seriously love to franchise the Royal Cupcakes yet that would have to be a investment of 60 stores and that is a big investment." Hmm...I don't know we love cupcakes...That is true.
Alte Wallgasse 5, 50672 Köln
Okay and then from the Netherlands... Amsterdam?
"yes the hash I know Americans come there just since it's illegal in America."
says Herre. When I ask the question everybody is curious about.
When asked at Cologne about the Refugees I say that I am from America...what do I know about how the Germans and the European Union feel about helping 3 to 5 million people flee a war zone named Syria? Yet talking to the Germans you would be suprised whether 18 or 55 I would say that 90% feel good like they're helping give Toys for Tots...a program for children in need in America. Some voice concerns about the fact that 70% of the influx of refugees is young male from 16 to 36 say and that is unusual in war situations. That ususally these young men stay in their country to fight for their country. I say...hmm not necessarily. Take for example 911...we weren't a country at war. We were existing as a nation in peace time. When people say to me and yes they say that about 3 days now said again! "You know you only lost 3,000 people in 911. We lost many more in our wars." and I try to remind these people that we weren't at war when we lost 3,000 people. It is as if today the Saudi Arabians destroy the Brandenburg Gate...you know you're eating a bratwurst and down comes the plane. So that is totally different situation than as if you're sitting at Checkpoint Charlie and the tanks are pointed at you 20 years ago. War is War. Peace is Peace. Yet at the same time you must realize that the Syrian refugees are the people going to work in the World Trade Center....you know normal moms and dads and young people stopping for a Coney Island Hotdog. After the 911 happened, which by the way is only one day....you didn't see Americans rush to the Ouzi store, buy machine guns and start shooting Muslims. They were normal people. Yet consider that 911 happened everyday for 4 years and you have Syria. War is War. Yet these people are the people eating the Coney Island hotdogs and just because they're 32 Year olds doesn't mean that they have to turn around and start fighting along side extremists to rescue their country. THat is what they have military for. That is their job. And in addition to that Syria is a tribal religious war made up of about 16 different religious tribes that are all extremists trying to overthrow their dictator government and most and Europe hopes all of the refugees are normal civilians of all ages fleeing a life where death is almost certain. They want normalcy and life. That is why everybody must hope they come to Europe. At the same time most of the muslim people feel fear and uncertainty coming to Europe a country essentially with Arab minority. They have their own way of life and religion which is very important to these people. That above all must be addressed. They will want the European unions to build religious structures and communities to help them adjust and that ultimately in my opinion is where the governments of the countries and the refugees will have to negotiate together.
Newest Addition to the Website is in the middle of Germany, Frankfurt!
"At Coq Au Vin we have high standards for the French cuisine yet we dress less formal,"says Klaus. "I´ve been with the company almost 30 years. It´s a restaurant that people come for the soft music, the ambience of elegance, and the french food. All the wine is French, too, of course. The people love the most to sit in the window and eat since it gives you a good view."
The cool funky interior of the classic French Restaurant set in Sachsenhausen...
Coq au Vin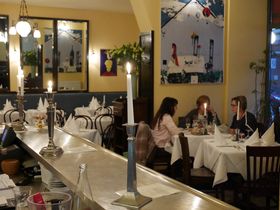 "The famous French dish of the restaurant is the Coq au Vin which is chicken with wine...and of course we have to add wine since that is the name of the restaurant." says Klaus II as Klaus´s owner is Klaus.
"We do eat every night before we start work yet honestly I don´t make the chef cook us new French meals every night," Klaus says and Ricardo laughs. "We eat the food that we kind of throw with each other and make our own little dinners. But honestly the last 15 years I´ve eaten a lot of food and all of the ones on the menu. When I go out in the city I eat Italian sometimes and German."
"When I make the Coq au Vin I have the chicken drink the wine first before I cook the chicken..."jokes the new chef, Ricardo. "Sometimes the cooks drink the wine instead," says Klaus and shows a picture of the expensive cooks. I say expensive since Klaus shows me the wine list, "We have bottles from 20Euros up to 2,400.00Euros." Klaus says, "The list here has about 12 wines from 500.00Euros and up." It is one of the most extensive expensive wine lists I have ever seen. "The boss loves wine." he says and shrugs his shoulders when I ask why!
Since one of the chefs, Ricardo is Italian, I ask if when Klaus eats Italian if he makes Ricardo cook French food the Italian way! Ricardo says, "I know how to cook all kinds of food and I am learning everyday. I love the French Cuisine at Coq au Vin...it is really good." says the chef!
La Trinca Espana Tapas Restaurant and Gardens
One from Algeria originally and one from Morrocco originally...both grew up in the resorts of Espana...Barcelona and Valencia my favorite city! The mood is soft Spanish music and dark intimate quiet lighting.
"Here taste the meatballs," and I taste the spicy tapas that they make quietly behind the tapas bar...the best meatballs ever!
Schweizer Straße 14 069 6 22 393
"Me and my friends smoke shi-sha everyday and one day we said hey we should open our own shi-sha. Right now as we ready the shi-sha lounge all of our friends come in and smoke shi-sha but we don't charge money for it since we're only officially open starting July, August, September. But if they want to come in and smoke some shi-sha they should come say hi." says the young laughing owner from Iraq.

"It's a elegant shi-sha with tons of ideas. We want it to be cool. We took a lot of time with the logo and the design. Everybody loves the pillows and the colors. The shi-shas are cool too, " says Hasan, he along with his partner Sadat smoke shi-sha with their friends everyday at 6pm. Come say hi at handelstrasse 24.

The Platinum Club on Schildergasse Koln..."At Fitness First all of the trainers have to have level 4 qualifications which means that their experience is sent to Bristol where the European Union says whether a person is level B, which is a 3 trainer, or level A, which was 4. If you have level A you can do personal training at Fitness First around the world. Only A. That is why we're better since you know if you come to do training you're dealing with the best."

Personal Trainer Alex having fun with friends, "All of my friends work out here! Yes it is fun."

"The Platinum's have a pool, too. They're the highest club of Fitness First. If you do monthly memberships you can use every gym in Germany one month. If you do yearly memberships you have to sign up for Platinum to use Platinum; however if you ask 6 friends to sign up one year, your year is free!" INCENTIVE

I don't like spinning I say yet I love boxing, "Yes I love the boxing camp too and I am not a fan of the spinning. It is personal to each individual," he says. Mit freestyle-Training, Wellness, Kinderbetreuung und über 1.000 Fitnesskursen jede Woche. Darunter viele von unseren Experten eigens entwickelte exklusive Kursformate wie Boxcamp und ProCycling.
When I ask if I can come to the fitness first and shape my body although it is tiny with curves and little muscles he says, "Yes" laughing, "That is a personal trainer's job! To shape people. The first day we do a check-up and see the blood pressure, the pulse, all of that and based on your requests and the statistics we do a personal training program. The next time you come we do the training and each machine we do together. And we have machines such as the cardiovascular for couch potatoes...if they want to hear and see the television while they work out they must be in motion...it is motion activated." Hmm how smart is that:)

Kölschbar
Lindenstrasse 56
01577 3730767
"Okay the real reason I wanted to own my own bar?" quips Dennis a young sweet fun guy, "I used to hang out here during my studys with my friend and one day we said, you know we should buy the bar and be owners...and we did." Does he drink on the job? "No, I have fun with my friends that come here and if they ask me to do shots I decline only since I want to be awake and have fun til 5 am..."

And do they have champagne?

The silly real sweet owner's below. They're just nice guys....really. Says Dennis, "O' and mention that we have
Mexikölner, a cool Koln drink..." he says...alright for all of my people that are sad face since they need a bar on site to drink...here it is!"

Does it look like we have champagne?

The friendly team of Hase-Restaurant is truly hilarious. They´re multi-talented and could be very uppity and snobby if they really wanted to be yet they´re so much fun. Sergio, the owner says, I am from Italy born in SanRemo near the coast of France. It is famous since Mr. Nobel of the Nobel Peace Prize lives here. He invented the TNT and after all of the wars he wanted to give something back to society and that is why he made the Peace Prize in his name. One of the most important prizes of today." he says and I quip yes it is a little Tolstoy for me...War and Peace. http://www.hase-restaurant.de/
Sankt-Apern-Straße 17
Sergio came from Italy, came to Koln about 31 years now to learn the German language, stayed after 3 months the rest of his life. He married a Swedish girl and opened his restaurant as a employee about 16 years...a Italian wait staff of 8 out of 10 and a German chef! The German restaurant is " a little bit different with a twist. We have baby deer that we feed to the guests..."Yet his head waiter Helmut interrupts his English..."It is the deer that makes the babies,the male deer, that we shoot not the baby deer as of yet." he says and Sergio says, "Yes that is true." As he shows me the menu I see that it is German in the products yet in the recipes very trendy and original and light and modern. "Yes we´re German yet we´re new German. People come to eat creative food and modern food. We like to think that we´re a little bit different than the rest of them!" he says.
Having fun at Brownies which is known for its Coffee not its special brownies which I keep asking about!
The magical barrister of Brownies has been here about 3 and 1/2 years...making his friendly creations...his favorite is the brownies walnuts...the owner is Henry and his favorite is "I am not a sweets guy honestly but if I have to eat sweets I guess I would eat the carrot cake or Lemon cake...my little girl of 7 loves the chocolate cake with chocolate inside. Seriously now-a-days she is my baby. The restaurant used to be my baby before the girl. Now I say Maybe I can change the restaurant to reflect the California style that I loved since I will never go back to California without the little one." The candid owner admits.
The Elegance of Milan, the feel, the beauty, "and I love the wine, the kitchen of Milan and the atmosphere," says the owner of the relatively new Italian Restaurant in the city of Koln.
Jorg is young, and knew his partner, Mark, who runs the Berlin Enoteca since before University. "I worked with Mark in the restaurant business many years and before that I worked at a bank 10 years. I don't miss the bank at all. I LOVE the restaurant and I love wine. Enoteca is my attempt at introducing Milan culture to Koln." he says. "The entire feel of the Northern Italian region is what I love."
https://www.facebook.com/EnotecaIlSogno
Pfeilstrasse 25
0221 - 27047954
"In all of Italy is a Aperitifs style of buffet at happy hour. We offer a little wine, cocktail and you can eat apertifs with a variety of Italian food. We are trying to introduce that part of the Italian culture to the city." Jorg says.
"I'm the business man of the partnership," Jorg admits, "And Mark is creative. We work great with each other. I run the one here and Mark runs the one in Berlin. We have a little Enoteca Apostle at
Berrenrather Str. 197,and the one here the newest one." You can make reservations at
0221 2 7070780...and it has about 100 seats. "My real love is wine. We carry mostly Italian wines here since I do want the Koln people to experience that yet we have a little choice of German wines, too." Come visit and see the wines for yourself as you enter the lovely restaurant.
Above the elegant beauty of the open restaurant. Up the stairs and behind the pillars is a little more formal dining with a lovely brick oven pizza island.

The entrance to Enoteca is a open tiled hallway of a library of wine on one side and little conversational tables on the other side. It is gorgeous the minute you walk into the restaurant you fall in love.

"The family has owned the bakery since 1842 and my husband's daughter is the 6th generation," says Simone who says that perhaps it is the oldest family owned bakery in Koln. It certainly is the biggest, with the bakery upstairs and the family living in the house it is truly "family" owned! Simone is funny as she says, "Ya I know all the people that come in here you know they've been coming for years...and sometimes I worry what happens when they all grow up but lately we've seen the younger generation especially on the weekends so I think Okay the young ones love the bakery too. My daughter is 21 and she has been studying to be a baker professionally in the kitchens for 3 years now." she says. "My training starts in one month. You know I could just go up and bake since I am the owner's wife yet I want to be a professional you know. I want to do it right. 2 years training for me."

Seit 1842 fest verwurzelt im Herzen von Köln.
"the family used to be across the street with the bakery but a big Koln newspaper came in and took that building and they moved here." she says...

As I entered the bakery today, Simone the owner's wife, greeted me with a "Hi you're back. Did you enjoy your treat yesterday?" talking about the little kiwi pie that I ate...wow she remembered me! I thought and we started talking about the Family run bakery. "I want to learn how to be a professional bakery right now. I know that is hard that is true yet I know that it is fun too. And yet I do have to learn. Afterall it is a proud achievement for my husband to be the 5th generation of a family of bakers and his daughter is the 6th. I love love love to see the bakery items. I love it. I love when the people come here and buy and they smile as they eat the cakes. It is fun. My husband is upstairs and downstairs and in the bakery and in the kitchen and the office. He does it all. He is shy though." she says and I giggle as she has his picture on her phone! I guess Simone is the only one that can use her phone!

"All that you see of the huge building, bakery etc now is rebuilt after the WW2 since everything practically on this street was destroyed. Now it is all us.Yes I know it is big. The only time we wake up when the bakers start at 6:30am is if they make plum pudding...that is loud!" I can't help laughing.
"My wedding cake which I knew exactly what I wanted in it is 3 cakes. One a Swiss, Spanish, Chocolate Creme. I only had one piece of it at the wedding though! And it is such a long day that I don't know which piece I had! And yes of course my bakery baked it! We have a specialty cake that is named Printen and it's a Ginger spiced cake that only we know the recipe of since the bakery opened. We had a huge order from Dubai and we couldn't fill it. Now we must hire more people to make these big orders. Yet slowly. We want to do it right." Says Simone. Pictured above is a gorgeous wedding cake...yum

The two partners of the funky glitzy trendy Burgerlich Koln(and Hamburg) with their fun creations. "They´re as night and day," says the cute bouncy Jessica of her two bosses. She has been personal assistant to Sven on the right since the inception of the restaurants. "Sven is always calling me everyday asking how are the guests do they like the burgers, are they happy, can we improve the visits? and his partner is like night and day...the accountant and the socializer!" she says. She laughs though, "They´re perfect with each other since of course you want to have a great time and fun at work yet we need the banker/accountant to remind us that we need to improve the business side of things to...to do great service etc. It is a great mix.I love love love it."
"The heart is a burger and meant to show that we do all from the heart of love. The outside is lettuce and the inside is the burger and the heart is love. It is a company based on heart. On love." Jessica says as she shows me the logo. They have a huge DJ booth too in the very big showroom..."On Fridays and Saturdays although it used to be a car dealership showroom it is still not enough room. There is people standing everywhere and outside and we need more seatings. They love the vibes of the music and the feel and of course the hamburgers!" she says.
"I hire the best and the friendliest. When everybody has the same price on a phone we must give service and people must love us. Or they go somewhere else. It is that simple." says Sebastian.

PROVISIONS PILOT
"I own the O2 company 2 years and worked 4 years at a former friend's O2 company of 12 O2's in Koln. It gave me a opportunity to manager 12 companys 4 years and I saw the managers at each company that produced and why they produced and the ones that succeeded. I thought why each one is successful with the product that is the same?
And I built my own company of O2 on these principles. And I stole the best manager from the 12 and now he works for me." says the friendly laughing honest owner of O2 Koln at 0176 707 19662
Peace to O2 phone me? hey baby here is my number...I say to Sebastian, "I know 10 years ago nobody had phones, they all gave their landlines of their moms and dads. Now everybody has 1,000Euros phones and when they say O hey call me here is my number that is the number of their mobil...you know never landline. Wow how cool is that seriously if you think about it!"
Flemmingstraße16, 49-281600013-43
http://www.pilotprojekt.com.de/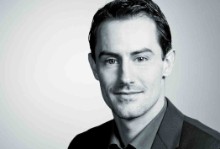 "I love the digital styles here. It is a new idea and the collection of the Architect's design include cars. I love it. The ones here show the VW beetle and people love it. The cars and vans itself," says Mike when I tell him that my friend Adam and his family of 5 blonde toe-heads from California Surfers only drive the VW Vans, "they cost a lot of money , no seriously, the vans start at about 50,000E since you have to put new engines in the real vans. And the people love the collection of the vintage with the new." he says.
https://www.livingwalls-cologne.de/
https://www.livingwalls-cologne.de/store-in-koeln…
Mike, the young owner of, the wallpaper store named Living Walls along with his adorable girlfriend show me an entire new world of wallpaper... I know.
You might think Wallpaper? Why in the hell would we travel to Koln to buy Wallpaper? Seriously come and meet the two adorable cute young owners and you will change your mind. The reason is that seriously you spend 1/2 of your life living inside your choice of wallpaper and hey why not make it fun?
https://www.facebook.com/livingwalls.tapeten.koeln/timeline
His beautiful girlfriend shows me the modern "wild and crazy collections here, " she says as we put them on the monitors and play interior designers and architects for a little while, "yet a lot of Germans love the classic style and for them then we have the Versace collections. Classic and beautiful yet seriously not expensive at all." she says as we remodel computer rooms! 0221 888 24 99-9

The bartender is a photographer of Cheerleaders for the two American Football teams in Koln and he is a jokester...he could be Irish! He laughs and says "of course I love sunner beer it is all we serve!" Kölsch is a local specialty beer brewed in Cologne (Köln), Germany. It is clear with a bright, straw-yellow hue, has a prominent but not extreme hoppiness, and is less bitter than the standard German pale lager and the oldest in Germany is the brewery, 1831 Sunner Brewery
Salzgasse 13

| | |
| --- | --- |
| | "i used to be a American Football Coach all volunteer of course and I coached for the Crocidiles then the Falcons, both Koln teams. I used to play professional Football NFL European team too." Rene says when I ask where he got the muscles. "Yes of course I miss it. The Americans are great. They come here for 6 months do a season and go get a job back in America. The pub here is 9 months for me and yes it is work but it is really fun. I do wake up in the morning and say O cool it is cool to own a pub." |
"I have a great team, what is important is that we're all crazy, we all joke, we love to have a good time, you know the restaurant is a typical local Koln restaurant with local traditional food. A lot of the residents come here. I of course invite the international tourists yet it is important to me that the Koln people love the food. They come on Sunday night because they don't want to cook at home yet they want real homecooking. That is why they come here, " says Rene the young owner.

Hold your hands up that's my pizza...

"Hi, I'm TJ..." says Very BIG MUSCLED manager of the Koln L'Osteria located at Hahnenstraße 37.
After you talk to TJ for a little while you aren't intimidated by his size anylonger since he is a big sweet Teddy Bear. "See the wine glass? It is a normal glass and we want people here to feel like they're at your home, you just moved in, and here is the wine glass that everybody drinks out of." Hmm and they fill that wine glass UP:)
"Yes the one here is big yet there are much bigger L'Osterias around the world. My staff is great...that one Alena always asked Why Why Why and finally one morning I had a breakfast meeting and said the reason is here in the employee handbook...read the handbook quit asking why all the time. And the next morning Alena never asked Why again. She just happily followed the handbook and laughs all the time." he says...Hmm the handbook."It is a philosophy system of why we do the things we do. It is a system such as the wine glasses, for example." IT works for L'Osteria.

"I've been at the L'Osteria about 3 years, here since it opened maybe 2 years ago. It is a great company and I finished my degree in Communications which helps me to communicate better with my staff. We have tons of FUN yet it is 45 employees and everybody is different. " says TJ.
Below Hey wanta grab a pizza and maybe we can dance on the tables too...

"If you come here on a Saturday night people stand in line waiting for a table about 1 hr. They drink at the bar, laugh, eat the pistacchios and we're busy til Midnight with the kitchen open. IT is a great place to have good quality food that we make specially with each order yet it is a great price. The place is tons of fun. And people love it." The employees have fun talking to me as they tell funny stories about the boss. "He is really sensitive and since he is BIG it is difficult to remember that. At first you are a little...hmm and when you get to know him you love him. He is a great leader and inspiration and total fun."

Me?O love the salads they're fresh and you can pick every item on the salad buffet and bring it to the counter and they shake the salad box and yum you eat a great asian salad for lunch.:) "I love the soups, too," says Ashkan, who is originally from Iran. "My favorite is the asian chicken soup,Thom Ka Gai, which is a little bit spicy. If you decide you would like more spices you just add what you want on the spice island. Unique to the Indigo." The biggest difference from Iran food and the Indigo? "That would be the spices and the curry. We don't have the curry or spices so much we use saffran. And at home I cook different food but I eat here everyday."

Spices, Spices, Spices, Spices!

"I worked in Salzburg first as a manager and now I am the 3rd frachise of the company. The other 8 owned with the original owner. The biggest difference is that it is much harder now!" He says. "To have the respossibility of all of the store is hard work. I used to play much more and now I work all the time. The first month I stressed and now I know how everything works. Yet Koln is my home city and I am happy here. I don't freak out anylonger." he says laughing. When I ask if he is a good boss he laughs again, "I don't know you would have to ask my team." I say that I already asked his team and they say yes he is a nice boss. He is happy to hear that. I say that his people are the nicest, too, and always helpful.

"The motto of the company is the 3f's fit, fast and fresh." says Ashkan, while I add friend... it is a totally healthy asian restaurant that I love. "We have food that keeps you fit, that is fast since people have fast lives and fresh that you know you're receiving the best quality. My mom readys the Indigo every morning from 8am to 12pm, that is why yesterday she had to leave at 11 and I was frantic!" he says. I say wow it is like living at home...hi mom did you get my breakfast all ready for me? He laughs. "The thing that I love most about being the boss of Indigo is laughing. I love to laugh and I do it all the time here."

"You know it is great to hear from people that my team is nice and smiling. When I am here I know that they're nice but is it because I am the boss or are they really nice? And it is great to hear that they're nice all the time." he says.

It almost isn't fair to show the lion in the store since they've in the last 2 weeks have changed the covering to reflect the cool VW vans and love bug vintage cars instead of the lion, yet since I walked around the cool alleys of the bohemian section of Koln and found 2 cool guys named Alexander and Andreas, "We're gay and our bar is in the gay section of Koln and yes we found the wall paper at Living Walls..." they say. I thought I would show their wall along with the store. The cafe is named 2 guys and the website is
http://www.2guys-cologne.com/
"I used to be a flight attendant with GermanWings yet after 11 years you know I didn't want to be enclosed in a cabin breathing stale air any longer so I told my partner lets do something together. He for his father at Vodafone about 4 years and we thought lets open the cafe. He is a great bartender and loves doing cocktails and I love the interaction with real people and fresh air!" says Alexander. "You know before being a flight attendant I was a very bad lawyer....I hated law and here it is much more fun. Yet honestly it is a lot of people and a lot of work. It is a lot harder than we thought." he admits. Andreas is behind the bar and he says that people should come here if they're straight or gay. "We're people friendly. We welcome everybody and that is important." he says. "And I love being the bartender. I love making cocktails that is true. And tell everybody that we only carry Nespresso. You know the George Clooney one.He had signed a contract of 12 years!"he says.
Friesenwall 24 d
"I traveled around America doing cheerleading competitions when I was younger and now I am the official cheerleading photographer of the two American Style Football teams based in Cologne. And I of course do any photography that a person asks." says Petro who now is a bartender at a fun brewery named Sunner's in Old Town. "The brewery is one of the oldest in Koln and the brewery actually owns the building here. It has been opened since 1 year and has a young owner about 38 years old. Of course it is fun although I love doing the cheerleading since I used to be one myself." he says.

3. I am from Turkey and i would like to be a social worker! Maybe for the Peace Corps!
4. Any job? Yes any...I would like to work in a hotel!...As an owner? No! as an employee!!! I am from Peru
5. Salsa dancing classes at Habana Village and the Rumba
6. Seriously? The President of the United States! Cool is there any reason why? Just because i would like to rule the entire world for one day!
How old are you? 23...do you know that you have to be over the age of, 35, to become President? You have 13 years to practice!
7. I have been a chef for 15 years here from Greece my family ran the business and on all of the walls is the pictures of all of my family it reminds me of Casablanca with all of hte black and white photos but of all of us kids he keeps these pictures int he bathroom...
is that kind of a greek thing like children should only speak when spoken to? He laughs...na he just has the modern colors in the bathrooms and the

black and white themes at the restaurant...
8. I am from Mongolia a cashier...What would you like to be at DC? I dont know...Would you like to be President Obamas financial advisor? No i dont think so,How about a stock broker?... How about a bank president...no, how about an accountant? no....What are you studying at College at DC? Finance...!!!!

Here is one of the movies I star at just enter the website address and see it
The one reason I ask that many questions is I would love to know you...
and for those americans this propoganda....there is a song that says you dont know a thing about me....seriously all you have to do is ask but they never do....

okay...
9. I enjoy that i do training programs helping people stay fit she runs a sports store...DJ I would like to be a serious Disc Jockey on the radio I like rock and roll, wild and krazy and music is my love, i have been at the art gallery for 36 years my love is always been a DJ...

10.Really? I have always wanted to meet Henry Kissinger!.... Really? He used to live next to me at Georgetown...every morning his limo would pick him up and bring him to the White House! Serious> I love Henry Kissinger. Yes he is a very serious person. Did you ever ask him out for a beer? laughing no but he probably would of gone he was that kind of person...
11.I am a very wealthy retired career anthropologist...spelling anthropologist as i write it down...geez i know i dressed a little down today but spelliing!!! anthropologist!!! I am going to have to get my nails done... yes I worked at India for almost 20 + years and East Africa for 7 years and Geneva Switzerland and Majorca...I really loved Indi since i was ther such a long time...doing International Policy... I was afraid to ask her to spell Majorca....
12. I would like to be a news broadcaster on television a local news anchor becuse a lot happens! She is a beautician at adams morgan hair cuts... her namee is bianca...have you ever read The taming of the Shrew? No, well you should since the characters name is bianca...okay...
13. seriously working at congress just as a congressional aid an intern...cool
14. seriously being a attorney. What kind of attorney for the hill or private? Idont care just an attorney because all of my friends say that i am very serious i should be an attorney...ok!!!
15. A preacher! Anywhere but especially a preacher of the church went on fire...by the holy ghost! as he fingers his ring...would you like to be a priest that cant marry or just a preacher...a priest!!! I have to tell the truth i dont do not want to heurt anybody because i am nice but i have to tell the truth and i dont do not want to tell all those people that they have to leave God and get out of my church but i have to tell the truth...
So, you want all the people to leave you alone and not come to church?...no i have to have people come to the church because i am a preacher but i have to tell them the truth even if it hurts their feelings!!!
16. The owner of an Italian pizza place...I would like to open a restaurant downtown DC...a turkey restaurant since i am turkish...but you have a italian resturant here, i know but i am turkey i would like to open a fancy italian restuarant downtown...hey do you know the guy next door that wants to be a preacher but he works at the hardware store? O yes i bought some things from him before but i didnt know he wants to be a preacher...
17. The director of the fbi or the director of the cia but only for 3 days because otherwise it is too much stress to do it day in and day out all of the time i would like to be able to have access to all of the secret files and read all of them and know all they do but after 3 days go back to my record music business and not have to deal with alll of the stress...
You do know that after you learn all of their secrets theyre going to have to kill you?